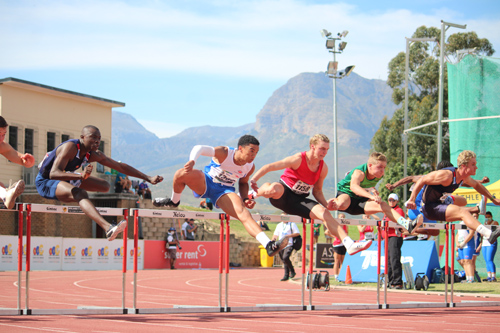 With a personal best of 13.50 seconds, Hopefield's Denmar Jacobs is in a class of his own when it comes to the 110-meter hurdles.
Having recently turned 18, Denmar Jacobs is ranked as one of the fastest hurdlers in the country, 4th in the world in the U20 age group and there is still so much more to come from the young man.
Late Bloomer
"I was a late bloomer regarding athletics, but it has always been my sport of choice and always will be. I am a good rugby player, but I am pursuing athletics because I believe I am unique and have a rare talent. I believe that God created me for this reason, a gift for hurdles. I am just built for the sport," explains a confident Denmar.
However as with many top athletes, the road to success is a long one and for Denmar Jacobs it has been no different. He started athletics at the tender age of 6 and immediately realised that he had a talent. No other 6-year-old could keep up with him in a straight sprint!
"I only started hurdles when I was 9 years old and knew straight away that I had the skill for the event. I was a serious high jumper at the time, and it distracted me from realising that my gift was actually with hurdles," says Denmar.
In those early steps into the world of athletics, Denmar Jacobs had to find his own way around the sport, without a coach or a mentor it was his mother that was the guiding force.
"It was my mother who said to me one day 'if you leave hurdles to do high jump, then you must leave athletics all together!' That got me to realise that my future lay in hurdles. That same year I stopped high jump but still went to SA's and became Western Cape champion in the hurdles with no hurdle training at all! I'm built like a high jumper, but my running is pure talent. It's my gift."
Possessing incredibly explosive speed, Denmar has also dabbled in rugby where he excelled. Before COVID-19 arrived, he had been selected for the Boland team in 15 man and 7's rugby but injuries prevented him from playing. Yet athletics and hurdles are where his passion is, and he has the medals to prove it.
"I have achieved a huge number of awards and records in athletics. Each one of them mean a lot to me but the biggest award for me is just to go out and compete. To do the sport I love so much. To do what I was born to do," says Denmar.
High level of Confidence before race day is vital
Like most sportsman COVID-19 brought with it some challenges for Denmar. The frustration of not being able to compete was constantly there but the break also gave him an opportunity to work on his goals.
"I just kept focusing on the positive and took full advantage of the free time to prepare and train for the season when it started. Of course, I was deeply upset that I could not complete in the school athletics season this year, but my passion is still as strong as ever."
Denmar Jacobs exudes confidence and an unwavering belief that he is destined to achieve great things in athletics.
"I believe that it is very good to start to feel a high level of confidence on race day. It's important to have a high level of belief in yourself. However, you still must execute it all on the day and show why you're the best. Winning should become your lifestyle!"
Determined to pursue a career in track & field as a hurdler, Denmar has set his sights on competing in the Olympic and Commonwealth Games in the near future. Currently coached by Marcel Otto who has used his vast experience to hone Denmar's technique, there seems little that will halt his progress as he gets faster and faster in the hurdles.
Yet as he embarks on a new chapter on his journey to the top, he looks with fondness to his school that has supported him so much.
"Hopefield High School has always supported me, and I will forever be grateful for that support and always be representing my schools wherever I am. As Odell Beckam Jr says "I am who I am."
With unparcelled enthusiasm, confidence, and ability there seems little that will prevent Denmar Jacobs from fulfilling his dreams and capturing gold on the biggest podiums of the world.