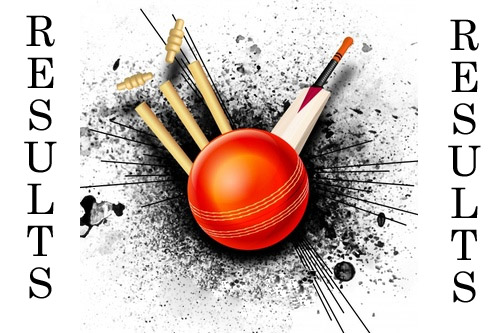 It was a return to the field for many of the schools who have been starved of school cricket for almost an entire year this week.
Although there were still signs of some 'ring rust' from some there were also several notable performances.
Sivwe Nkonzombi continues to impress and hauled in another 4/57 as he spearheaded the Rondebosch attack against Bishops after Maahir Joseph (73*) and Jordan Neil (76*) had laid a good foundation for Bosch.
Wynberg's Jesse Prodhel snatched 5/57 against SACS with Tom Newby returning figures of 4/27 for SACS who just fell short of pulling off a win.
Tiaan Goosen reached three figures (105*) for St Stithians U15A against Affies and 14 year old Esa Gangat playing for Pearson 1st XI grabbed 5/9 against Graeme College.
Please send your teams results and any outstanding results for the season to [email protected]
Cricket Matches For Week Ending 28  March,  2021

TEAM

 

TEAM

RESULT

Gauteng

 

 

 

 

Noordvaal

 

 

 

 

T20

 

 

 

 

T20

Jeppe

v

St Johns College

Jeppe beat St Johns College by 2 runs

St Davids Inanda

v

Northcliff

Northcliff 114/4 beat St Davids 113 ao by 6 wickets

Jeppe

v

St Albans

 

Marais Viljoen

v

Potch Volkies

Potch Volkies beat Marais Viljoen by 33 runs

St Johns College

v

KES

KES 217/5 beat St Johns College 216/9 by 5 wickets

St Stithians

v

Affies

Affies beat St Stithians by 5 wickets

Waterkloof

v

Centurion

Waterkloof beat Centurion by 8 runs

 

 

 

 

 

 

 

 

 

 

 

 

 

 

 

 

 

 

 

 

 

v

 

 

E Cape

 

v

 

 

T20

 

v

 

 

Graeme College

v

Muir College

Graeme College beat Muir College by 268 runs

Pearson

v

Graeme College

Pearson 198/9 beat Graeme 56 ao & 103/3 (Esa Gangat 5/9) by 1st innings

Queens College

v

Dale College

 Dale College 79/7 beat Queens 78 ao by 3 wickets

Woodridge

v

St Andrews College

St Andrews College beat Woodridge College by 1 wicket

 

v

 

 

WP

 

v

 

 

T20

 

v

 

 

T20

 

v

 

 

T20

 

v

 

 

Rondebosch

v

Bishops

Rondebosch 266/8 (Maahir Joseph 73, Jordan Neil 76)  beat Bishops 153 ao (Siviwe Nkonzombi 4/57) by 113 runs

Paarl Boys High

v

Curro Durbanville

Paarl Boys High beat Curro Durbanville by 3 runs

SACS

v

Wynberg

SACS 191/8 (Jesse Prodehl 5/57)  drew with Wynberg 126/9 (T.Newby 4/27)

 

v

 

 

 

v

 

 

 

v

 

 

 

v

 

 

 

v

 

 

 

v

 

 

 

v

 

 

 

v

 

 

 

v

 

 

KZN

 

v

 

 

T20

 

v

 

 

T20

 

v

 

 

 

v

 

 

 

v

 

 

FS

 

 

 

 

T20

 

v

 

 

Grey College

v

Potch Gim

Grey College beat Potch Gim by 172 runs

 

v

 

 

 

v

 

 

 

v

 

 

MPU

 

v

 

 

T20

 

v

 

 

T20

 

v

 

 

 

v

 

 

 

v

 

 

 

v

 

 

NWEST

 

v

 

 

T20

 

v

 

 

T20

 

v

 

 

T20

 

v

 

 

 

v

 

 

 

v

 

 

 

v

 

 

 

v

 

 

 

v

 

 

LIMP

 

v

 

 

 

v

 

 

 

v

 

 

 

v

 

 

ZIM

 

v

 

 

 

v

 

 

 

v

 

 

 

 

 

 

U16A

 

v

 

 

 

v

 

 

 

v

 

 

 

v

 

 

 

v

 

 

 

v

 

 

U15A

 

v

 

 

SACS

v

Wynberg

SACS 147 ao (Rowan Taplin 61, Josh Johannes 6/38)  drew with Wynberg 134/9 (Nick Negthardt 6/63)

Centurion

v

Waterkloof

Centurion beat Waterkloof by 5 wickets

Jeppe

v

St Albans

 

Marais Viljoen

v

Potch Volkies

Marais Viljoen beat Potch Volkies by 52 runs

Montana

v

Zwartkop

Montana beat Zwartkop by 81 runs

Paul Roos Gym

v

Parel Vallei

Paul Roos Gym 117 ao (Josh Pretorius 5/15)  beat Parel Vallei 106 ao (Dian Winkel 4/19) by 11 runs

Pearson

v

Graeme College

Pearson 217 ao (Brayden Andrews 52, Leander v Rooyen 51) beat Graeme 70 ao (B.Andrews 4/6 & Divan Else 4/22) by 147 runs

Rondebosch

v

Bishops

Bishops 251/6 beat Rondebosch 116 ao by 135 runs

St Andrews College

v

Woodridge College

 

St Davids Inanda

v

Northcliff

St Davids 160/2 beat Northcliff 158 ao by 8 wickets

St Johns College

v

KES

KES 175/3 beat St Johns College 174 ao by 7 wickets

St Stithians

v

Affies

St Stithians 248 ao  (Tiaan Goosen 105 beat Affies 65 ao by 183 runs

Steyn City

v

Northcliff

Steyn City beat Northcliff by 8 wickets

Waterkloof

v

Centurion

Waterkloof beat Centurion by 7 wickets

Queens College

v

Dale College 

Queens College 75/3 beat Dale 74 ao by 7 wickets

U14A

 

v

 

 

Parel Vallei

v

Paul Roos Gym

Paul Roos Gym 67/0 beat Parel Vallei 66 ao by 10 wickets

Bishops

v

Rondebosch

Rondebosch 133/0 (Cooke 64*, Heath 57*) beat Bishops 131 ao by 10 wickets

Centurion

v

Waterkloof

Waterkloof beat Centurion by 7 wickets

Centurion

v

Waterkloof

Waterkloof beat Centurion by 77 runs

Jeppe

v

St Albans

 

Pearson

v

Graeme College

Pearson 71/3 beat Graeme College 68 ao by 7 wickets

Pearson

v

Graeme College

Pearson 123/6 beat Graeme 76 ao by 47 runs

St Andrews College

v

Woodridge College

 

St Davids Inanda

v

Northcliff

St Davids 98/4 beat Northcliff 96 ao by 6 wickets

St Johns College

v

KES

KES 279/9 beat St Johns College 212 ao by 67 runs

 Queens College

v

Dale College 

Queens College 73/9 beat Dale 72 ao by 1 wicket