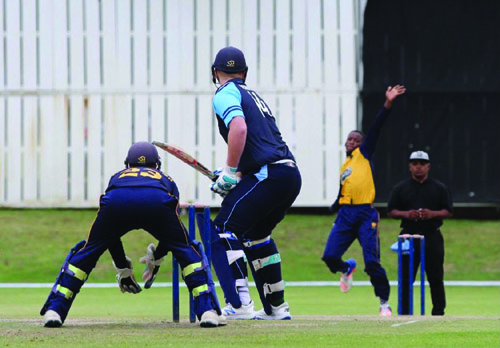 Rondebosch's Cricket Spinning Duo
Rondebosch Boys' High School is synonymous with success when one refers to top schoolboy cricket programmes in South Africa, this can clearly be seen in an article published earlier in 2020 by SA School Sport showing Rondebosch as the top performing cricket school of the decade. Once again, it seems as if they are breaking ground and securing their immaculate reputation by cultivating young cricketers who need a chance. The school is in a strong position with a pair of aces in the form of the talented 1st XI spinners, namely Siviwe Nkonzombi and Asakhe Tsaka.
When chatting to Rondebosch Head of Cricket, Rob Dalrymple, he mentions the strategic vision set out in 2016 to build on what has arguably been the best performing cricket school of the decade: "we had a lot of momentum in the cricket programme (in 2016). Cricketers from all over flock to the school each year and we felt that the next step would be to focus on providing boys from marginalised communities with the opportunity to develop and thrive at Rondebosch. We are now seeing those plans come to fruition and it is pleasing to see how efforts can contribute positively to a very important broader societal issue."
Dalrymple acknowledged the contributions of many, in the successful implementation of this vision: "we have been extremely fortunate in being able to partner with Cricket South Africa, Western Province Youth Cricket and a couple of private benefactors in making these opportunities available to number of talented young cricketers." Dalrymple went on to explain that it has taken a collaborative effort to ensure that the boys flourish at the school: "we have fantastic teachers, coaches, mentors and hostel staff who all have played a significant part in Siviwe and Asakhe's success story."
Siviwe Nkonzombi
Siviwe Nkonzombi arrived in grade 8 in 2017 as a shy, humble little guy, but has grown from strength to strength "when I arrived at high school I was not sure what to expect. It was the first time I had experienced being at a school with different race groups. I learnt how to balance my time better and place greater importance on my academics. I have always been confident, but felt as I settled into grade 9 and started putting in big performances, I was able to express myself more and more."
When asked about his cricketing journey at the school, the 17-year-old said: "I only have good things to say about my cricketing journey at the school and am extremely grateful to all the coaches who have helped me over the years. It is a great honour to play 1st XI at Rondebosch and it is our responsibility to continue the legacy of cricketing excellence at the school. I love having the opportunity to take what I have learnt at practice during the week and put it into action on a Saturday."
Siviwe attributes his rise to prominence to: "my family, friends and all the coaches that have helped me from when I was in grade 5 until now. They have all helped me become a better cricketer, but more importantly a better person. The right-arm off spinner has a clear vision of where he wants to go: "my dream is to play for the Proteas one day, but for now it is to focus on my sport and studies so that I can hopefully study after school."
Jaco Zeeman, 1st XI cricket coach at the school, speaks fondly of Siviwe: "he is an absolute pleasure to coach. He listens superbly well, grapples with the coaching input and works extremely hard at his game." When asked about what makes Siviwe a particularly exciting prospect Zeeman replied: "he has quite a unique action, as his release points constantly change, he bowls at a good pace and has superb control. He also flies through his overs and controls the run rate of the opposition batting unit, which puts them under immense pressure. All of these qualities arguably makes him one of the best finger spinners on the circuit." 
Asakhe Tsaka
Asakhe Tsaka boasts an impressive cricketing CV. The grade 10 pupil, has represented Western Province Youth Cricket at U15A and U17A level in 2018 and 2019 respectively. The young left-arm spinner must have been close to the provincial U19 side, before Covid19 brought a halt to all provincial youth weeks in 2020. When asked what he enjoys most about being at Rondebosch and involved in the cricketing setup at the school, Asakhe said: "we play lots of matches, I get to learn from experienced players and get to work with fantastic coaches." Asakhe is determined to reach the goals he has set out for himself: "I am determined to succeed on and off the field. I want to do well in grade 12 in 2022 so that I am able to study after school. On the cricket field, I would like to be the top wicket-taker for the school this coming season."
Zeeman, who has enjoyed working with Asakhe in the Rondebosch 1st XI in 2020 sees huge potential in the young man: "he has slotted right into team and the boys have really enjoyed his positive attitude and strong work ethic during our practices. He has a knack for breaking important partnerships and this has really contributed to the success of the 1st team in 2020." When asked about the qualities that makes Asakhe one to watch for the future, Zeeman said: "he is extremely humble, eager to learn and is determined to do well. He gives the ball a genuine rip and comes good in big moments in the game."
It is no secret that the boys' schools with their rich cricketing history has contributed to the success of talented black African cricketers. The likes of Kagiso Rabada, Temba Bavuma and Lungi Ngidi all attest to this fact. One does, however, wonder whether there is something in the water or field fertilizer at the school if one looks at the spinners produced in recent years at Rondebosch.
Left-arm leg spinner, Michael Rippon (matriculated in 2009), is plying his trade at the Otago Volts over in New Zealand. Junaid Dawood (matriculated in 2015) has roamed the Cape first class scene as an exciting, young leg spinner, while most recently, former South African U19 spinner, Daniel Moriarty (matriculated in 2018), announced himself to the county circuit with aplomb in his debut season.
Hopefully, Rondebosch's duo of domination can pick up where they left off last season and continue wreaking havoc on the school cricket scene this coming season, and like many other Rondebosch cricketers, enjoy illustrious careers in the years that lie ahead.