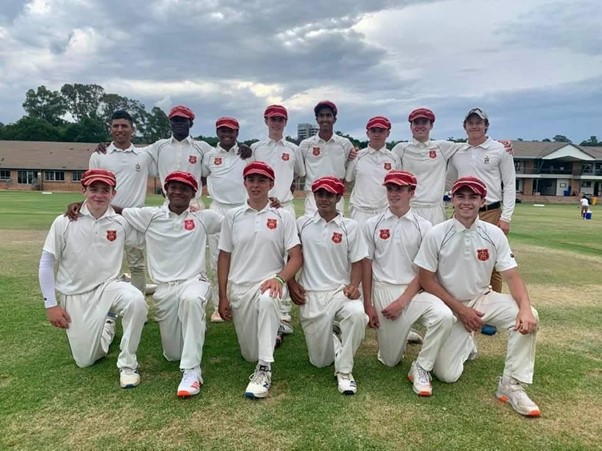 The end of October KES took on their biggest rivals JEPPE and won 12 out of 13 games. The King Edward First XI won by 9 wickets with Bacher taking 5 wickets for 15 runs. The 2nds won by 7 wickets. Govender put on an impressive 105 runs not out. 3rds won by 58 runs and Farrel took 4 wickets for 18 runs. The under 15 age group won 3 out of the 4 games. In the 15B Freeman took 5 wickets for 22, which included a hat-trick. All the under 14 teams batted first and managed to bowl their opponents out.
The beginning of November was the end of the 2021 cricket fixtures. The last cricket matches were held between King Edward the VII School and St Stithians College. King Edward VII School first XI Captain Dean Bacher won the toss decided to bat first. David Teeger was the star with the bat and put on an impressive 98 runs of which 11 where 4's. The Red Caps First XI would need to defend 209 runs, which would mean that the boys would need to bowl good lines and field well. The boys bowled well with Teeger taking 3 wickets for 24 runs and Dean Bacher 2 wickets for 20 Runs. The boys in red managed to bowl Saints out for 174 runs with 5 overs to spare. A great way to end the season with a sold win.
The 2nds, Under 14A's, 14B's 14C's all beat St Stithians as well. 2nds won by 9 wickets with Jacobs scoring 54 not out and Du Toit taking 3 wickets for 17 runs. The 14A's put on a score of 248 and won by 96 runs with Southey making 76 not out and Nkosi 64 not out.  The 14B's were chasing 203 and with Mavric scoring 77 not out and Gunn 35 not out managed to beat St Stithians by 8 wickets. Unfortunately, the 15A's match was stopped due to lightning, but the KES boys were looking solid chasing down a target of 373.
It was a great end to a season with a clean sweep except for the 15A's who didn't complete their game. The boys are looking forward to the beginning of 2022!