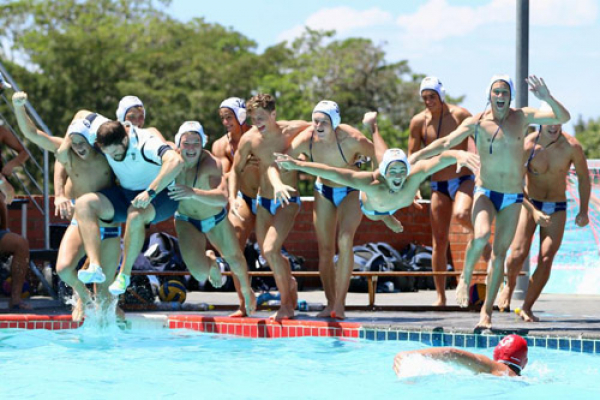 SACS are still laying claim to the No.1 spot on this week's Boy's Water Polo Rankings but the field has closed on them and it is looking like several teams could well be serious contenders in 2019.
St Andrews College enjoyed a wonderful Vides U19 Tournament, the oldest water polo tournament in the country in its 43rd year of existence. It was a tough task for St Andrews to try and defend their trophy that they won in 2018 with 20 teams eager to steal the show.
However St Andrews matched through the pool stages to meet Reddam Constantia in the final. In and incredibly tense match it was the team from the Cape that scored first and really played out of their skins.
However, it was a clinically executed extra man move that saw Joshua Cowen scoring a brilliant goal to give St Andrew's a 4-3 lead with just under a minute left on the clock. However, Reddam were not going to go down without a fight and struck back immediately with an extra man move of their own when they took advantage of a mistake made by the St Andrew's defense.
The game was level with 30 seconds to play and St Andrew's, with a timeout and one last opportunity to win the game. Poor passing and fumble saw Reddam steal the ball with just two seconds remaining on the match clock. Reddam coach, Ryan Weideman called time out to try a sneaky long-range shot. The ball went wide, and the match ended in a draw. This meant yet another penalty shootout. Shooters Matthew Hillary, Joshua Cowen and Nicholas Jelley were the men responsible for trying to win the trophy for St Andrew's. It was an outstanding save by Nicholas Sutherland and clinical shooting from Hillary, Cowen and Jelley that meant the St Andrew's College 1st team were victorious and retained the converted Vides Trophy for the second year in a row.
With many matches to be played this year please send through your outstanding results to [email protected]
BOYS WATER POLO RANKINGS, 21 February, 2019

RANK

TEAM

PLAYED

AVG BONUS POINTS

1

SACS

10

5.63

2

CLIFTON

9

5.54

3

ST STITHIANS

11

4.87

4

HILTON COLLEGE

3

4.86

5

WESTVILLE

5

4.56

6

KEARSNEY COLLEGE

3

4.56

7

ST JOHNS COLLEGE

12

4.47

8

ST ANDREWS COLLEGE

23

4.21

9

GREY HIGH SCHOOL

22

4.12

10

RONDEBOSCH

4

3.82

11

ST BENEDICTS

16

3.79

12

BISHOPS

16

3.77

13

PAUL ROOS GYM

14

3.36

14

GLENWOOD

8

3.24

15

SELBORNE COLLEGE

26

3.23

16

REDDAM Con

16

3.17

17

ST DAVIDS

12

3.01

18

JEPPE

5

2.95

19

REDDAM HELDER

7

2.78

20

GREY COLLEGE

14

2.58

21

STIRLING

20

2.38

22

PEARSON

21

2.32

23

ST ALBANS COLLEGE

8

2.03

24

AFFIES

11

1.97

25

NORTHWOOD

16

1.88

26

PARKTOWN

7

1.81

27

KES

3

1.80

28

MARITIZBURG COLLEGE

3

1.75

29

CRAWFORD LONEHILL

12

1.67

30

DHS

9

1.65

31

REDDAM UMH

5

1.56

32

GLENWOOD HOUSE

15

1.09

33

ST PETERS

11

1.02

34

KINGSWOOD

19

0.45

35

ALEX ROAD

5

0.40