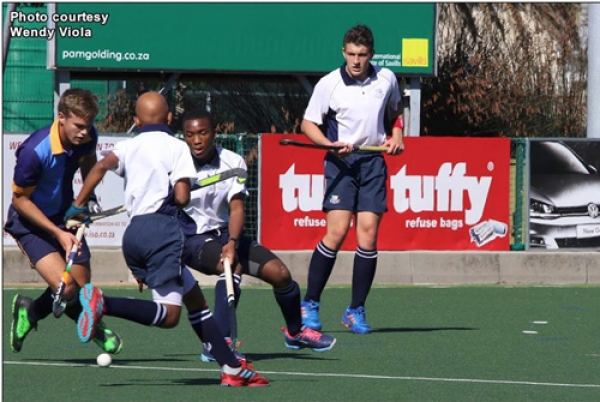 Grey College have led the Boy's U16 Rankings virtually from the start of the hockey calendar and they remain at the top at this crucial stage of the season.
Crucial because come the 9th of August, 2018 Paarl Gym with host the U16 Top Schools Tournament and the teams ranked 1-10 on this week's rankings with automatically qualify to be invited to the prestigious event.
A look down the rankings and it is clear that the competition at the U16 Top Schools will be fierce will all the big players in school hockey present and with such a pedigree line-up the event is sure to be the highlight of the season for teams and players and a spectacle for school hockey.
Many thanks for all the effort in getting the results to us by the deadline and congratulations to all the teams that managed to get into the top 10.
However the season is far from over with many matches still to be played. Please ensure your results are with us by emailing them to [email protected]
BOY'S U16's HOCKEY RANKINGS 31 MAY, 2018

RANK

TEAM

PLAYED

AVG BONUS POINTS

1

GREY COLLEGE

14

4.55

2

GREY HIGH SCHOOL

14

4.36

3

JEPPE

21

4.35

4

MARITZBURG COLLEGE

15

4.25

5

RONDEBOSCH

14

4.20

6

KEARSNEY COLLEGE

12

3.90

7

MICHAELHOUSE

12

3.89

8

SACS

15

3.77

9

KES

15

3.71

10

CLIFTON

12

3.66

11

BISHOPS

14

3.46

12

GARSFONTEIN

17

3.41

13

MIDDELBURG

9

3.34

14

HILTON COLLEGE

12

3.25

15

PAARL GIM

10

3.14

16

ST ANDREWS SCHOOL

11

3.00

17

PARKTOWN

14

2.96

18

ST DAVIDS

22

2.82

19

WOODRIDGE

10

2.81

20

ST ANDREWS COLLEGE

15

2.77

21

SELBORNE COLLEGE

11

2.73

22

AFFIES

19

2.62

23

NORTHWOOD

12

2.62

24

MENLOPARK

15

2.61

25

WATERKLOOF

16

2.56

26

WYNBERG BH

14

2.49

27

PAUL ROOS GYM

12

2.47

28

WESTVILLE BH

14

2.30

29

YORK HIGH

7

2.23

30

ST ALBANS COLLEGE

11

2.15

31

CAMBRIDGE

10

2.08

32

ST JOHNS COLLEGE

15

2.03

33

CORNWALL HILL

10

1.97

34

EDGEMEAD

8

1.94

35

OUTENIQUA

9

1.92

36

GLENWOOD

10

1.89

37

NELSPRUIT

16

1.79

38

ST STITHIANS

15

1.77

39

PAREL VALLEI

7

1.73

40

ST CHARLES COLLEGE

7

1.73

41

QUEENS COLLEGE

7

1.71

42

CRAWFORD LA LUCIA

9

1.71

43

DHS

10

1.42

44

FAIRMONT

9

1.33

45

PRETORIA BOYS HIGH

10

1.33

46

PAARL BOYS HIGH

8

1.21

47

PEARSON

9

1.13

48

ST BENEDICTS

9

0.66

49

POTCH HS

11

0.08

50

POTCH BH

8

-0.74