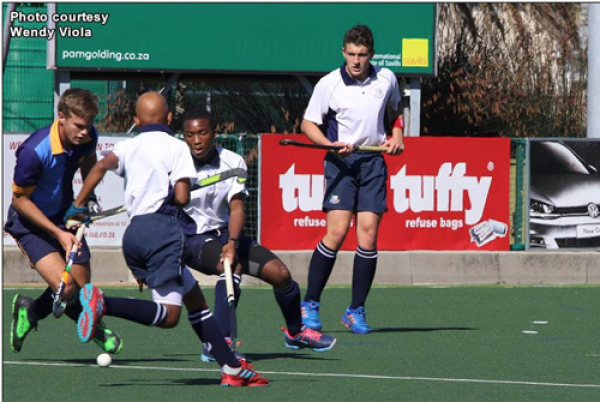 There is a new leader on this week's Boys U16 Hockey Rankings in what could well be a perfectly timed run by Jeppe who take the No.1 spot for the first time in 2018.
There were two factors that allowed Jeppe to clinch the top spot; firstly they pulled of three victories against KES, Waterkloof and Parktown. The second factor was that Grey College, who had led for the best part of the season came up against a spirited Grey High School side that produced one of the finest results of the season winning 5-2.
This makes a big difference on the top of the rankings table with Grey High now slotting into second position with Jeppe now on the top. Maritzburg College also went down to Pretoria Boys High in a close encounter which forces them out of the top 5.
Please send through your results to [email protected]
BOY'S U16's HOCKEY RANKINGS 3 AUGUST, 2018

Rank

TEAM

PLAYED

AVG BONUS POINTS

1

JEPPE

26

4.42

2

GREY HIGH SCHOOL

18

4.30

3

GREY COLLEGE

15

4.23

5

RONDEBOSCH

18

3.99

6

MARITZBURG COLLEGE

20

3.96

7

SACS

17

3.91

8

MICHAELHOUSE

15

3.86

9

KEARSNEY COLLEGE

16

3.68

10

KES

17

3.59

11

GARSFONTEIN

24

3.50

12

CLIFTON

15

3.41

13

BISHOPS

17

3.38

14

HILTON COLLEGE

15

3.37

15

MIDDELBURG

9

3.34

16

WOODRIDGE

15

3.32

17

ST ANDREWS SCHOOL

11

3.00

18

SELBORNE COLLEGE

16

2.85

19

ST DAVIDS

24

2.80

20

PARKTOWN

16

2.78

21

NORTHWOOD

13

2.76

22

WATERKLOOF

20

2.76

23

WESTVILLE BH

17

2.65

24

PIETERSBURG

17

2.58

25

ST ANDREWS COLLEGE

21

2.56

26

PAARL GIM

12

2.55

27

HUDSON PARK

11

2.53

28

ST CHARLES COLLEGE

9

2.41

29

AFFIES

21

2.40

30

WYNBERG BH

15

2.39

31

CAMBRIDGE

15

2.25

32

PAUL ROOS GYM

13

2.24

33

STELLENBERG

14

2.24

34

PAREL VALLEI

9

2.20

35

MENLOPARK

18

2.19

36

ST ALBANS COLLEGE

11

2.15

37

OUTENIQUA

12

2.03

38

ST JOHNS COLLEGE

17

2.00

39

KINGSWOOD

8

1.96

40

YORK HIGH

8

1.90

41

EDGEMEAD

9

1.81

42

PAARL BOYS HIGH

13

1.80

43

GLENWOOD

12

1.79

44

NELSPRUIT

16

1.79

45

ST STITHIANS

15

1.77

46

CORNWALL HILL

13

1.74

47

FAIRMONT

12

1.73

48

CRAWFORD LA LUCIA

9

1.71

49

PRETORIA BOYS HIGH

12

1.59

50

CURRO DURBANVILLE

6

1.57

51

UPLANDS COLLEGE

6

1.55

52

QUEENS COLLEGE

9

1.52

53

PEARSON

11

1.39

54

STIRLING

6

1.18

55

DHS

13

1.02

56

DF MALAN

6

0.65

57

ST BENEDICTS

12

0.51

58

PINELANDS

7

0.14

59

POTCH HS

11

0.08

60

SOMERSET COLLEGE

6

-0.10

61

POTCH BH

8

-0.74