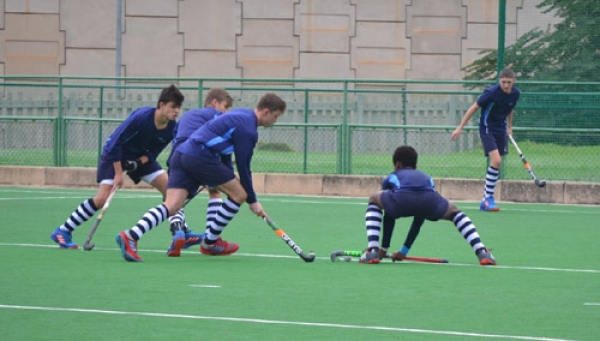 The race to the top of the table is becoming very intense with any one of several teams capable to ending the season as the leading U16 hockey team in South Africa.
For this week we still have the unbeatable Grey College commanding the top of the U16 Boys Hockey Rankings after they managed a fairly comfortable win over Affies last week. Jeppe slide into the top 3 zone after they benefit from their victory over St Stithians and SACS and KES cling on to finishing with the top 10 teams after their successes during last weekend.
This is really the final week the leading teams have to qualify for the U16 Top Schools Tournament hosted by Paarl Gym with the cut off of 31 May, 2018 fast approaching.
The top 10 teams as per the rankings on that day will be invited to compete in the tournament along with 2 other wild card teams. It promises to be a school hockey spectacle!
Ensure your results are with us by emailing them to [email protected]
BOY'S U16's HOCKEY RANKINGS 25 MAY, 2018

Rank

TEAM

PLAYED

AVG BONUS POINTS

1

GREY COLLEGE

14

4.55

2

GREY HIGH SCHOOL

13

4.41

3

JEPPE

19

4.35

4

MARITZBURG COLLEGE

14

4.29

5

RONDEBOSCH

13

4.23

6

CLIFTON

11

4.02

7

MICHAELHOUSE

11

3.87

8

KEARSNEY COLLEGE

11

3.85

9

KES

14

3.77

SACS

14

3.77

11

BISHOPS

13

3.39

12

GARSFONTEIN

15

3.37

13

MIDDELBURG

9

3.34

14

HILTON COLLEGE

11

3.15

15

PAARL GIM

10

3.14

16

PARKTOWN

13

3.12

17

ST ANDREWS SCHOOL

11

3.00

18

ST DAVIDS

21

2.93

19

WOODRIDGE

10

2.81

20

AFFIES

18

2.79

21

ST ANDREWS COLLEGE

14

2.64

22

MENLOPARK

14

2.62

23

SELBORNE COLLEGE

10

2.55

24

WATERKLOOF

15

2.54

25

WYNBERG BH

12

2.53

26

NORTHWOOD

11

2.45

27

WESTVILLE BH

13

2.42

28

PAUL ROOS GYM

11

2.40

29

EDGEMEAD

7

2.36

30

YORK HIGH

7

2.23

31

ST JOHNS COLLEGE

14

2.22

32

ST ALBANS COLLEGE

11

2.15

33

CAMBRIDGE

9

2.12

34

OUTENIQUA

9

1.92

35

ST STITHIANS

14

1.92

36

CORNWALL HILL

8

1.91

37

QUEENS COLLEGE

7

1.71

38

UPLANDS COLLEGE

6

1.55

39

DHS

9

1.49

40

GLENWOOD

8

1.46

41

FAIRMONT

7

1.39

42

CURRO DURBANVILLE

5

1.38

43

PRETORIA BOYS HIGH

10

1.33

44

ST CHARLES COLLEGE

6

1.27

45

PAARL BOYS HIGH

8

1.21

46

PEARSON

9

1.13

47

TRINITYHOUSE

4

1.03

48

CRAWFORD LA LUCIA

5

0.90

49

DF MALAN

5

0.86

50

ST BENEDICTS

9

0.66

51

PINELANDS

5

0.34

52

POTCH HS

11

0.08

53

SOMERSET COLLEGE

6

-0.10

54

POTCH BH

8

-0.74