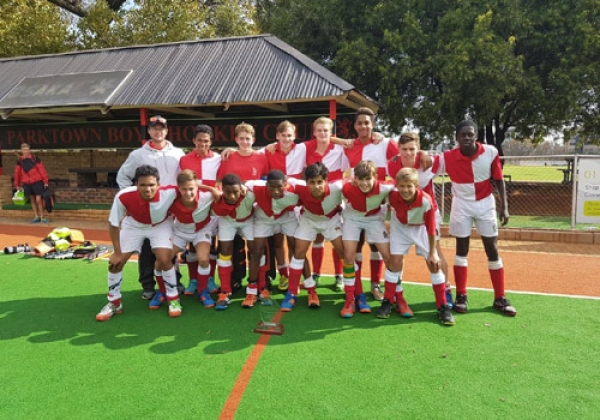 There is a slight shuffle that takes place on this week's Boys U16 Hockey Rankings with Grey High School inching up to the second spot on the table which still has the other Grey at the top.
Both Grey's are interestingly unbeaten so far this season according to submitted results although Grey High School has been held to a few drawn results and Grey College have won all their matches.
KES make their first appearance amongst the leading 10 teams in the country following a successful outing against teams from the Top 8 tournament which saw them winning the final against Jeppe 2-1.
Please send your results to [email protected]
BOY'S U16's HOCKEY RANKINGS 18 MAY, 2018

Rank

TEAM

PLAYED

AVG BONUS POINTS

1

GREY COLLEGE

13

4.50

2

GREY HIGH SCHOOL

11

4.48

3

RONDEBOSCH

12

4.29

JEPPE

18

4.29

5

MARITZBURG COLLEGE

13

4.28

6

CLIFTON

10

3.99

7

MICHAELHOUSE

11

3.87

8

KEARSNEY COLLEGE

11

3.85

9

KES

13

3.71

10

SACS

15

3.52

11

MIDDELBURG

9

3.34

12

BISHOPS

11

3.31

13

GARSFONTEIN

14

3.30

14

HILTON COLLEGE

11

3.15

15

PAARL GIM

10

3.14

16

ST ANDREWS SCHOOL

9

3.12

17

PARKTOWN

13

3.12

18

AFFIES

17

2.98

19

ST DAVIDS

21

2.93

20

SELBORNE COLLEGE

9

2.88

21

WATERKLOOF

13

2.63

22

ST ANDREWS COLLEGE

13

2.62

23

NORTHWOOD

10

2.60

24

PAUL ROOS GYM

10

2.55

25

WYNBERG BH

12

2.53

26

MENLOPARK

7

2.46

27

WESTVILLE BH

13

2.42

28

CAMBRIDGE

8

2.28

29

ST ALBANS COLLEGE

10

2.27

30

YORK HIGH

7

2.23

31

ST JOHNS COLLEGE

14

2.22

32

EDGEMEAD

6

2.15

33

ST STITHIANS

13

2.12

34

CORNWALL HILL

6

1.95

35

PAREL VALLEI

5

1.84

36

CURRO DURBANVILLE

4

1.80

37

OUTENIQUA

8

1.79

38

DHS

8

1.56

39

UPLANDS COLLEGE

6

1.55

40

CRAWFORD SANDTON

4

1.43

41

FAIRMONT

7

1.39

42

QUEENS COLLEGE

6

1.38

43

ST CHARLES COLLEGE

6

1.27

44

DF MALAN

4

1.18

45

GLENWOOD

7

1.16

46

PEARSON

9

1.13

47

PRETORIA BOYS HIGH

9

0.92

48

CRAWFORD LA LUCIA

5

0.90

49

PAARL BOYS HIGH

7

0.67

50

ST BENEDICTS

9

0.66

51

POTCH HS

11

0.08

52

POTCH BH

8

-0.74