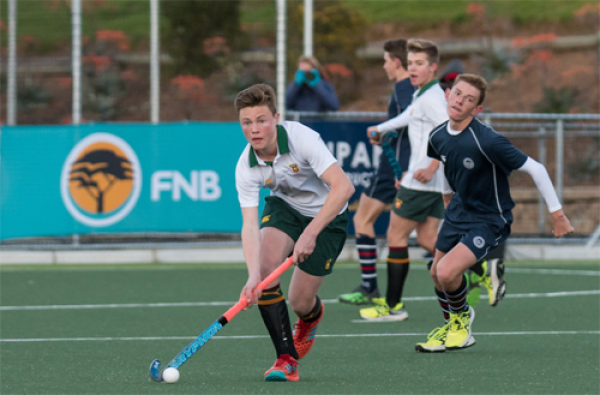 The powerful hockey culture that emanates from Jeppe was well seen this year as their U16 team set the pace for the better part of the season to end deservedly as the leading team in the country.
Recording only a single defeat Jeppe held off the challenge from Grey College, Grey High, Rondebosch, Maritzburg College and others to finish on top of the 2018 rankings which must bring plenty of confidence for a strong first team in 2019.
Rustenburg were the eventual winners of the Boys U16 Top School Tournament that was held at Paarl Gym during August and their strong showing against the teams on display has boosted them on the U16 Hockey Ranking
For the first time Paarl Gym hosted the U16 Top Schools Tournament and although some of the bigger names like Jeppe, the two Grey's, Rondebosch and Maritzburg College were not present it still was a spectacle and will no doubt grow next season.

Paarl Gim move up into the top 20 in these rankings after recording several good results and Bishops who edged out SACS and were knocking on the door of a potential top 10 finish fell at their final hurdle against Rondebosch 3-0.
However it is still Jeppe who have commanded the top of the ladder who take the first place followed by the two Grey's. We look forward to seeing how these teams perform in the senior ranks in 2019.

BOY'S U16's HOCKEY RANKINGS 30 AUGUST, 2018

Rank

TEAM

PLAYED

AVG BONUS POINTS

1

JEPPE

26

4.42

2

GREY HIGH SCHOOL

20

4.32

3

GREY COLLEGE

16

4.28

4

MARITZBURG COLLEGE

21

3.98

5

RONDEBOSCH

21

3.93

6

SACS

31

3.89

7

MICHAELHOUSE

15

3.86

8

KEARSNEY COLLEGE

16

3.68

9

KES

18

3.64

10

GARSFONTEIN

29

3.55

11

CLIFTON

15

3.41

12

HILTON COLLEGE

15

3.37

13

MIDDELBURG

9

3.34

14

WOODRIDGE

16

3.33

15

BISHOPS

19

3.27

16

RUSTENBURG

10

3.01

17

ST ANDREWS SCHOOL

11

3.00

18

PAARL GIM

19

2.87

19

WATERKLOOF

21

2.84

20

ST DAVIDS

24

2.80

21

SELBORNE COLLEGE

18

2.79

22

PARKTOWN

16

2.78

23

NORTHWOOD

13

2.76

24

WESTVILLE BH

17

2.65

25

ST ANDREWS COLLEGE

22

2.64

26

MENLOPARK

25

2.62

27

PIETERSBURG

17

2.58

28

PAREL VALLEI

18

2.54

29

HUDSON PARK

13

2.50

30

AFFIES

22

2.47

31

ST CHARLES COLLEGE

9

2.41

32

CAMBRIDGE

18

2.36

33

WYNBERG BH

17

2.35

34

STELLENBERG

14

2.24

35

PAUL ROOS GYM

15

2.23

36

OUTENIQUA

20

2.21

37

ST ALBANS COLLEGE

11

2.15

38

GLENWOOD

13

2.00

39

ST JOHNS COLLEGE

17

2.00

40

KINGSWOOD

8

1.96

41

PAARL BOYS HIGH

22

1.95

42

FAIRMONT

14

1.90

43

NELSPRUIT

16

1.79

44

ST STITHIANS

15

1.77

45

DF MALAN

13

1.75

46

CORNWALL HILL

13

1.74

47

CRAWFORD LA LUCIA

9

1.71

48

SOMERSET COLLEGE

14

1.69

49

PRETORIA BOYS HIGH

12

1.59

50

YORK HIGH

16

1.58

51

EDGEMEAD

11

1.53

52

QUEENS COLLEGE

11

1.50

53

CURRO DURBANVILLE

11

1.38

54

PEARSON

13

1.31

55

STIRLING

7

1.30

56

DHS

13

1.02

57

PINELANDS

14

0.66

58

ST BENEDICTS

12

0.51

59

POTCH HS

11

0.08

60

POTCH BH

8

-0.74