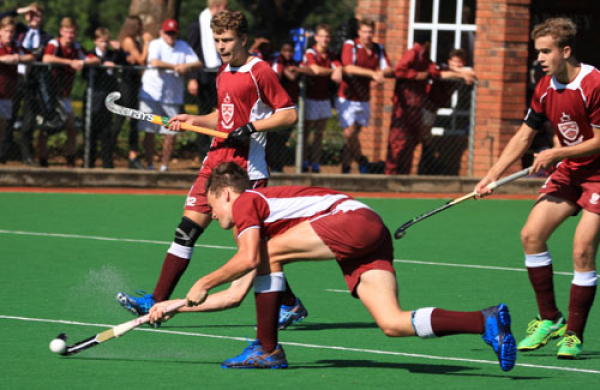 For the second consecutive week Hilton College were forced to settle for a draw when they faced the powerful Westville team in what ended up in a stalemate at 0-0.
Although Hilton's lead at the head of the table has started to erode they still remain the leading team on this week's Boys TurfTech Top 80 Hockey Rankings.
Jeppe though have made a strong challenge for the top spot as they jump to the second position to separate the two KZN teams after winning the Aitken Cup for the fifth time in succession. Jeppe, who did lose a close encounter to Westville earlier this season, have enjoyed an otherwise magnificent season so far and will be hoping for a strong finish to the year.
However there is very little to separate the top teams who have all shown a hunger for victories which was seen once again last week. Grey High School demolished Kingswood in a one-sided affair, Grey College got the better of Affies and Bishops and Kearsney College beat Wynberg and Glenwood.
Please send through your team's results to [email protected]
BOY'S 1sts HOCKEY RANKINGS 22 MAY, 2019

Rank

TEAM

PLAYED

AVG BONUS PTS

1

HILTON COLLEGE

16

4.23

2

JEPPE

19

4.15

3

WESTVILLE BH

18

4.11

4

GREY HIGH SCHOOL

21

4.09

5

GREY COLLEGE

23

3.97

6

BISHOPS

21

3.79

7

KEARSNEY COLLEGE

17

3.62

8

RONDEBOSCH

9

3.62

9

PAUL ROOS GYM

14

3.57

10

MARITZBURG COLLEGE

16

3.11

11

PRETORIA BOYS HIGH

20

3.07

12

SACS

14

3.06

13

ST JOHNS COLLEGE

27

3.02

14

KES

19

2.97

15

NORTHWOOD

17

2.96

16

ST ALBANS COLLEGE

16

2.75

17

CAMBRIDGE

18

2.70

18

YORK HIGH

22

2.48

19

ST CHARLES COLLEGE

9

2.47

20

GARSFONTEIN

13

2.44

21

GLENWOOD

13

2.43

22

PAREL VALLEI

19

2.42

23

CLIFTON

19

2.42

24

PARKTOWN

15

2.27

25

FAIRMONT

17

2.24

26

WATERKLOOF

15

2.21

27

ST STITHIANS

16

2.19

28

HUDSON PARK

26

2.18

29

WOODRIDGE

10

2.16

30

SELBORNE COLLEGE

16

2.13

31

PEARSON

17

2.12

32

OUTENIQUA

18

2.08

33

ST DAVIDS

18

2.02

34

MICHAELHOUSE

20

2.02

35

AFFIES

23

2.01

36

PAARL BOYS HIGH

11

2.01

37

JIM FOUCHE

17

1.96

38

PAARL GIM

16

1.96

39

CURRO DURBANVILLE

21

1.94

40

WORCESTER GYM

14

1.91

41

TRINITYHOUSE

18

1.86

42

HELPMEKAAR

12

1.83

43

PINELANDS

17

1.76

44

ST DOMINICS

11

1.75

45

GLENWOOD HOUSE

11

1.75

46

NELSPRUIT

12

1.71

47

EDGEMEAD

10

1.65

48

ST ANDREWS COLLEGE

7

1.63

49

MENLOPARK

15

1.59

50

DF MALAN

14

1.51

51

QUEENS COLLEGE

17

1.46

52

MERRIFIELD

15

1.43

53

CHARLIE HOFMEYR

13

1.42

54

CRAWFORD LA LUCIA

9

1.34

55

SOMERSET COLLEGE

11

1.34

56

MILNERTON

16

1.27

57

STIRLING

15

1.23

58

DALE COLLEGE

19

1.21

59

ST BENEDICTS

17

1.18

60

PIETERSBURG

11

1.16

61

CORNWALL HILL

26

1.12

62

THOMAS MORE COLLEGE

8

1.09

63

DRIEHOEK

9

1.07

64

ELDORAIGNE

9

1.06

65

HERMANUS

13

0.99

66

KINGSWOOD

18

0.88

67

DHS

22

0.84

68

ZWARTKOP

10

0.82

69

UPLANDS COLLEGE

13

0.80

70

KRUGERSDORP

11

0.77

71

WITTEBERG

14

0.71

72

HUGENOTE

11

0.69

73

CURRO AURORA

12

0.63

74

WYNBERG BH

10

0.62

75

ST ANDREWS SCHOOL

6

0.53

76

SWARTLAND

10

0.46

77

MONUMENT

9

0.43

78

NORTHCLIFF

5

0.34

79

POTCHGIM

5

0.28

80

ALEXANDER ROAD

7

0.26

81

HTS DROSTDY

10

0.13

82

WESTERFORD

8

0.09