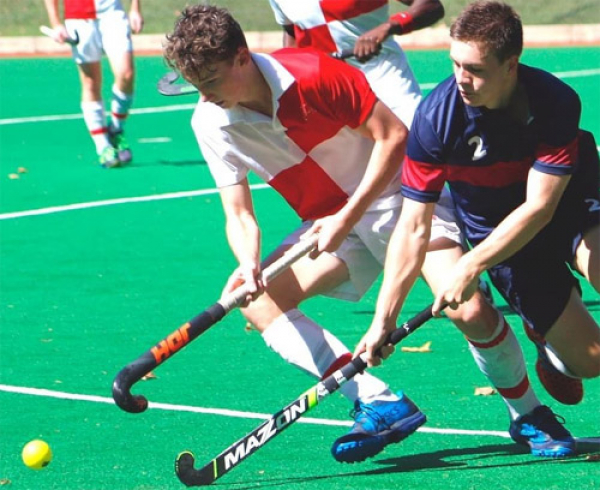 Rondebosch continues their steady climb to the top of this week's Boys TurfTech Top 80 Rankings and now move into the top 10 zone after a successful weeks work.
However Hilton College continue on their merry way peeling off win after win and remain at the helm of these rankings however the margin separating the top 12 teams is slim. Northwood who gave as good as they got just weren't able to capitalize on their chances against Hilton and narrowly missed out on taking a big scalp.
Grey High School has made up some ground and is now poised to take advantage of on any mistake by Hilton. Their 6-2 win over Wynberg was a clinical display and as still the only team that has been able to beat Hilton they will be backing their chances to claim the leading position.
The long time giant of school boy hockey, Maritzburg College, has flattered to deceive this season, with some flashes of their former best mixed with some disappointing results. Yet like an aging colossus who refuses to die, they have managed to get back into the top 10 zone after a good win over the tenacious St Charles College side.
Please continue to send through your results to [email protected]
BOY'S 1sts HOCKEY RANKINGS 2 MAY, 2019

Rank

TEAM

PLAYED

AVG BONUS PTS

1

HILTON COLLEGE

14

4.29

2

GREY HIGH SCHOOL

16

4.20

3

WESTVILLE BH

15

3.98

4

BISHOPS

19

3.82

5

JEPPE

12

3.79

6

GREY COLLEGE

19

3.68

7

RONDEBOSCH

6

3.52

8

KEARSNEY COLLEGE

14

3.41

9

PAUL ROOS GYM

9

3.26

10

ST JOHNS COLLEGE

17

3.25

MARITZBURG COLLEGE

14

3.25

12

NORTHWOOD

14

3.21

13

KES

12

3.01

14

ST DAVIDS

7

2.84

15

SACS

11

2.83

16

PRETORIA BOYS HIGH

15

2.81

17

CAMBRIDGE

15

2.80

18

ST ALBANS COLLEGE

14

2.78

19

ST CHARLES COLLEGE

8

2.66

20

ST STITHIANS

11

2.59

21

GLENWOOD

12

2.57

22

GARSFONTEIN

11

2.55

23

YORK HIGH

21

2.46

24

PAREL VALLEI

15

2.41

25

FAIRMONT

14

2.36

26

CLIFTON

17

2.35

27

HUDSON PARK

23

2.28

28

PEARSON

13

2.18

29

SELBORNE COLLEGE

11

2.15

30

WOODRIDGE

7

2.14

31

MICHAELHOUSE

17

2.09

32

OUTENIQUA

16

2.09

33

AFFIES

20

2.06

34

PINELANDS

15

2.00

35

PARKTOWN

12

1.99

36

WATERKLOOF

11

1.96

37

PAARL GIM

13

1.94

38

CURRO DURBANVILLE

16

1.94

39

JIM FOUCHE

16

1.93

40

PAARL BOYS HIGH

6

1.92

41

NELSPRUIT

8

1.84

42

TRINITYHOUSE

11

1.74

43

MENLOPARK

13

1.69

44

WORCESTER GYM

10

1.66

45

EDGEMEAD

10

1.65

46

DF MALAN

12

1.64

47

GLENWOOD HOUSE

10

1.64

48

MERRIFIELD

13

1.62

49

QUEENS COLLEGE

15

1.62

50

SOMERSET COLLEGE

9

1.43

51

HERMANUS

9

1.39

52

STIRLING

14

1.35

53

CRAWFORD LA LUCIA

5

1.32

54

HELPMEKAAR

9

1.28

55

DALE COLLEGE

17

1.25

56

CHARLIE HOFMEYR

10

1.24

57

MILNERTON

13

1.24

58

PIETERSBURG

11

1.16

59

CORNWALL HILL

24

1.12

60

ST BENEDICTS

14

1.06

61

ELDORAIGNE

7

0.99

62

ST ANDREWS COLLEGE

5

0.94

63

DRIEHOEK

7

0.86

64

KINGSWOOD

12

0.85

65

ZWARTKOP

10

0.82

66

DHS

19

0.81

67

THOMAS MORE COLLEGE

6

0.78

68

UPLANDS COLLEGE

12

0.73

69

WYNBERG BH

8

0.73

70

HUGENOTE

10

0.68

71

CURRO AURORA

12

0.63

72

KRUGERSDORP

9

0.59

73

ALEXANDER ROAD

6

0.40

74

MONUMENT

8

0.39

75

SWARTLAND

9

0.29

76

POTCHGIM

5

0.28

77

HTS DROSTDY

10

0.13

78

WESTERFORD

8

0.09