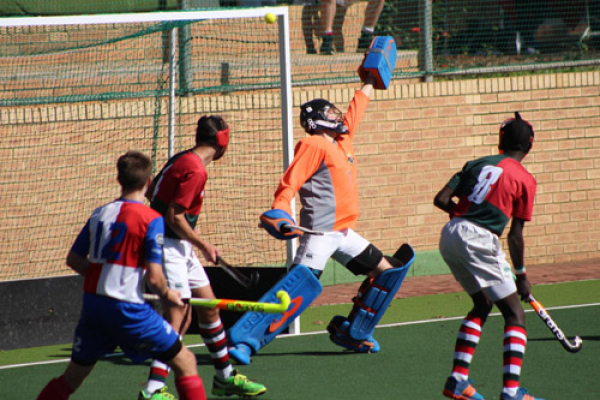 Jeppe who have been leading the Belgotex Sports Hockey Rankings for the past couple of weeks were held to a 2-2 draw by Pretoria Boys High over the weekend in what was a thrilling match.
However the draw by Jeppe and the good win by Maritzburg College over Michaelhouse helps to nudge the PMB side back into first place on this week's rankings.
There is practically very little to separate these two leaders and we can expect them to be jostling for the top spot for the rest of the season with each result critical to maintaining the current positions.
Pretoria Boys High who would have still been hurting from their defeat at the hands of St.Benedicts showed that they certainly are capable of living with the teams at the top of the table and will be hoping to carry on with the form they showed against Jeppe for the remainder of the season. PBHS are now very close to getting back into the top five after the past week's performances.
Please send through your results to [email protected]
BOY'S 1sts HOCKEY RANKINGS 8 JUNE, 2018

Rank

TEAM

PLAYED

AVG BONUS PTS

1

MARITZBURG COLLEGE

20

4.63

2

JEPPE

27

4.62

3

CLIFTON

22

4.14

4

GREY COLLEGE

18

3.96

5

BISHOPS

23

3.93

6

PRETORIA BOYS HIGH

12

3.80

7

GREY HIGH SCHOOL

17

3.75

8

WESTVILLE BH

15

3.71

9

WYNBERG BH

15

3.69

10

RONDEBOSCH

17

3.67

11

SELBORNE COLLEGE

17

3.55

12

KEARSNEY COLLEGE

18

3.53

13

ST JOHNS COLLEGE

33

3.38

14

PAUL ROOS GYM

14

3.36

15

SACS

14

3.25

16

GARSFONTEIN

15

3.19

17

ST ANDREWS COLLEGE

13

3.03

18

KES

28

2.95

19

HILTON COLLEGE

18

2.91

20

AFFIES

23

2.89

21

WOODRIDGE

15

2.87

22

QUEENS COLLEGE

15

2.69

23

MICHAELHOUSE

14

2.68

24

ST DAVIDS

18

2.58

25

ST BENEDICTS

21

2.56

26

BEAULIEU COLLEGE

26

2.56

27

MIDDELBURG

17

2.48

28

NORTHWOOD

23

2.40

29

EDGEMEAD

18

2.33

30

ST CHARLES COLLEGE

17

2.28

31

FAIRMONT

16

2.27

32

OUTENIQUA

23

2.26

33

PEARSON

15

2.23

34

MENLOPARK

14

2.19

35

YORK HIGH

9

2.13

36

JIM FOUCHE

16

2.13

37

JIM FOUCHE

16

2.13

38

NELSPRUIT

14

2.09

39

GRAEME

13

2.07

40

RUSTENBURG

11

2.06

41

PAARL GIM

8

2.05

42

WATERKLOOF

17

2.02

43

DALE COLLEGE

16

1.99

44

CAMBRIDGE

17

1.97

45

KINGSWOOD

16

1.96

46

ST ANDREWS SCHOOL

16

1.92

47

PAREL VALLEI

11

1.90

48

OAKHILL

16

1.89

49

PARKTOWN

28

1.87

50

CORNWALL HILL

20

1.73

51

CURRO DURBANVILLE

7

1.70

52

ST ALBANS COLLEGE

24

1.69

53

ST STITHIANS

13

1.50

54

ALEXANDER ROAD

8

1.45

55

GLENWOOD

9

1.43

56

HUDSON PARK

22

1.41

57

PINELANDS

9

1.38

58

ST DOMINICS

16

1.33

59

MERRIFIELD

12

1.27

60

CRAWFORD LONEHILL

26

1.15

61

KRUGERSDORP

16

1.13

62

UPLANDS COLLEGE

12

1.11

63

CRAWFORD LA LUCIA

10

1.09

64

TRINITYHOUSE

15

1.07

65

POTCH BH

13

1.04

66

WESTERING

7

0.89

67

DRIEHOEK

12

0.79

68

HELPMEKAAR

13

0.78

69

NOORDHEUWEL

18

0.78

70

DHS

15

0.63

71

GLENWOOD HOUSE

5

0.62

72

PAARL BOYS HIGH

11

0.59

73

STIRLING

9

0.57

74

ELDORAIGNE

12

0.11