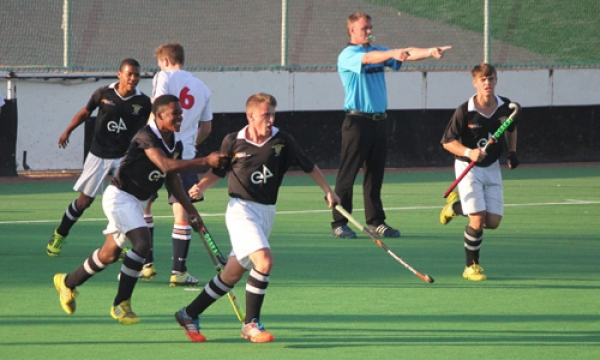 Pretoria Boys High, who had been inching up the rankings in an attempt to force a coup at the top of the table, suffered a narrow loss to St Johns College over the weekend that has seen them lose a bit of footing on this week's Belgotex Sports Boy's Top 70 Rankings.
However PBHS remain in contention to still finish higher if they can get back to winning ways and complete the season strongly. It has already been a long season for the boys from Pretoria who were away on tour for the first half of the season but on their day they are capable of beating most teams in South Africa.
However it if fast developing into a two horse race at the pinnacle of the rankings with Maritzburg College and Jeppe very close and any loss by either team would certainly dictate as to who can lay claim to the leading school hockey team in the country.
Maritzburg College completed a good win over DHS and thanks to some brilliant work by the DHS goalkeeper the score line was kept to a respectable 3-0 win for College.
Jeppe though still continue to churn out the wins as they took care of business against St.Stithians to close the gap on Maritzburg College to the closest it has been all season.
Please ensure your results are with us by sending them to [email protected]
BOY'S 1sts HOCKEY RANKINGS 23 MAY, 2018

Rank

TEAM

PLAYED

AVG BONUS PTS

1

MARITZBURG COLLEGE

18

4.63

2

JEPPE

24

4.61

3

CLIFTON

17

4.12

4

BISHOPS

21

4.06

5

PRETORIA BOYS HIGH

10

3.96

6

GREY COLLEGE

17

3.93

7

GREY HIGH SCHOOL

16

3.78

8

RONDEBOSCH

15

3.59

9

WYNBERG BH

13

3.58

10

WESTVILLE BH

12

3.46

11

SACS

12

3.43

12

PAUL ROOS GYM

13

3.43

13

SELBORNE COLLEGE

15

3.43

14

KEARSNEY COLLEGE

16

3.42

15

GARSFONTEIN

13

3.38

16

ST JOHNS COLLEGE

30

3.34

17

ST ANDREWS COLLEGE

13

3.18

18

MICHAELHOUSE

12

3.10

19

KES

26

3.05

20

AFFIES

22

2.99

21

HILTON COLLEGE

16

2.94

22

ST BENEDICTS

18

2.74

23

WOODRIDGE

13

2.74

24

ST DAVIDS

15

2.69

25

QUEENS COLLEGE

14

2.61

26

BEAULIEU COLLEGE

26

2.56

27

EDGEMEAD

16

2.55

28

MIDDELBURG

17

2.48

29

ST CHARLES COLLEGE

16

2.36

30

PEARSON

14

2.34

31

OUTENIQUA

21

2.30

32

PAARL GIM

9

2.28

33

NORTHWOOD

21

2.20

34

FAIRMONT

14

2.17

35

DALE COLLEGE

14

2.16

36

ST ANDREWS SCHOOL

15

2.15

37

JIM FOUCHE

16

2.13

38

JIM FOUCHE

16

2.13

39

GRAEME

11

2.08

40

RUSTENBURG

11

2.06

41

YORK HIGH

9

2.06

42

PARKTOWN

27

1.96

43

WATERKLOOF

16

1.95

44

KINGSWOOD

13

1.86

45

NELSPRUIT

12

1.86

46

CAMBRIDGE

15

1.81

47

CORNWALL HILL

18

1.80

48

ST STITHIANS

11

1.75

49

OAKHILL

17

1.73

50

PAREL VALLEI

8

1.66

51

ALEXANDER ROAD

7

1.54

52

ST ALBANS COLLEGE

21

1.49

53

CURRO DURBANVILLE

5

1.38

54

MERRIFIELD

11

1.35

55

PINELANDS

7

1.34

56

HUDSON PARK

21

1.33

57

GLENWOOD

8

1.21

58

KRUGERSDORP

16

1.13

59

UPLANDS COLLEGE

12

1.11

60

CRAWFORD LA LUCIA

10

1.09

61

TRINITYHOUSE

15

1.07

62

POTCH BH

13

1.04

63

ST DOMINIC'S

15

1.03

64

DHS

12

0.93

65

MENLOPARK

7

0.93

66

NOORDHEUWEL

18

0.78

67

HELPMEKAAR

11

0.77

68

CRAWFORD LONEHILL

9

0.76

69

PAARL BOYS HIGH

10

0.72

70

STELLENBERG

6

0.67

71

GLENWOOD HOUSE

5

0.62

72

STIRLING

8

0.20

73

ELDORAIGNE

11

0.15