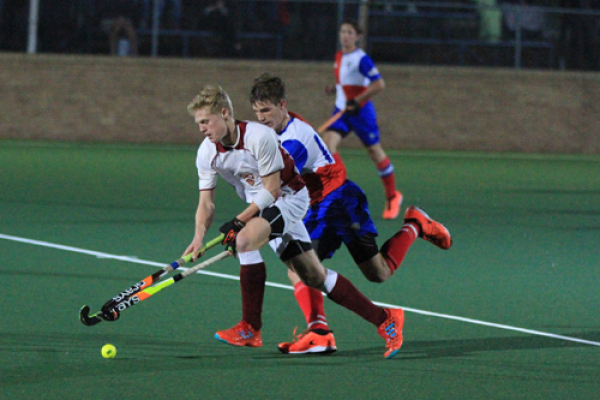 For the second time this season Maritzburg College were forced to bend their knee and accept defeat and in so doing take a step back on this week's Belgotex Sports Boys Hockey Rankings.
Travelling down to Westville, Maritzburg College would have fancied their chances; however Westville has been improving each week and were up for the challenge from the traditional powerhouse of KZN hockey. Creating more than 5 golden opportunities in the early exchanges it did look like College would take the victory. However the missed chances would come back and bite the Pietermaritzburg team who suddenly found themselves 1-0 down after a Westville striker was able to drag flick the ball high into the College net from close range.
Soon the score was 2-0 before the break and although College managed to score late in the second half the lack of spark and apparent lethargy just was not enough to avoid the loss.
Westville surge up the table following that win and Jeppe who were held to their 9th draw of the year when they got locked at 3-3 with Kearsney College slip into the first place on the rankings, a position they regain after some weeks.
It is a see-saw affair at the top of table with the lead interchanging between Maritzburg Colege and Jeppe, but with the likes of Kearsney, Westville, Bishops, Wynberg and Rondebosch all showing good recent form we could be in for a strong finish from several teams.
Please send your scores to [email protected]
BOY'S 1sts HOCKEY RANKINGS 15 JUNE, 2018

Rank

TEAM

PLAYED

AVG BONUS PTS

1

JEPPE

28

4.61

2

MARITZBURG COLLEGE

21

4.45

3

CLIFTON

23

4.00

4

GREY COLLEGE

18

3.96

5

BISHOPS

24

3.95

6

PRETORIA BOYS HIGH

13

3.85

7

WYNBERG BH

16

3.79

8

WESTVILLE BH

16

3.79

9

GREY HIGH SCHOOL

17

3.75

10

RONDEBOSCH

18

3.72

11

KEARSNEY COLLEGE

20

3.62

12

SELBORNE COLLEGE

17

3.55

13

ST JOHNS COLLEGE

35

3.41

14

PAUL ROOS GYM

14

3.36

15

GARSFONTEIN

16

3.13

16

ST ANDREWS COLLEGE

14

3.11

17

SACS

15

3.01

18

HILTON COLLEGE

19

2.95

19

KES

28

2.95

20

AFFIES

23

2.89

21

WOODRIDGE

15

2.87

22

MICHAELHOUSE

15

2.83

23

QUEENS COLLEGE

15

2.69

24

ST DAVIDS

19

2.68

25

BEAULIEU COLLEGE

26

2.56

26

ST BENEDICTS

22

2.48

27

MIDDELBURG

17

2.48

28

NORTHWOOD

23

2.40

29

EDGEMEAD

18

2.33

30

OUTENIQUA

22

2.33

31

FAIRMONT

16

2.27

32

MENLOPARK

15

2.24

33

ST CHARLES COLLEGE

18

2.19

34

YORK HIGH

9

2.13

35

JIM FOUCHE

16

2.13

36

JIM FOUCHE

16

2.13

37

NELSPRUIT

14

2.09

38

GRAEME

13

2.07

39

RUSTENBURG

11

2.06

40

PEARSON

16

2.06

41

WATERKLOOF

19

2.02

42

DALE COLLEGE

17

2.00

43

PAARL GIM

9

1.99

44

ST ALBANS COLLEGE

28

1.96

45

KINGSWOOD

16

1.96

46

ST ANDREWS SCHOOL

16

1.92

47

CAMBRIDGE

18

1.91

48

PAREL VALLEI

11

1.90

49

OAKHILL

16

1.89

50

PARKTOWN

28

1.87

51

ST STITHIANS

14

1.71

52

CURRO DURBANVILLE

7

1.70

53

CORNWALL HILL

22

1.65

54

ALEXANDER ROAD

8

1.45

55

HUDSON PARK

23

1.43

56

GLENWOOD

9

1.43

57

PINELANDS

9

1.38

58

ST DOMINICS

16

1.33

59

MERRIFIELD

12

1.27

60

CRAWFORD LONEHILL

26

1.15

61

KRUGERSDORP

16

1.13

62

UPLANDS COLLEGE

12

1.11

63

CRAWFORD LA LUCIA

10

1.09

64

TRINITYHOUSE

15

1.07

65

POTCH BH

13

1.04

66

WESTERING

7

0.89

67

STIRLING

10

0.86

68

DRIEHOEK

12

0.79

69

NOORDHEUWEL

18

0.78

70

HELPMEKAAR

14

0.70

71

DHS

15

0.63

72

PAARL BOYS HIGH

11

0.59

73

ELDORAIGNE

12

0.11

74

DRIEHOEK

12

0.38

75

ELDORAIGNE

12

0.11