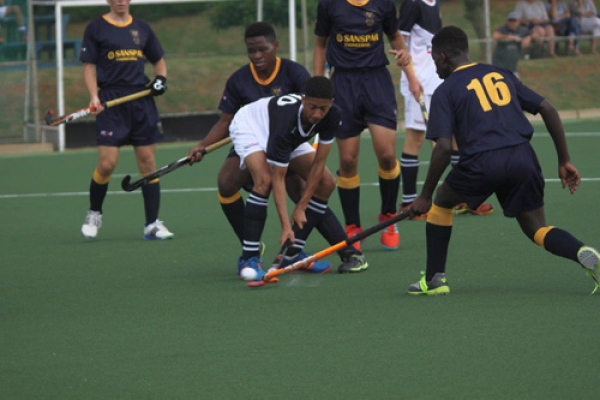 Maritzburg College hold onto the top spot by the skin of their teeth this week after being forced into a draw against a motivated Northwood side leaving the door wide open for the likes of Jeppe and Pretoria Boys High to snatch poll position.
Maritzburg College would have been hoping for a win against the KZN coastal team but at the end they failed to make use of the chances that came their way and settled for a frustrating 1-1 draw which has served to make the top end of the table very tight indeed.
SACS were undone by Wynberg who are making steady progress upwards and outplayed a SACS team that will have to record some wins if they wish to continue living with the top ten teams.
Get your team's outstanding results to us by sending them to [email protected]
BOY'S 1sts HOCKEY RANKINGS 2 MAY, 2018

Rank

TEAM

PLAYED

AVG PTS

1

MARITZBURG COLLEGE

15

4.59

2

JEPPE

13

4.58

3

PRETORIA BOYS HIGH

5

4.42

4

GREY COLLEGE

13

4.15

5

CLIFTON

10

4.10

6

PAUL ROOS GYM

8

4.04

7

BISHOPS

18

3.94

8

GREY HIGH SCHOOL

12

3.81

9

SACS

8

3.78

10

GARSFONTEIN

9

3.76

11

WESTVILLE BH

10

3.74

12

RONDEBOSCH

12

3.63

13

SELBORNE COLLEGE

12

3.58

14

KEARSNEY COLLEGE

14

3.58

15

WYNBERG BH

11

3.51

16

KES

15

3.39

17

ST BENEDICTS

16

3.14

18

ST ANDREWS COLLEGE

8

3.14

19

ST JOHNS COLLEGE

18

2.99

20

ST DAVIDS

12

2.98

21

HILTON COLLEGE

14

2.98

22

AFFIES

17

2.84

23

MICHAELHOUSE

10

2.82

24

QUEENS COLLEGE

12

2.78

25

YORK HIGH

5

2.76

26

WOODRIDGE

9

2.60

27

PAARL GIM

6

2.48

28

ST CHARLES COLLEGE

14

2.41

29

ST ANDREWS SCHOOL

11

2.41

30

NORTHWOOD

18

2.34

31

GRAEME

8

2.31

32

BEAULIEU COLLEGE

6

2.27

33

PEARSON

12

2.27

34

EDGEMEAD

13

2.26

35

FAIRMONT

9

2.22

36

DALE COLLEGE

12

2.20

37

OUTENIQUA

18

2.16

38

WATERKLOOF

11

2.05

39

OAKHILL

13

2.04

40

CAMBRIDGE

12

2.01

41

ST STITHIANS

8

2.00

42

KINGSWOOD

11

1.97

43

CORNWALL HILL

14

1.92

44

RUSTENBURG

7

1.86

45

UPLANDS COLLEGE

8

1.83

46

PARKTOWN

16

1.64

47

NELSPRUIT

5

1.62

48

PAREL VALLEI

6

1.57

49

ALEXANDER ROAD

5

1.48

50

ST ALBANS COLLEGE

15

1.48

51

HUDSON PARK

18

1.41

52

KRUGERSDORP

14

1.26

53

MENLOPARK

6

1.13

54

TRINITYHOUSE

10

1.04

55

ST DOMINIC'S

10

0.99

56

DHS

10

0.96

57

CRAWFORD LONEHILL

5

0.88

58

POTCH BH

11

0.80

59

NOORDHEUWEL

15

0.76

60

PAARL BOYS HIGH

8

0.73

61

STELLENBERG

6

0.67

62

CRAWFORD LA LUCIA

7

0.61

63

MERRIFIELD

5

0.60

64

ELDORAIGNE

9

0.14

65

STELLENBOSCH

6

0.05

66

STIRLING

6

-0.03