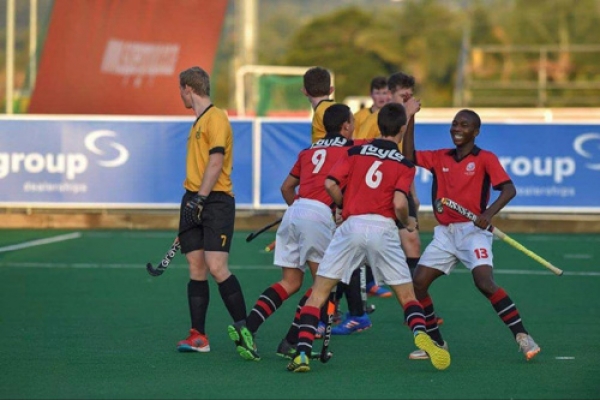 Maritzburg College suffered their first loss of the season at the hands of Grey High School at the Nomads festival which has given Jeppe the chance to make ground on the KZN team and share the top spot at this stage of the season.

College who have long been a powerhouse of school hockey were up against some of the strongest teams in the country at Nomads and were held to a draw by Jeppe and then went down to Grey HS in their last match of the tournament. Grey HS seemed to experience a mixed bag of fortunes drawing 3 of their matches, losing to KES and St John's before finally winning against Maritzburg College.
Jeppe however are in superb form at present and can lay claim to being unbeaten so far this season but probably can look back at the 1-1 draw to Kearsney College at the KES festival as a match that could have seen them occupying the No.1 spot alone if only they had clinched the win.
Rondebosch, PRG and Clifton are likewise unbeaten and this could well be the most fiercely contested race to the top we has seen for many seasons.
Please ensure your team's results are with us by sending them to [email protected]
Please note that this article was adjusted after the initial publishing as some results had not been included. The Rankings have since been adjusted to reflect the inclusion of these results.
BOY'S 1sts HOCKEY RANKINGS 12 APRIL, 2018

Rank

TEAM

PLAYED

AVG PTS

1

MARITZBURG COLLEGE

12

4.55

JEPPE

11

4.55

3

RONDEBOSCH

6

4.53

4

PAUL ROOS GYM

6

4.48

5

CLIFTON

6

4.38

6

SACS

6

4.35

7

GREY COLLEGE

12

4.14

8

BISHOPS

7

4.13

9

WESTVILLE BH

7

3.86

10

GREY HIGH SCHOOL

9

3.76

11

GARSFONTEIN

6

3.75

12

SELBORNE COLLEGE

10

3.53

13

WYNBERG BH

6

3.50

14

KEARSNEY COLLEGE

12

3.35

15

ST JOHNS COLLEGE

13

3.32

16

ST ANDREWS SCHOOL

5

3.28

17

PEARSON

4

3.20

18

ST ANDREWS COLLEGE

8

3.14

19

HILTON COLLEGE

12

3.13

20

QUEENS COLLEGE

11

3.07

21

MIDDELBURG

1

3.00

22

WOODRIDGE

4

2.95

23

KES

10

2.93

24

ST DAVIDS

10

2.89

25

ST BENEDICTS

9

2.76

26

PAARL GIM

4

2.70

27

AFFIES

10

2.65

28

CORNWALL HILL

4

2.50

29

DALE COLLEGE

11

2.44

30

EDGEMEAD

9

2.37

31

FAIRMONT

7

2.30

32

BEAULIEU COLLEGE

6

2.27

33

NORTHWOOD

15

2.21

34

OAKHILL

8

2.21

35

UPLANDS COLLEGE

6

2.17

36

WATERKLOOF

10

2.16

37

OUTENIQUA

15

2.07

38

PINELANDS

1

2.00

39

ST STITHIANS

8

2.00

40

ALEXANDER ROAD

4

1.95

41

RUSTENBURG

7

1.86

42

KINGSWOOD

9

1.86

43

ST CHARLES COLLEGE

6

1.77

44

PARKTOWN

13

1.75

45

CAMBRIDGE

6

1.40

46

ST ALBANS COLLEGE

13

1.30

47

DHS

8

1.14

48

KRUGERSDORP

13

1.13

49

PAARL BOYS HIGH

6

0.88

50

NOORDHEUWEL

9

0.83