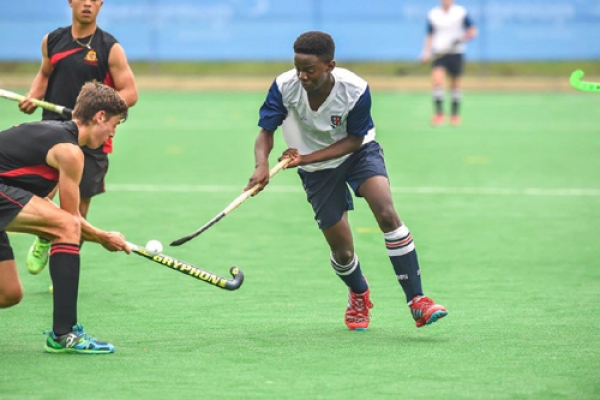 Maritzburg College take control of the No.1 spot on this week's Belgotex Sports Rankings for Boys after a highly successful St.Stithians Festival which saw them keep their unbeaten status intact.
College faced some tough opposition over the Easter weekend but in the main underlined their claim as one of the powerhouses of schools hockey in South Africa. Bishops however gave them their closest match when they managed to match the KZN team and held them to a 3-3 draw.
Frustratingly for Bishops this was not to be their only draw of the festival, as they went on to pick up drawn results against Clifton and Hilton which blunted their charge up the table somewhat.
Grey College seem to have put together a formidable team in 2018 and will be a threat to the opposition as the season unfolds. Grey are still unbeaten this year and put on a polished performance at the KES Festival which saw them record some valuable wins against the strong teams of Kearsney and St.John's College.
We can also expect a big challenge from Pretoria Boys High who are currently away on tour in Singapore and will be strong contenders for the top positions once they retun.
This week the minimum amount of matches that need to be played before appearing on the rankings is 3 matches. Please ensure your team's results are with us by sending them to [email protected]
BOY'S 1sts HOCKEY RANKINGS 4 APRIL, 2018

Rank

TEAM

PLAYED

AVG PTS

1

MARITZBURG COLLEGE

7

4.97

2

CLIFTON

6

4.38

3

GREY COLLEGE

7

4.24

4

JEPPE

6

4.23

5

KEARSNEY COLLEGE

7

4.20

6

BISHOPS

7

4.13

7

HILTON COLLEGE

7

3.96

8

GREY HIGH SCHOOL

4

3.95

9

WESTVILLE BH

7

3.86

10

GARSFONTEIN

5

3.80

11

SELBORNE COLLEGE

5

3.80

12

KES

5

3.68

13

PAARL GIM

3

3.30

14

PEARSON

4

3.20

15

ST ANDREWS COLLEGE

8

3.14

16

ST DAVIDS

9

3.11

17

CORNWALL HILL

3

3.03

18

ST JOHNS COLLEGE

8

2.99

19

DALE COLLEGE

6

2.95

20

WOODRIDGE

4

2.95

21

EDGEMEAD

6

2.52

22

NORTHWOOD

8

2.41

23

ST STITHIANS

7

2.37

24

QUEENS COLLEGE

5

2.36

25

OAKHILL

3

1.97

26

ALEXANDER ROAD

4

1.95

27

RUSTENBURG

7

1.86

28

KINGSWOOD

9

1.86

29

OUTENIQUA

8

1.70

30

AFFIES

5

1.66

31

UPLANDS COLLEGE

5

1.60

32

ST ALBANS COLLEGE

8

1.54

33

CAMBRIDGE

5

1.52

34

KRUGERSDORP

12

1.16

35

DHS

8

1.14

36

PARKTOWN

7

1.13

37

WESTERING

4

1.05

38

BEAULIEU COLLEGE

3

0.97

39

PAARL BOYS HIGH

6

0.88

40

ST PETERS

3

0.83

41

MENLOPARK

3

0.80