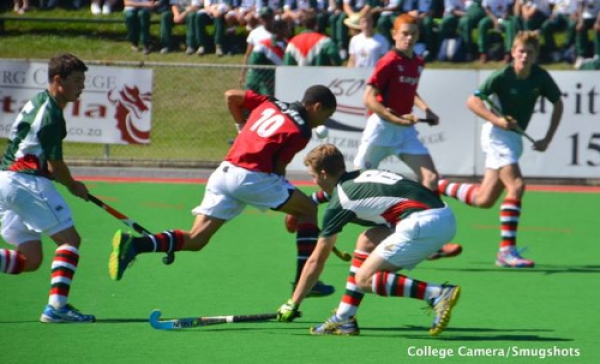 Wins for all the leading teams has resulted in a virtually unchanged top half of the table with Rondebosch still out in front of this week's Belgotex Sports Top 70 Rankings.
Rondebosch were made to work hard for the 3-1 victory over SACS which help to keep their record run of wins intact in what must be their best season for many years.
Maritzburg College found the net on eight occasions in a powerful display against Westville who seemed to have no answer to the relentless attacking of College.
PRG ran over an outgunned DF Malan outfit whilst Kearsney College and Glenwood both handed out hockey lessons to St.Benedicts.
Please send through your results to [email protected]
BOY'S 1sts HOCKEY RANKINGS 14 JUNE, 2017

Rank

TEAM

PLAYED

AVG PTS

1

RONDEBOSCH

19

4.76

2

MARITZBURG COLLEGE

10

4.51

3

KEARSNEY COLLEGE

23

4.02

4

GLENWOOD

13

3.99

5

PAUL ROOS GYM

20

3.91

6

ST ANDREWS SCHOOL

14

3.86

7

PRETORIA BOYS HIGH

18

3.85

8

HILTON COLLEGE

16

3.83

9

GREY COLLEGE

20

3.70

10

CLIFTON

21

3.60

11

NORTHWOOD

25

3.58

12

WESTVILLE BH

16

3.54

13

JEPPE

23

3.50

14

GREY HIGH SCHOOL

19

3.48

15

BISHOPS

12

3.36

16

WYNBERG BH

15

3.23

17

AFFIES

24

3.15

18

ST JOHNS COLLEGE

26

3.10

19

ST ALBANS COLLEGE

24

3.08

20

MENLOPARK

20

3.06

21

ST ANDREWS COLLEGE

20

3.00

22

ST DAVIDS

19

2.95

23

SELBORNE COLLEGE

21

2.90

24

MICHAELHOUSE

22

2.85

25

KING EDWARD VIII

27

2.84

26

YORK HIGH

22

2.84

27

WORCESTER GYM

16

2.54

28

MIDDELBURG

14

2.46

29

FAIRMONT

13

2.40

30

ST CHARLES COLLEGE

14

2.38

31

CRAWFORD LA LUCIA

19

2.31

32

GLENWOOD HOUSE

9

2.14

33

KRUGERSDORP

24

2.11

34

NORTHCLIFF

8

2.08

35

SACS

14

2.02

36

CAMBRIDGE

17

2.01

37

OUTENIQUA

18

1.98

38

WOODRIDGE

11

1.96

39

CRAWFORD LONEHILL

16

1.96

40

POTCH BH

15

1.94

41

NOORDHEUWEL

9

1.91

42

HUDSON PARK

23

1.80

43

PAARL GIM

16

1.76

44

DF MALAN

18

1.72

45

OAKHILL

11

1.66

46

PAREL VALLEI

17

1.65

47

CRAWFORD NORTH COAST

13

1.62

48

ST STITHIANS

19

1.61

49

ST BENEDICTS

16

1.53

50

UPLANDS COLLEGE

10

1.51

51

EDGEMEAD

7

1.49

52

PARKTOWN

22

1.46

53

PAARL BOYS HIGH

12

1.46

54

WESTERING

7

1.44

55

PEARSON

16

1.44

56

GARSFONTEIN

14

1.38

57

QUEENS COLLEGE

15

1.27

58

ZWARTKOP

13

1.26

59

STIRLING

26

1.11

60

GRAEME

9

0.97

61

DALE COLLEGE

15

0.84

62

WATERKLOOF

12

0.79

63

ALEXANDER ROAD

9

0.76

64

KINGSWOOD

14

0.74

65

CORNWALL HILL

7

0.53

66

ST DOMINICS

7

0.43

67

MERRIFIELD

12

0.03

68

DHS

14

-0.06

69

ELDORAIGNE

9

-0.68