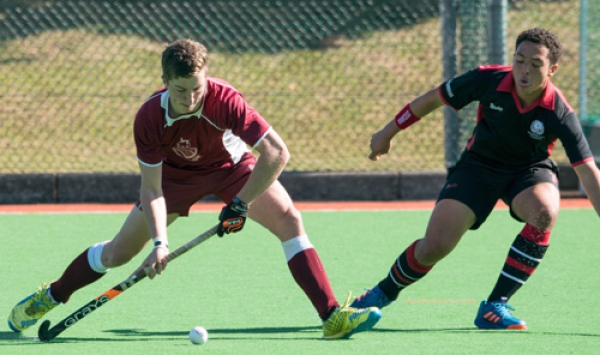 After a run of 19 straight wins Rondebosch finally succumbed to their first defeat of the season when they fell on the wrong side of a 1-0 result in their encounter with a motivated Bishops outfit.
However Rondebosch remain at the top of the Belgotex Sports Top 70 Rankings with Maritzburg College in second position who also suffered a close defeat to Kearsney College who have enjoyed one of their finest seasons in recent times.
Although Maritzburg College put five goals past Glenwood last week it was their match against Kearsney College which could have launched them into pole position if the result went their way. However it was the ever calm Guy Morgan who tilted the balance in the early exchanges with a powerful low drag flick that beat the College keeper after Kearsney had been awarded a penalty corner through some great stick work from Steven Conway. Kyle Koenig tapped in a stop by the Maritzburg College keeper just before halftime to give Kearsney the advantage which they held onto for the rest of the match.
It is a result that Maritzburg College may well look back on as the one that halted their chances of taking the top spot.
As the season draws to a close please send through your teams outstanding results to [email protected]
BOY'S 1sts HOCKEY RANKINGS 27 JUNE, 2017

Rank

TEAM

PLAYED

AVG PTS

1

RONDEBOSCH

20

4.57

2

MARITZBURG COLLEGE

12

4.27

3

KEARSNEY COLLEGE

25

4.14

4

PRETORIA BOYS HIGH

19

3.91

HILTON COLLEGE

17

3.91

PAUL ROOS GYM

20

3.91

7

ST ANDREWS SCHOOL

14

3.86

8

GREY COLLEGE

20

3.70

9

BISHOPS

14

3.69

10

WESTVILLE BH

17

3.69

11

GLENWOOD

14

3.68

12

CLIFTON

21

3.60

13

NORTHWOOD

25

3.58

14

JEPPE

23

3.50

15

GREY HIGH SCHOOL

19

3.48

16

WYNBERG BH

15

3.23

17

AFFIES

24

3.15

18

ST JOHNS COLLEGE

26

3.10

19

ST ALBANS COLLEGE

24

3.08

20

MENLOPARK

20

3.06

21

ST ANDREWS COLLEGE

21

3.05

22

ST DAVIDS

19

2.95

23

SELBORNE COLLEGE

22

2.92

24

KING EDWARD VIII

27

2.84

25

YORK HIGH

22

2.84

26

MICHAELHOUSE

23

2.72

27

WORCESTER GYM

16

2.54

28

FAIRMONT

14

2.49

29

MIDDELBURG

14

2.46

30

ST CHARLES COLLEGE

14

2.38

31

CRAWFORD LA LUCIA

19

2.31

32

GLENWOOD HOUSE

9

2.14

33

CAMBRIDGE

18

2.13

34

KRUGERSDORP

24

2.11

35

NORTHCLIFF

8

2.08

36

SACS

14

2.02

37

OUTENIQUA

18

1.98

38

WOODRIDGE

11

1.96

39

CRAWFORD LONEHILL

16

1.96

40

POTCH BH

15

1.94

41

NOORDHEUWEL

9

1.91

42

HUDSON PARK

24

1.87

43

PAARL GIM

16

1.76

44

DF MALAN

19

1.67

45

OAKHILL

11

1.66

46

CRAWFORD NORTH COAST

13

1.62

47

PAREL VALLEI

18

1.61

48

ST STITHIANS

19

1.61

49

EDGEMEAD

9

1.59

50

PAARL BOYS HIGH

13

1.57

51

ST BENEDICTS

16

1.53

52

UPLANDS COLLEGE

10

1.51

53

PARKTOWN

22

1.46

54

WESTERING

7

1.44

55

PEARSON

16

1.44

56

GARSFONTEIN

14

1.38

57

QUEENS COLLEGE

15

1.27

58

ZWARTKOP

13

1.26

59

STIRLING

27

1.04

60

GRAEME

9

0.97

61

DALE COLLEGE

16

0.84

62

WATERKLOOF

12

0.79

63

ALEXANDER ROAD

9

0.76

64

KINGSWOOD

15

0.65

65

CORNWALL HILL

7

0.53

66

ST DOMINICS

7

0.43

67

MERRIFIELD

12

0.03

68

DHS

14

-0.06

69

ELDORAIGNE

9

-0.68