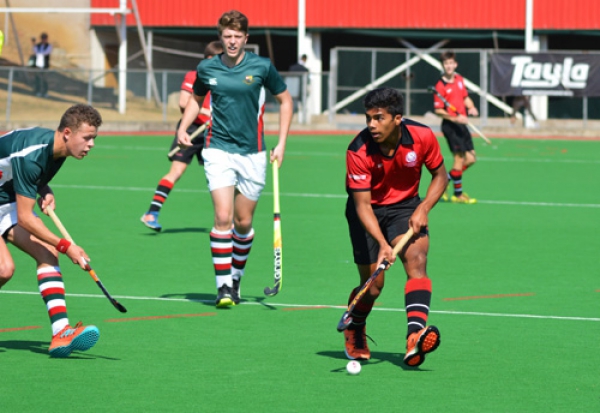 After several weeks off, the No.1 ranked team on this week's Belgotex Sports Rankings, Rondebosch got the second half of their season underway with two victories which has helped to consolidate their position with fast chasing Maritzburg College team now within touching distance.
Rondebosch managed to defeat neighbours Wynberg who played one of their finest matches of the season and came within minutes of handing Bosch their second defeat of the year. However with the score locked at 2-2 it was Dylan Thorburn who scored the winning goal to secure the win 3-2.
Pretoria Boys High who have enjoyed mixed fortunes over the past couple of weeks with a strong win over Affies but then stumbled to a bitterly close 2-1 defeat to Maritzburg College. However they still look good for a top 5 finish.
Please send your results to [email protected]
BOY'S 1sts HOCKEY RANKINGS 15 AUGUST, 2017

Rank

TEAM

PLAYED

AVG PTS

1

RONDEBOSCH

22

4.52

2

MARITZBURG COLLEGE

14

4.40

3

KEARSNEY COLLEGE

25

4.14

4

PAUL ROOS GYM

30

4.04

5

PRETORIA BOYS HIGH

22

3.95

6

HILTON COLLEGE

17

3.91

7

ST ANDREWS SCHOOL

15

3.83

8

GREY COLLEGE

22

3.80

9

GLENWOOD

15

3.73

10

WESTVILLE BH

17

3.69

11

JEPPE

26

3.61

12

CLIFTON

23

3.60

13

NORTHWOOD

25

3.58

14

BISHOPS

15

3.51

15

GREY HIGH SCHOOL

23

3.45

16

ST ALBANS COLLEGE

25

3.14

17

WYNBERG BH

20

3.12

18

SELBORNE COLLEGE

26

3.10

19

ST JOHNS COLLEGE

26

3.10

20

MENLOPARK

24

3.02

21

ST ANDREWS COLLEGE

24

3.00

22

ST DAVIDS

19

2.95

23

AFFIES

26

2.93

24

WORCESTER GYM

26

2.88

25

YORK HIGH

24

2.73

26

MICHAELHOUSE

23

2.72

27

KING EDWARD VIII

29

2.66

28

MIDDELBURG

14

2.46

29

SACS

17

2.41

30

ST CHARLES COLLEGE

14

2.38

31

FAIRMONT

22

2.32

32

CRAWFORD LA LUCIA

19

2.31

33

GLENWOOD HOUSE

9

2.14

34

CAMBRIDGE

22

2.12

35

KRUGERSDORP

24

2.11

36

NORTHCLIFF

8

2.08

37

PEARSON

27

2.04

38

OUTENIQUA

31

2.03

39

WOODRIDGE

12

2.01

40

CRAWFORD LONEHILL

16

1.96

41

POTCH BH

15

1.94

42

NOORDHEUWEL

9

1.91

43

HUDSON PARK

26

1.74

44

OAKHILL

13

1.73

45

PAARL BOYS HIGH

15

1.70

46

CRAWFORD NORTH COAST

13

1.62

47

DF MALAN

21

1.61

48

ST STITHIANS

19

1.61

49

EDGEMEAD

9

1.59

50

ST BENEDICTS

16

1.53

51

PAARL GIM

19

1.52

52

UPLANDS COLLEGE

10

1.51

53

QUEENS COLLEGE

18

1.44

54

GARSFONTEIN

14

1.38

55

PARKTOWN

23

1.38

56

PAREL VALLEI

27

1.38

57

STELLENBERG

8

1.28

58

ZWARTKOP

13

1.26

59

STIRLING

29

1.15

60

POTCHGIM

8

1.08

61

KINGSWOOD

18

1.02

62

GRAEME

10

0.84

63

WATERKLOOF

14

0.80

64

DALE COLLEGE

18

0.69

65

ALEXANDER ROAD

10

0.65

66

CORNWALL HILL

7

0.53

67

ST DOMINICS

7

0.43

68

MERRIFIELD

12

0.03

69

DHS

14

-0.06

70

ELDORAIGNE

9

-0.68