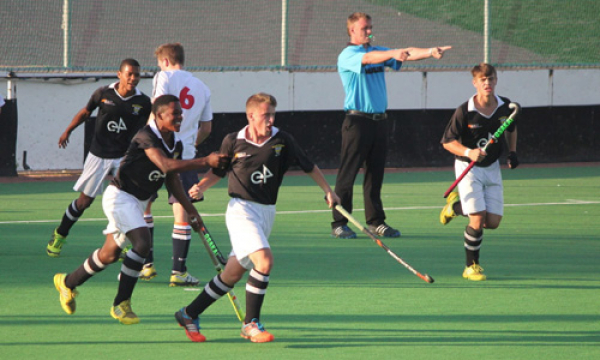 There can be little debate as to which team should be crowned as the leading Boys Hockey team in South Africa for 2018.
Jeppe far and away were the classiest team of the year as they took on the best in the country and refused to bend their knee to anyone. When Jeppe couldn't win they drew against the top contenders like Maritzburg College, Grey High, Kearsney and PBHS to finish as the No.1 team in the country.
Maritzburg College, who enjoyed a bit of time at the top of the rankings fought hard to make up some ground with Jeppe, but the crucial loss to Grey High School at the end was going to separate the two leaders.
Bishops held their nerve to finish among the top five teams along with Grey College and Clifton who were all impressive on their day.
Well done to all the teams and players and congratulations to Jeppe for taking the crown.
BOY'S 1sts HOCKEY RANKINGS 30 AUGUST, 2018

Rank

TEAM

PLAYED

AVG BONUS PTS

1

JEPPE

31

4.61

2

MARITZBURG COLLEGE

25

4.50

3

CLIFTON

23

4.00

4

GREY COLLEGE

23

3.97

5

BISHOPS

29

3.81

6

WESTVILLE BH

16

3.79

7

SELBORNE COLLEGE

23

3.76

8

GREY HIGH SCHOOL

23

3.68

9

KEARSNEY COLLEGE

21

3.66

10

RONDEBOSCH

23

3.55

11

WYNBERG BH

25

3.52

12

ST JOHNS COLLEGE

37

3.46

13

PRETORIA BOYS HIGH

16

3.44

14

SACS

21

3.19

15

WOODRIDGE

22

3.15

16

GARSFONTEIN

24

3.08

17

PAUL ROOS GYM

18

3.07

18

HILTON COLLEGE

20

3.03

19

AFFIES

29

2.99

20

KES

31

2.98

21

ST ANDREWS COLLEGE

18

2.93

22

ST DAVIDS

20

2.75

23

QUEENS COLLEGE

28

2.64

24

MICHAELHOUSE

16

2.64

25

BEAULIEU COLLEGE

26

2.56

26

YORK HIGH

13

2.52

27

MIDDELBURG

23

2.44

28

FAIRMONT

30

2.43

29

GRAEME

18

2.42

30

NORTHWOOD

23

2.40

31

OUTENIQUA

32

2.38

32

ST BENEDICTS

23

2.36

33

WORCESTER GYM

12

2.28

34

ST CHARLES COLLEGE

19

2.26

35

EDGEMEAD

23

2.22

36

JIM FOUCHE

18

2.15

37

WATERKLOOF

22

2.12

38

NELSPRUIT

14

2.09

39

PIETERSBURG

20

2.07

40

RUSTENBURG

11

2.06

41

ST ALBANS COLLEGE

29

2.03

42

CAMBRIDGE

27

2.03

43

CURRO DURBANVILLE

31

1.98

44

PINELANDS

12

1.95

45

MENLOPARK

18

1.95

46

PAREL VALLEI

16

1.95

47

DALE COLLEGE

22

1.93

48

KINGSWOOD

19

1.93

49

ST ANDREWS SCHOOL

16

1.92

50

PEARSON

26

1.91

51

OAKHILL

19

1.89

52

PARKTOWN

30

1.87

53

ST STITHIANS

15

1.83

54

PAARL GIM

11

1.78

55

ALEXANDER ROAD

11

1.71

56

HUDSON PARK

33

1.69

57

CORNWALL HILL

24

1.58

58

DURBANVILLE

27

1.41

59

ST DOMINICS

16

1.33

60

WESTERING

15

1.32

61

MERRIFIELD

13

1.24

62

GLENWOOD

12

1.18

63

STELLENBERG

10

1.18

64

CRAWFORD LONEHILL

26

1.15

65

UPLANDS COLLEGE

12

1.11

66

CRAWFORD LA LUCIA

10

1.09

67

PAARL BOYS HIGH

18

1.09

68

TRINITYHOUSE

15

1.07

69

POTCH BH

13

1.04

70

KRUGERSDORP

17

1.04

71

STIRLING

17

0.80

72

DRIEHOEK

12

0.79

73

HELPMEKAAR

16

0.79

74

NOORDHEUWEL

19

0.78

75

DHS

17

0.46

76

ELDORAIGNE

12

0.11