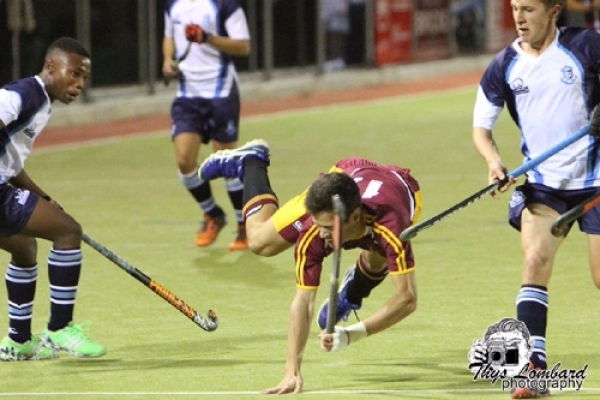 It's tight at the top of this week's Belgotex Sports Top 70 Rankings with the top six teams all recording wins last week which all makes for a very congested top end of the table.
Kearsney College travelled to Johannesburg to play St. Stithians and Pretoria Boys High in what was a cracker of a match. On Friday evening PBHS took advantage of the Kearsney College players who had just endured seven hours on the bus to push the KZN team to their limits. In a high tempo match that changed lead several times it was the home team that snatched the winning goal with 10 seconds to spare winning 4-3 in an epic dual.
However Kearsney College put that defeat behind them when they took on St.Stithians the following morning to record a comfortable win.
Rondebosch continue to stay unbeaten in 2017 and deservedly remain the top team in the country with a rejuvenated Maritzburg College who beat Hilton College 4-0 still close behind in second spot.
All results can be sent to [email protected]
BOY'S 1sts HOCKEY RANKINGS 30 May, 2017

Rank

TEAM

PLAYED

AVG PTS

1

RONDEBOSCH

17

4,72

2

MARITZBURG COLLEGE

9

4,49

3

KEARSNEY COLLEGE

21

4,15

4

PAUL ROOS GYM

18

4,07

5

GLENWOOD

12

3,92

6

ST ANDREWS SCHOOL

13

3,82

7

NORTHWOOD

23

3,81

8

PRETORIA BOYS HIGH

17

3,78

9

WESTVILLE BH

14

3,72

10

HILTON COLLEGE

14

3,66

11

GREY COLLEGE

18

3,61

12

GREY HIGH SCHOOL

17

3,61

13

CLIFTON

20

3,53

14

JEPPE

23

3,50

15

BISHOPS

11

3,26

16

WYNBERG BH

15

3,23

17

ST ALBANS COLLEGE

21

3,19

18

AFFIES

23

3,14

19

ST JOHNS COLLEGE

24

3,14

20

MENLOPARK

15

3,08

21

ST DAVIDS

17

2,99

22

SELBORNE COLLEGE

20

2,90

23

YORK HIGH

21

2,80

24

ST ANDREWS COLLEGE

18

2,79

25

KING EDWARD VIII

25

2,76

26

MICHAELHOUSE

20

2,64

27

ST CHARLES COLLEGE

12

2,63

28

WORCESTER GYM

15

2,54

29

MIDDELBURG

14

2,46

30

FAIRMONT

13

2,40

31

GLENWOOD HOUSE

9

2,14

32

SACS

13

2,12

33

CAMBRIDGE

16

2,08

34

NORTHCLIFF

8

2,08

35

KRUGERSDORP

22

2,03

36

OUTENIQUA

18

1,98

37

WOODRIDGE

10

1,96

38

CRAWFORD LONEHILL

16

1,96

39

NOORDHEUWEL

9

1,91

40

OAKHILL

10

1,91

41

DF MALAN

17

1,86

42

ST BENEDICTS

12

1,83

43

POTCH BH

14

1,79

44

HUDSON PARK

21

1,72

45

PAARL GIM

15

1,68

46

ST STITHIANS

19

1,61

47

ZWARTKOP

11

1,59

48

PAARL BOYS HIGH

11

1,52

49

UPLANDS COLLEGE

10

1,51

50

PEARSON

14

1,50

51

PAREL VALLEI

16

1,50

52

EDGEMEAD

7

1,49

53

GARSFONTEIN

14

1,38

54

PARKTOWN

21

1,29

55

QUEENS COLLEGE

14

1,11

56

STIRLING

24

0,97

57

WATERKLOOF

10

0,90

58

CORNWALL HILL

6

0,73

59

KINGSWOOD

13

0,72

60

GRAEME

8

0,71

61

DALE COLLEGE

13

0,68

62

POTCHGIM

6

0,68

63

ALEXANDER ROAD

8

0,44

64

ST DOMINICS

7

0,43

65

PENRYN

6

0,13

66

DHS

13

0,00

67

MERRIFIELD

11

-0,05

68

ELDORAIGNE

7

-0,59