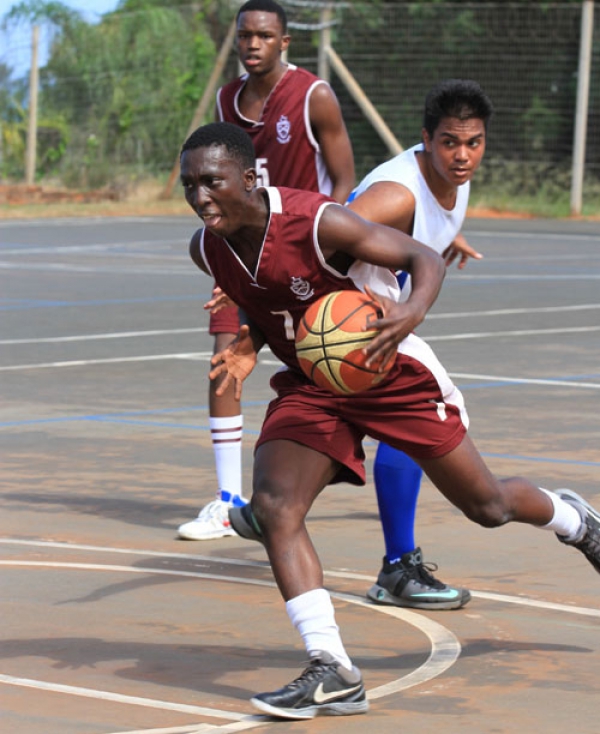 The SA School Sports Basketball Rankings are back in 2017 and we are looking to give as much exposure to this growing sport as we can this year.
With the initial publishing of the rankings for this week we are looking at a close fight for the leading position in the country between Jeppe and Kearsney College who have produced some strong results so far.
PBHS and St. Charles College along with St.Stithians are also in the mix and the likes of Maritzburg College cannot be discounted as they traditionally have produced some very competitive teams over the years.
Kearsney started off well, in their match against Northwood last weekend scoring the first three baskets before Northwood opened their account with a three pointer which was to be their only points of the quarter. Kearsney defended well but lost shape on offence and did not score as freely as they could have.The first half closed with Kearsney having a commanding 23 – 8 lead.
Northwood played man to man defence the whole game, which proved unsettling for Kearsney as no-one had done so this season. It took until the fourth quarter for the players to become comfortable with the defence and to begin scoring easily.
Playing outdoors in the blazing heat and gusting wind did not help either team's offence efforts and it was obvious that both teams suffered from the tough conditions. Kearsney, however, finished the game strongly with all players making a contribution to the winning effort. They won by 27 points and were never really in any trouble at any time.
Top performers: Kearsney's Khule Bophela 10 points 13 rebounds, Levi Donjeany 12 points 6 rebounds, Rabasotho Lenko 8 points 8 rebounds, Ruben Darby 7 points 6 rebounds and 5 steals.
Please supply us with your outstanding results so that they can be included in the rankings by emailing them to [email protected]
BOY'S Basketball RANKINGS 8 February, 2017

Rank

TEAM

PLAYED

AVG PTS

1

JEPPE

2

8,90

2

KEARSNEY COLLEGE

3

8,50

3

PRETORIA BOYS HIGH

2

6,80

4

ST CHARLES COLLEGE

2

6,75

5

ST STITHIANS

3

6,43

6

PINETOWN

2

5,95

7

MICHAELHOUSE

5

5,36

8

MARITZBURG COLLEGE

4

5,18

9

DHS

2

5,10

10

KING EDWARD VIII

3

3,53

11

ST ALBANS COLLEGE

2

2,70

12

WESTVILLE BH

10

2,69

13

HILTON COLLEGE

3

2,00

14

ST JOHNS COLLEGE

9

1,98

15

ST DAVIDS

9

0,59

16

ST BENEDICTS

6

-0,43

17

ST PETERS

2

-1,80

18

NORTHWOOD

2

-3,05

19

GLENWOOD

2

-4,70

20

CLIFTON

2

-5,70