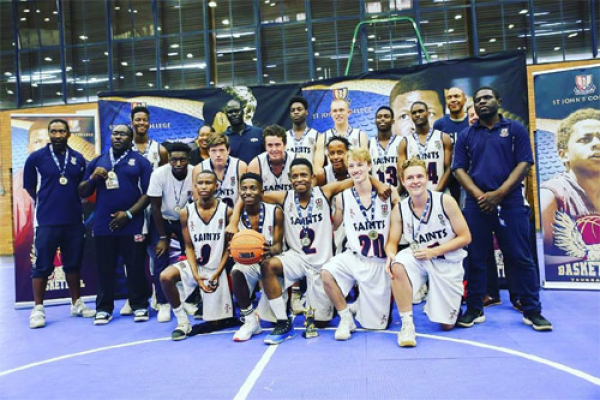 St Stithians snatch the lead on this week's First Team Basketball Rankings after putting in one of their biggest performances this year and winning the St.John's College Tournament.
Arguably one of the most prestigious tournaments on the school calendar, Saints faced off against some of the best opposition on offer and overcame the St Albans College challenge in the final to walk away as champions. With a string of 20 consecutive wins under their belt so far in 2019 it is going to be an outstanding team who manages to haul them in.
Kearsney College also had a good run at the tournament winning all seven of their pool matches and progressed to the semi-finals for only the second time in the 10 years of attending the tournament. However it was St Albans who secured their place in the finals with a close 28-22 victory.
St Benedict's are now just outside the top 5 zone and perhaps will be looking back on the tournament thinking about what could have been especially after gambling on their Maritzburg College match where their rested their strong players for the finals.
Please continue to send through your teams results to [email protected]
FIRST TEAM BASKETBALL RANKINGS 26 February, 2019

RANK

TEAM

PLAYED

AVG PTS

1

ST STITHIANS

22

11.75

2

KEARSNEY COLLEGE

15

11.73

3

ST CHARLES COLLEGE

14

11.68

4

MICHAELHOUSE

15

11.66

5

DHS

5

11.51

6

ST BENEDICTS

21

10.53

7

JEPPE

13

10.52

8

PRETORIA BOYS HIGH

16

10.34

9

WESTVILLE

9

10.24

10

MARITZBURG COLLEGE

14

9.83

11

ST ALBANS COLLEGE

13

9.48

12

ST DAVIDS

12

8.52

13

BISHOPS

5

8.43

14

HILTON COLLEGE

13

7.85

15

MICHAELMOUNT

11

7.82

16

KES

12

7.36

17

ST JOHNS COLLEGE

15

6.43

18

CLIFTON

18

6.25

19

NORTHWOOD

5

6.22

20

WYNBERG

8

5.96

21

PINELANDS

8

5.95

22

BISHOP BAVIN

10

5.91

23

AISJ

9

4.15

24

WATERFORD

9

4.15

25

ST PETERS COLLEGE

7

3.95