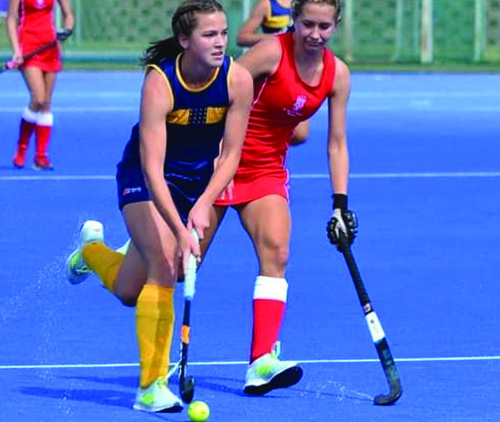 For any high school athlete to get selected to play for their First Team whilst still only in Grade 8 is a huge achievement. If that First Team happens to be the best in South Africa, you know the Grade 8 player must possess something incredibly special. Ané janse van Vuuren from Oranje Meisies is such a special talent.
Now in Grade 11, she has become a leading figure and captains the OMS First Team which for the past 8 years has been ranked as the top team in the country.
Selected for the Free State Athletics team in 2021 when she leapt to an impressive 5.01 metres in the long jump event underlines just how talented Ané is. Sadly COVID-19 did not give her the opportunity to take part in the South African Championships but hopefully next year will give her that chance.
Oranje has the best of both worlds…
However, hockey has always been her favourite sport and when it came time to choosing which high school to attend Coach Morné Ordendaal was one of the main reasons she chose Oranje to pursue her hockey dream.
"Here at Oranje we have the best of both worlds. Not only do I think our Coach Morné is one of the best coaches in South Africa, but we also have a lot of talented girls in the school. That combination, of not only having a good tactical coach but also a mental coach along with the talented girls makes a brilliant combination," explains Ané.
Back in 2018 while still only in Grade 8, Ané had shown that she was good enough to play for Oranje's First Team. From then on, she has gone from strength to strength and proved that here is a hockey player that has the potential to go all the way to the very top in the sport.
Whilst playing in Grade 9 Ané was chosen as the Runner-up for "Best Player" at the St Marys Hockey Festival and at the Super 12 Tournament hosted by Oranje. In that same year she was selected to play for the Southern Free State Under 16 team where she was picked as Player and Midfielder at the IPT Tournament and included in the National High-Performance squad. Last year she caught the selector's eye again by gaining selection to the Southern Free State Under 18 and Free State Under 21 teams whilst still only 15 years old.
Looking back on her promising career Ané has many highlights but there is one that stands out as the perhaps the most exciting moment. "Back in Grade 9 when we played in the St. Mary's Tournament, we were playing against St. Mary's in the semi-finals. It was very nerve-racking. I was privileged to be one of the three players to take part in the shootouts in front of the home school and a big crowd. Fortunately, I scored both goals! That was definitely one of the highlights so far in my hockey career," says Ané.
COVID-19 Unable to Stop the Oranje Winning Machine
Captaining the top hockey team in the country comes with important responsibilities. Being a leader in the team you ideally want to be playing and training as team as much as possible. The COVID-19 pandemic put the brakes on school sport for over a year and yet as soon as hockey resumed, Oranje went straight back to their winning ways without missing a beat. Ané explains although they could not practise as a team during lockdown, "each player had to take responsibility to keep themselves fit and improve their skills which they did and it's that which makes Oranje the best hockey school. Coach Morné always put a lot of effort into motivating us as a team to ensure we keep improving our level of performance."
St Mary's Kloof, Eunice and Paarl Gim are the toughest teams
Ask any girls hockey team which team they would love to beat and unanimously they answer "Oranje Meisies!" They have reigned as the Queens of School Hockey for close on a decade now and during all that time have gained the respect as the leaders in the sport. Winning so often in highly competitive matches does bring with it a certain amount of pressure. Ané realises the danger of complacency and describes how she approaches each match and who she believes is the toughest opposition they will face.
"Our Coach Morné reminds us not to be complacent. At Oranje we have created a culture throughout the years to focus on each game as if it is a final due to the pressure from all the other schools. Personally, I focus on minimising my mistakes and playing for the team. I think Eunice is one of our toughest competitors this year. Extremely hard and competitive, luckily, we played them twice and won both games. St Mary's Kloof and Paarl Gim are always tough, and I am really looking forward to playing against them, hopefully this year."
Ané Janse van Vuurens is clearly one of the most focused young hockey players in the country. Exuding talent from a young age and now fast developing into one of the brightest prospects in the sport she has set her sights on even greater goals soon. Firstly, of representing South Africa at the Under 21 level and then progressing to the South Africa International team and "ultimately, I would like to represent South Africa and win a medal at the Olympics!"
South Africa have never won an Olympic medal for hockey, finishing in 9th place at the 2004 Olympics is the best result to date. Yet hockey is improving all the time in the country and with players like Ané in the team South Africa might very well get their first Olympic medal.
We look forward to following the career of Ané janse van Vuuren in the years to come. An Oranje Meisies hockey player through and through, who believes in her favourite quote: "Hard Work beats talent if talent doesn't work hard!"