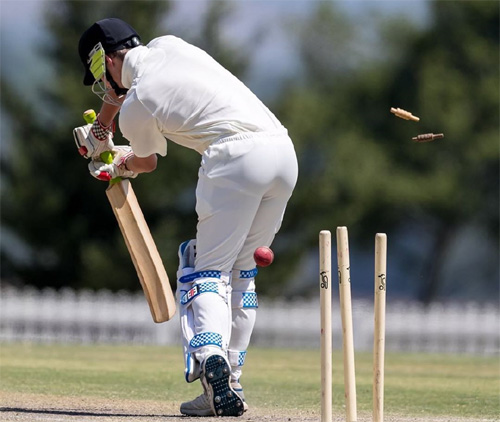 Which school in South Africa in recent times has produced the most test cricketers?
There is little dispute that historically Durban High School (DHS) with a total of 24 caps is the leading school when it comes to all time test cricketers. Bishops (18), KES (16), Grey High School (12) and Jeppe (12) complete the top 5.
Obviously, we are only talking about Test Match Cricketers and many other schools have produced ODI and T20 internationals.
However, what about recent times?
Which school is leading the pack with the amount of test players who have come through their ranks since 1992? Since re-admission into the test playing arena it is interesting that two of the schools still rank in the top 5.
There has been a total of 102 players who have been selected to play Test Cricket for SA since 1992. The record shows that KES is the top school having produced the most test cricketers followed by Grey College, DHS, Rondebosch and Pretoria Boys High.
These top 5 Test Cricket producing schools are responsible for 23% of all the test cricketers who have played cricket for South Africa since 1992.
Note: There are other players, not included in this list,  who went to school in South Africa but have played test cricket for other countries like Kevin Pietersen (Maritzburg College) Tom Curran (Hilton College), Keaton Jenning (KES), Nick Compton (DHS), Jonathan Trott (Rondebosch),  Allan Lamb (Wynberg) and Robin Smith (Northlands)
List of South African Test Cricketers who have played between 1992 to present. Starting from most recent player

PLAYER

SCHOOL

 

SCHOOL

NO. OF PLAYERS

Beuran Hendrick

Good Hope High

 

KES

6

Dane Patersen 

Brackenfell

 

Grey College

5

Pieter Malan 

Waterkloof

 

Durban High School

4

Rassie van der Dussen 

Menlo Park

 

Rondebosch

4

Dwain Pretorius 

Rustenburg High

 

Pretoria Boys High

3

George Linde 

Bellville High

 

Affies

4

Heinrich Klassens 

Menlo Park

 

Vereeniging 

3

Anrich Nortjie 

Die Brandwag

 

SACS

3

Senuran Muthusamy 

Clifton

 

Dale College

3

Wiaan Mulder 

St Stithians

 

Plumstead

3

Zubayr Hamza 

Rondebosch

 

Menlopark

3

Lungi Ngidi 

Hilton College

 

St Stithians

3

Andile Phehlukwayo

Glenwood

 

Grey High School

3

Aiden Markram

Pretoria Boys High 

 

Menlopark

3

Heino Khun

Affies

 

Wynberg

2

Thenis de Bryn

Menlo Park

 

Kearsney College

2

Duanne Olivier

Centurion

 

Bishops

2

Tabraiz Shamsi

Parktown

 

Luckoff

2

Keshav Maharaj

Northwood

 

Alexander Road

2

Stephen Cook

KES

 

Pinelands

2

Hardus Viljoen

Waterkloof

 

Queens College

2

Chris Morris

Pretoria Boys High 

 

Glenwood

2

Kagiso Rabada

St Stithians

 

Diamantveld

2

Dane Vilas

KES

 

Northwood

2

Simon Harmer

Pretoria Boys High 

 

Brackenfell

2

Temba Bavuma

St David's Marist Inanda

 

Waterkloof

2

Stiaan van Zyl 

Boland Landbou

 

St Patrick's

1

Dane Piedt 

SACS

 

Woodridge

1

Quinton de Kock 

King Edward VII

 

Hyde Park HS

1

Kyle Abbott

Kearsney College

 

St Thomas Sec

1

Dean Elgar

St Dominc's College

 

Ravensmead

1

Faf du Plessis

Affies

 

Grenswag

1

Rory Kleinveldt

Plumstead HS

 

Merensky

1

Marchant de Lange

Ben Vorster

 

Warmbaths

1

Vernon Philander 

Ravensmead Secondary

 

Helpmekaar

1

Imran Tahir

Pak Angle's High (Lahore)

 

Carlton Jones

1

Lonwabo Tsotsobe 

Westering High School

 

Maritzburg College

1

Alviro Petersen

Otto du Plessis

 

Northcliff

1

Wayne Parnell 

Grey High School

 

Kimberley Boys

1

Ryan Mc Laren 

Grey College

 

Heidelberg Volk

1

Friedel de Wet 

Grenswag High School

 

Clifton

1

Albie Morkel 

Hoerskool Vereeniging

 

Hilton College

1

Imraan Kahn 

Durban High School

 

Centurion

1

Jean-Paul Duminy

Plumstead HS

 

Parktown 

1

Paul Harris

Fishoek High School

 

St David's Marist

1

Morné Morkel

Hoerskool Vereeniging

 

Boland Landbou

1

Johan Botha 

Grey High School

 

St Dominic's

1

Charl Langeveldt

Luckhoff Secondary 

 

Fishoek HS

1

Dale Steyn

Merensky High School

 

Selborne College

1

AB de Villiers

Affies

 

Sandown High

1

Hashim Amla 

Durban High School

 

HTS Dan Pienaar

1

Thami Tsolekile 

Pinelands High School 

 

Douglas Mbopha

1

Zander de Bruyn

Hoërskool Helpmekaar 

 

Worcester Boys

1

Monde Zondeki 

Dale College

 

Good Hope HS

1

Robin Peterson

Alexander Road High 

 

Rustenburg

1

Charl Willoughby

Wynberg Boys High 

 

Die Brandwag

1

Jacques Rudolph 

Affies

 

Bellville High

1

Alan Dawson 

SACS

TOTAL

105

Martin van Jaarsveld 

Warmbaths

Graeme Smith 

KES

Dewald Pretorius

Hoërskool Dr Viljoen

Andrew Hall 

Hoërskool Alberton

Ashwell Prince

St Thomas Secondary

Justin Ontong

Paarl Gimnasium

Andre Nel 

EG Jansen

Claude Henderson

Worcester Boys High 

Justin Kemp 

Queen's College

Mfuneko Ngam

Douglas Mbopha

Neil McKenzie 

KES

Nicky Boje

Grey College

Pieter Strydom

Grey High School

Mornantau Hayward 

HTS Daniel Pienaar

Boeta Dippenaar

Grey College

David Terbrugge 

St Stithians College

Steve Elworthy

Sandown High School

Gerhardus Liebenberg

Diamantveld

Makhaya Ntini

Dale College

HD Ackerman 

Rondebosch

Mark Boucher

Selborne College

Adam Bacher 

KES

Lance Klusener

Durban High School 

Herschelle Gibbs 

Bishops

Paul Adams 

Plumstead High School

Jacques Kallis

Wynberg

Shaun Pollock

Northwood

Rudi Steyn 

Diamantveld

Steven Jack

Glenwood

John Commins 

Rondebosch

Gary Kirsten

Rondebosch

Fanie de Villiers

Heidelberg Volkskool

Patrick Symcox 

Kimberley Boys High

Clive Eksteen 

Northcliff High School

Daryll Cullinan

Queen's College

Craig Matthews 

Pinelands High School

Brett Schultz 

Alexander Road High 

Jonty Rhodes 

Maritzburg College

Brian McMillan 

Carleton Jones HS

Omar Henry 

Luckhoff Secondary 

Jimmy Cook 

Hyde Park High School

Kepler Wessels 

Grey College

Richard Snell 

Durban High School

Mark Rushmere

Woodridge College

Dave Richardson 

St Patrick's Marist College

Meyrick Pringle 

Dale College/Kingswood

Adrian Kuiper 

Bishops

Peter Kirsten 

SACS

Andrew Hudson

Kearsney College

Allan Donald

Technical High School

Hansie Cronje

Grey College

Tertius Bosch

Vereeniging High School
Watch a video on one of SA School's best cricket coaches here