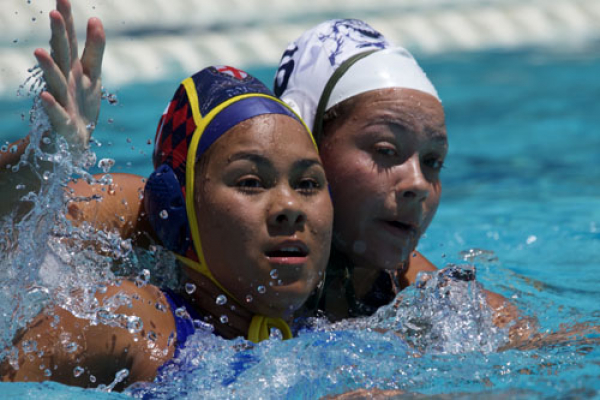 St Stithians Girls' water polo has become synonymous with success. I asked Saints' master in charge of water polo and first team head coach Pierre le Roux if he could give SA School Sports readers some pointers as to why.
And in terms of the outcomes-based, results side of things it is clear that Saints have hit on a winning recipe.
"Thanks for this opportunity, Jono. We won the St Anne's National 1st Team Water Polo Tournament (21-24 Aug 2019). A total of 16 schools from across South Africa competed over 4 days for the title. More recently we also won the Clarendon National 1st Team Tournament (4-6 Oct 2019). A total of 8 teams competed in this competition.
"In the first part of the season (January – March) we won the National Aquatics 1st Team Title – 10 teams in the tournament (8-10 Feb 2019), the Old Mutual Prestige Cup (8 teams in the tournament), The Reef Cup (Gauteng Schools 1st Team Championships – 16 schools – 1-3 Mar 2019) and the Old Petrian's National 1st Team Water Polo Tournament (21-24 Feb 2019).
"Old Petrian's have every water polo playing school in the top 24 competing in this tournament – this is the biggest tournament in number of teams competing in South Africa for 1st team girls. So to sum it up the St Stithians Girls water polo 1st team have not lost a game in 2019 and are the number 1 team in South Africa again this year."
Well, quite frankly it is very difficult to achieve anything better than that. In order to put the quality of the Saints first water polo team in context, my next question to Pierre asked him for his overall opinion of the standard of competition in these events, as well as his take general standard of SA girls' high schools water polo.
"Jono, the National Tournaments are extremely competitive and there is very little difference between the Top 4 schools in Girls' Water Polo at the moment.
"There are also many young teams that are growing and will be very competitive in the coming years. The challenge with every tournament comes down to the amount of games played, as well as the format played.
"Some tournaments play proper 'playing-time' games, which are long and difficult. Others play 'running-time', so it's a lot faster and no-room-for-errors or complacency. For young athletes to play 7-10 games over 4 days is a massive challenge in both preparation and player management, so truly is difficult to consistently get the teams performing at a high level."
Okay, so we've established that Saints prevailed in the big-ticket matches – the finals, where pressure – both mentally/emotionally and physically – can bring a squad close to breaking point as far as emerging on the winners' podium or having to settle for the runners-up. Medals.
That said, which were Saints' toughest games this year and why?
"Jono, the final of the Clarendon tournament (on 6 October) versus hosts Clarendon was probably the hardest game so far. We were down for the majority of the game and only took the lead for the first time with three minutes to go in the final quarter. We managed to win the game 7-5 but it was physical, fast and mentally tough.
"We also had a very tough game against St Anne's in the semi-final of the St Anne's tournament. It was a fantastic display of girls' water polo – two very good teams playing a great game. We managed to win that one 7-6 in the end but it was too close to call throughout the game."
The Gauteng province is one of the powerhouses in SA schoolgirls' water polo, so my initial enquiry to Pierre was what he thought of the standard in the provinces.
"Jono, I am always impressed with the first teams from the Eastern Cape; they do not have many teams there but they are always very competitive. A team like Pearson, for example, have been great over the past few years and continue to do well.
"The teams from the Western Cape are also very strong; Reddam and Herschel have good programs in place and are always fighting for top 4 finishes.
"Locally, Gauteng have a very competitive league; Crawford and St Mary's are always putting their hands up, asking the right questions, and you can never take St Dominic's or Roedean as an easy game – they have caused many upsets in the past."
Successful teams tend to have a certain ingredient that pushes them through the tough times. It might be the ability to establish a consistency of performance (this is surely the most elusive trait for teenage teams of boys or girls). Or could it be an unwavering dedication to training and conditioning programmes, perhaps an incredible team spirit, or the knack of stepping up to the plate when game-changing opportunities present themselves.
How does Pierre see the Saints success from this standpoint?
"Jono, we emphasise enjoyment of the game, and respect for your own team and your opponents. If you wish to do well and grow in your sport, we at Saints will push you as much as needed.
"If you want to play socially and just enjoy being part of a team, we accommodate that as well. There is a fine line between pushing school athletes to be competitive too early, where you risk them losing the enjoyment of the game.
"Our secret is that everyone loves what they do. They want to train; they want to learn, and they want to grow. There is consistency in what we do and how we do it. If you know that your teammates are also your friends, there is not much that you won't do for them in the pool.
"We do also train hard, commit to trying our best and to learn from our mistakes. As coaches we try to stay on top of how the game is developing and how coaching and training is changing internationally. It gives us a massive advantage when times get tough."
It goes without saying that to reel off trophy after trophy against strong competition isn't achieved without paying careful attention to detail and ensuring all the right boxes are ticked pre-tournament. Saints have these aspects well in hand.
"Jono, we do look at the opposition and study how they play. School sport is changing, and a more professional approach is needed. So we adapt our training and periodisation according to the competitions we are aiming to do well in – and also who we will face.
"Some teams are more physical than others, and others more mobile. You need to train to play, and play well against both types of games.
"We also have 'our brand' of water polo that we aim to play; I think a team buying into a game plan is a team united."
On a macro level, what is it about the sport of water polo that makes it such an attractive go-to activity for South African teenagers?
"Jono, team sports are fun. Water Polo is social, it is played by both boys and girls and it keeps you fit, in shape and healthy. Every teenager wants a platform to meet new people and express themselves.
"Water Polo is a sport that caters for every shape and size, and with hard work it becomes a platform to express, de-stress and be yourself. There are also huge opportunities on a national level for these girls to travel and see the world. Putting this all together, these are very attractive things."
Relative to other provinces, are Gauteng ahead of the pack?
"Jono, I don't think so – as I mentioned earlier, Western Province and Eastern Cape are hot on our heels and you can never write off a team from KZN. I think the one major advantage Gauteng do have is the large number of competitive teams in the province – and as a result the large number of games we get to play. In any sport, the more you play the more you will learn and improve both individually and as a team."
Talking about individuals, how does Pierre see his players in terms of their add-value?
"Jono, our captain – Jennifer Everett – is the SA U20 centre forward, an inspirational leader and hardworking athlete. Jennifer been a shining start in our attack and a multiple gold medal winner in National tournaments over the past 4 years.
"Our vice-captain, Zanne Smit, is the SA Ladies goalkeeper. Zanne is probably one of the best goalkeepers to ever play in South Africa. She reads the game well and is the backbone of our defence.
"Jordan Wedderburn is a young and upcoming superstar. Jordan played for the SA Ladies team at the FINA World Championships, alongside Zanne Smit.
"Jordan is one of the most dominant water polo players I have ever coached. She reads the game better than any player and is a prolific goal-scorer.
"Nicolle Cronje (SA U16), Natasja Troskie (SA U20), Tatum Lomax (SA U20), Shakira January (SA U20) and Olivia Sim are the workhorses of the Saints team – the glue that keeps it functioning. A team is only as strong as all its parts. Every player in this team has a role that they do well for us to succeed.
"Samantha Varrie, Bianca Kennerley, Franki Gush, Amy Fitzsimons, Kathryn du Plessis and Jenna Loughor-Clarke are our youngsters and the future superstars of SA Girls' Water Polo"
 – Watch this space – these are the girls that complete the team and the foundation that supports it.
The prospect of graduating from primary school to high school water polo is obviously an exciting one for our current grade 7's who progress to grade in just a few months' time, so what advice does Pierre give them in order to smooth the transition?
"Jono, I would say that the golden rule is to never neglect the importance of a balanced life. Training is important, but balance will let you become the best you can be. Balance between sports to allow for optimal growth, importance of academic demands, social life with family and friends. All of these create the complete athlete. Everyone believes their part is most important, find a balance and grow to your best."
Satisfied as I (Jono) was with Pierre's responses, I still had something niggling me. So Pierre, St Stithians Girls' water polo, there has to be a secret. "The one special thing" that has taken it to where it is now – the special power or culture that has grown over time, both in the first team and in the age-group teams?
"Jono, the support from the school and its community has been unwavering and unbelievable. The group of parents, both current and those who have moved on, is truly what makes us a successful sport.
"The parents support their kids, sacrifice countless hours watching and driving them all over the place, not even to mention the financial implications. The school also allows us to train, travel and grow both as coaches and players.
"The school supports and believes in the importance of youth sport – and as a result these young athletes have flourished. People sometimes forget the importance of 'the others' in sport. It's our secret weapon."
I (Jono) was interested to know what Saints water polo was like before, and at the time, Pierre le Roux arrived at this fine school.
"Jono, when I arrived at St Stithians Girls there was not much happening in Water Polo. Student coaches ran the programme and there was not much success both domestically and nationally.
"This was both a good and a bad thing. Bad. because the girls who were already in the system were slightly neglected and weren't given the opportunity to really get a good start to their careers (we only had 27 players in the school when I started). Good, because it gave me an opportunity to implement my own systems.
"We have now grown to over 80 water polo players, we have established a successful club for both youth introduction to water polo and for the seniors to play Gauteng Premier League; we compete in most national tournaments, we travel internationally and we are producing provincial and national water polo players in every age group.
"Jono, as much as we have been successful, we don't measure our success in titles won or individual awards or selections. We measure our success in the positive experience and the continuation of playing once you leave school.
"A massive problem in SA sport is retention of players once they leave school. For me personally as a coach, if a girl continues to play, referee, coach water polo once they leave St Stithians Girls, then I have done my job correctly, as I have created a person who will give back to a sport that gives so much to them as they go through school."
Thanks Pierre, I have learn so much more about SA girls water polo and it's been a pleasure.
"Much appreciated Jono. Thank you for showing such an interest in Saints girls water polo."
St Stithians Girls first team water polo
Goalkeeper (Grade 12) Zanne Smit, SA Senior Ladies
Goalkeeper (Grade 11) Kathryn du Plessis, Gauteng U19
Goalkeeper (Grade 10) Veronica Keys, Gauteng U16
Centre Forward (Grade 12) Jennifer Everett, SA U20 Ladies
Centre Forward (Grade 11) Jordan Wedderburn, SA Senior Ladies
Centre Forward (Grade 10) Bianca Kennerley, SA U16
Centre Back (Grade 11) Natasja Troskie, SA U20 Ladies
Centre Back (Grade 11) Shakira January, SA U20 Ladies
Centre Back (Grade 10) Samantha Varrie, SA U16
Utility (Grade 11) Tatum Lomax, SA U20 Ladies
Utility (Grade 11) Nicolle Cronje, SA U16
Utility (Grade 11) Olivia Sim, Gauteng U19
Utility (Grade 11) Franki Gush, Gauteng U19
Utility (Grade 10) Jenna Loughor-Clarke, Gauteng U16
Utility (Grade 10) Amy Fitzsimons, Gauteng U16
Utility (Grade 9) Madison Haworth, Gauteng U15
Team management
Manager and Swimming Conditioning – Natasha Panzera
Assistant Coach and Conditioning – Etienne Le Roux
Assistant Coach – Jessica Penney
Youth Coach – David Arendse
Head Coach – Pierre Le Roux