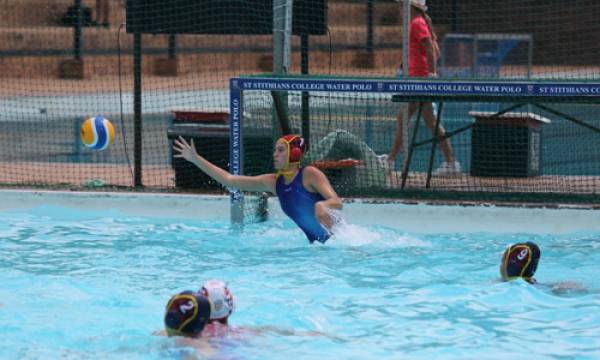 The St Stithians Girls' College water polo team ended off their most successful season to date by dominating in virtually all their encounters against some of the best teams in South Africa.
By winning the Reef Cup (Gauteng Championships) 2017 they managed to beat their local rivals, St Mary's 7 – 4 in the final. The team currently holds a record 6 gold medals since August 2016. These are as follows:
Clarendon National Water Polo Tournament 2016 – Gold

Saints Stayers National Water Polo Tournament 2016 – Gold

National Aquatics 2017 – Gold

Summer Splash 2017 – Gold

Old Mutual Prestige Cup 2017 – Gold

Reef Cup 2017 – Gold
The water polo first team also won the National Aquatics Water Polo Championship trophy for the third time, having won it in 2010 and 2011. The event was held in Pretoria this year and featured some of the top aquatics schools in the country.
St Stithians Girls' College now hold every major water polo title in South Africa except the Old Petrians Water Polo Tournament – where they drew 2-2 to eventual winners Sterling in the semi-finals and then lost in the penalty shootout – and the Reddam National Tournament that takes place in September 2017.
The girls have held on to their number 1 ranking in South Africa on SA Schools Sports National Rankings.
Said Mr. Pierre Le Roux, Master-In-Charge of water polo, first water polo coach at the Girls' College and the South African's Men's Team Captain, at the end of the last season:
"The girls' have put in an incredible amount of effort this season. We set ourselves some high goals early in the season and a lot of sacrifice was made to try achieve them. I am incredibly proud of what these girls have already achieved but I do believe the best is still to come."
The team is looking forward to another brilliant season. In the off-season the players have honed their skills with practice and some competitions. Bianca Prinsloo, of the first water polo team, competed in the EU Nations Cup, hosted by the Czech Republic after a training camp in Hungary. Prinsloo represented the South African Senior Women's' water polo team.
Other national representation:
Leila Fernandes and Kate Hinrichs were selected for the South African U17 A-Team
Una-Kelly Donnelly and Cassidy Hanna were selected for the South African U17 B-Team
Bianca Prinsloo was selected for the South African U18 A Team and the South African Women's Team
The students are not the only ones who have been busy representing Gauteng and South Africa. Mr Pierre Le Roux is the captain of the South African men's water polo team. He was selected for the team at age 16, and represented his country for the first time at age 17, making him the youngest Springbok Water Polo Player ever and he has been a member of the National team since 2003.
His career of over 14 years playing, 8 years as captain, and over 100 caps for his country, is another South African record.
Le Roux has also coached Water Polo since he left school winning numerous national titles across multiple age groups. Le Roux has also spent a year playing water polo for NCA Angrien in France. Le Roux has also coached several provincial teams for Gauteng and is a qualified FINA Referee. He has won 3 silver medals to date for Gauteng as a provincial coach.
The water polo first team are not the only St Stithians players to get top honors at the National Aquatics Championships: the diving team obtained first place in the U15 and U16 section and ended up 3rd overall.
Bailey Davenport (a Grade 8 student and provincial diver) competed in the U15 diving competition and won Gold. Bailey Heydra (a Grade 8 student and provincial diver) competed in the U16 diving competition and also won Gold.
The future for St.Stithian's aquatics looks very healthy and we can expect Saints to be a force to be reckoned with for years to come.