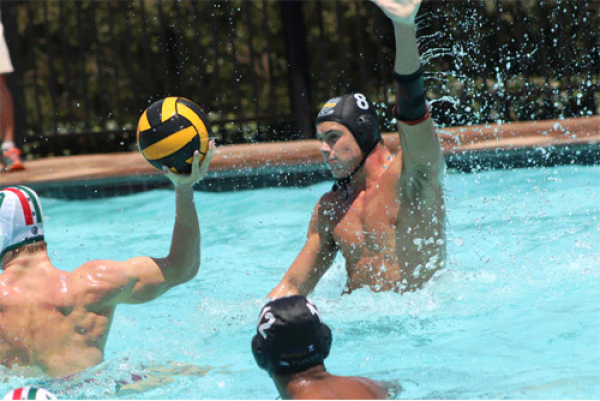 Over the past year, Jeppe's water polo has seen a steep climb on the leader boards. Between having six of their players, across various age groups, currently in the South African teams, despite not being able to produce as many in previous years, and their first team cementing their place as a top contender at all major tournaments, the big question on everybody's mind is, 'How are they doing it?'
'I think our success as a team is mainly because of our team spirit,' says Liam Stott, captain of the first team. 'at trainings we are always pushing each other to work and improve the little things and to always make sure that each of the players is putting in his best efforts for the sake of the team.'
According to other players in the water polo club, the team is always focused on their goals and is able to work together like a well-oiled machine in order to reach them. 'We work well with each other,' says Kyle Gericke, one of the first team players, 'We always sing our school song before every game to get focused, to get the spirit up and to remind us that what we do, we do for each other and for our school.'
A team that works so well, and that has such great spirit, has to be influenced by those around them. The coaches, specifically, seem to have a great influence on the team, encouraging their spirit and acting as role models towards the boys. However, it is the coaches' constant dedication to their teams and their game tactics that benefit the teams the most.
'Of course the team works hard, and as a family unit, and they all have talent , but when we coach the boys we coach them using certain pillars like love, respect, passion and, most importantly, discipline to get them to where we know they could be,' says Mr Dave Hanson, coach of the first team. 'We have also brought in better coaches for the boys to make sure that they are getting the best that Jeppe can offer them. For example, we brought in Mr Schneider (MIC of water polo) who implemented his own elements that he used at his old school which helped us start on our path to improving water polo at our school. We also try to teach the junior boys about our culture from when they start training so that they are educated about our pillars when they reach their final years. That is where we are thankful towards our senior boys for helping the coaches by mentoring the boys in this way. Liam, in particular, is great because he is such a strong leader and always gives his time to help the younger boys.'
Liam Stott started water polo at Jeppe in his grade eight year, having found a love for it in primary school, and is now the captain of the water polo club at Jeppe, along with being Head Boy and a top academic student. 'I love being a leader and I try to be the type of leader towards the juniors like the type of leader I had when I was their age,' says Liam, ' which is to say kind, helpful and inspiring. I also love being a water polo player. I'd love to study engineering overseas, in the US. But I'd also love to play professional water polo and hopefully play at the Olympics one day and I know that Jeppe as well as what I've learnt from the school will help to reach my dream.'
Jeppe's goal, having grown the way it has, is to be feared among schools. To gain a reputation as one of the top water polo schools in the province. we are able to see that Jeppe is a force to be recon with, with all the awards that they have achieved in recent years. Now we know that, for the Jeppe water polo teams, there is nowhere else to go but up, because nothing is too difficult for the brave. Forti Nhil Dificilius!