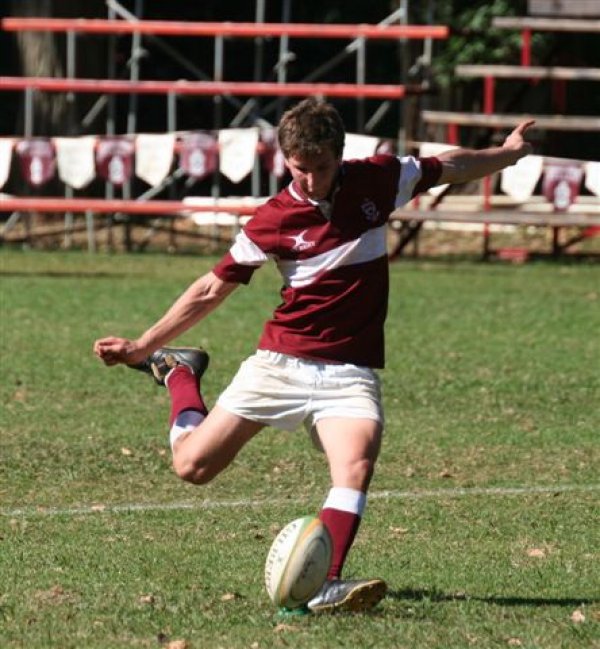 Originally from Johannesburg, his family was looking for a change and Durban was an attractive option. "I was at Bryanston Primary and my parents were looking around, so we decided to give the Kearsney open day a look. I was sold and so were they. It was a big reason for us deciding to move down". Despite living relatively close to campus, he was intent on being a border from day one. "You just get the feeling that boys at Kearsney really want to be here. Boarding allowed me to get involved in as much as possible and (almost) never leave!" And get involved he has. Besides his obvious academic and rugby commitments, the Deputy Head Boy enjoys cricket, soccer and takes part in Inner Circle public speaking; a partnership with nearby girls school, St. Mary's DSG.
Seals' leadership has been crucial to Kearsney's ability to challenge the powerhouses of KZN schoolboy rugby. For the unaware, Kearsney is a relatively small school, comprising of approximately six hundred boys. When placed in comparison with the depth found in larger schools (whose numbers often hover around the 1500 marks), it is admirable that they even compete. Compete they do, often punching well above their weight and pulling off memorable victories. Such a matchup coincidentally springs to mind when Seals mentions his toughest opponents. "Maritzburg College last year was huge for us. We won 23-22 on our Founders weekend, so it was pretty special". What he humbly chooses to omit is the fact that the game was sealed (no pun intended) by a last minute penalty; calmly slotted by the man himself.
This year's corresponding fixture at Goldstones didn't prove quite as successful however, with Kearsney going down 29-10. A morning of searing heat was quickly replaced by a fast-moving storm that proved to be testing for all concerned. Light rain meant knock-on's and slip-ups (underfoot) were the order of the day. Swirling winds resembled a kicker's nightmare, often taking the ball on its own path, rather than that intended by the players themselves. For Warren Seals however, it was simply an opportunity to show his class in typically business-like fashion. With a pack under pressure and backline forced deep into their own 22, he judged the conditions to perfection with pressure-relieving clearance kicks of some fifty metres at a time. Despite wave after wave of College attack and highly aggressive counter-rucking, a single strike of the boot meant a shift of momentum and power dynamic on the pitch.
Despite the result, his mastering of the conditions is encouraging for the development of flyhalves in South Africa. In no other rugby-playing nation is the position more polar extreme. There are two kinds of pivots in our game: The Naas Botha boot or the Andre Pretorius accelerator; one-dimensional conservatism or an unpredictably liberal abandon of structure. The only international who has seemingly found middle ground is Morne Steyn. Warren Seals can pencil himself in on this schoolboy list.
Flyhalf is recognized as the most trafficked defensive channel in the game. The threat of your opposite number tracking you down with his loose forwards in tow has led many (if not most) number 10's to offload the ensuing pressure on his backline with disappointing results. When a pivot has a reputation for consistently moving the ball down the line, his opposite number can safely assume that he may shift his focus onto the inside centre, with offensively impotent consequences. Kearsney's opponents have no such luxury. Seals' straightening of the line takes one back to a bygone age of Wallaby Stephen Larkam ghosting through defensive lines unopposed. The resultant hesitation of defenders has often lead to Kearsney's fleet-footed centre pairing being put through gaps that appear from nowhere.
An enthusiastic rush of blood may leave one tempted to heap praises on Warren Seals in admiration of his natural talents. In truth though, his well-oiled general play is the result of largely incomparable experience at the first XV level. Stepping up from under fifteen, the nervous grade ten came on as a substitute in the 2008 Easter Festival, held annually at Botha's Hill. "I'll never forget my first game. It was against Selbourne and I was really nervous, but I think coming off the bench helped me ease into it. It was a great experience, but I could definitely feel the difference in the intensity. That level was so must faster and I really felt the knocks the next morning".
Despite playing a few games at fullback and centre in the junior ranks, Seals had established himself as the finest flyhalf in the school, a berth he has become accustomed to after thirty-five caps. "I've played flyhalf for a while now and it's a position I'm really comfortable in. But if I did move one day, it would probably be to inside centre; it's pretty much a second flyhalf anyway". The talk within the walls of Kearsney College is that Seals possesses greater speed than most and regularly finds himself cross-covering opponents that have eluded his pace men. This seems to suggest that he could fill any slot in the backline if asked to; a versatility that will serve him well in the future.
And what of the future? Where does he see himself a few years down the line? Here, his maturity comes to the fore. "I'm really trying to take each year as it comes. That's all you can do in rugby. I definitely want to study after school, but haven't decided the specifics yet. I'm probably leaning towards Engineering".
When you're placed in the most demanding organizational position whilst still in grade ten, it is only natural that further leadership opportunities will present themselves down the line. In Seals' case, this includes the dual demands of First XV captain and Deputy Head Boy. On the field, his leadership style is a concoction of Gary Teichmann's leadership by example and Bobby Skinstad's unadulterated love for running onto the pitch. Case in point was Seals' facial expression when running onto Stott field against an intimidating Westville side in their FNB Classic Clash earlier this season. His troops were fired up, anxious and feeling the weight of expectation on their home turf. Warren simply flashed a reassuring smile that told them that this is the same game they played as unperturbed nine year-olds.
With rivalries often century old, South African schoolboy rugby is littered with derbies that one may circle when receiving the fixture list at the beginning of the season; that one dual that both old boys and learners diarize with anticipatory expectation. Kearsney is in the unique position of having a few games of significance, rather than a single matchup on which the success of their season will be measured. "We're looking for an overall successful season. (Maritzburg) College is probably the one that Kearsney boys see as our biggest rival, but there is also something special when you play against Hilton and Michaelhouse. It's the big three private schools in KZN and you always want bragging rights for the year". Though the depth of College eventually overcame Kearsney's efforts, the Midlands duo pose an opportunity to get the season back on track. An unforgiving fixture list has meant both encounters will be on 'enemy ground', but an even sterner test precedes them. "We'll be playing Grey College in our Easter Festival at Kearsney and that will be a massive game for us. I think it's safe to say it will be the biggest game Kearsney have played".
Commenting on the triple burden of flyhalf, goal kicker and captain, he is quick to point out that he's assisted by level heads around him. "There are more decisions to be made, but I'm lucky because there's a few (relative) veterans in the team. Guys like Andy Holland and Gareth Reece-Edwards make it so much easier". Maturity sometimes dictates that a leader's personal aspirations will take a backseat to that of the collective and he is well aware of this sacrifice. "Your priorities change with experience and Kearsney doing well is the first thing on my mind. Obviously it would be nice to make a Natal side personally, but there are so many good players in this province that we'll see when the time comes".
Warren Seals is a young man that loves rugby. Yet one gets the feeling that he realizes that it will not be the be all and end all of his life. These days, the term 'all-rounder' is thrown around with reckless abandon. If you're merely competent at more than one virtue, you are described as 'well-rounded'. Seals gives credence to the term in its truest form. When talking to him, you get the impression that a life of conformist mediocrity is not even an issue worth considering. He could very well have a highly successful rugby career at a premier level. He could very well be a highly successful businessman or sought after engineer. The strongest possibility is that he will manage to be both. As Francois Pienaar, John Smit and Victor Matfield have shown; an intelligent man off the field will achieve proportionate levels of success on it. Report brought to you by www.justrugby.co.za