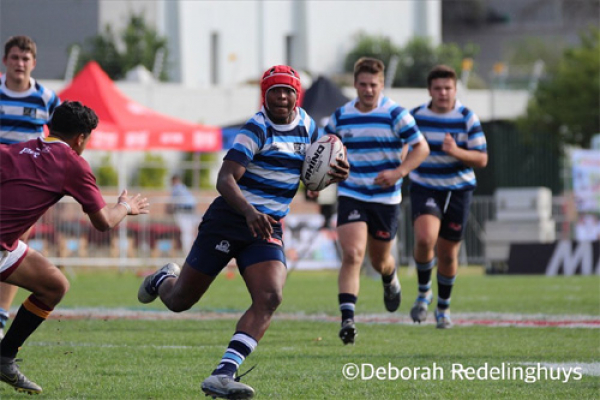 A stable top part of this week's U16 School Rugby Top 100 Rankings with many teams enjoying a mid-term break.
However Grey High School inches back up towards the top five with a sound win over Daniel Pienaar and Affies put away Jeppe to signal that they are ready to finish their season strongly.
Menlopark who were poised to take up residence amongst the leading ten teams were held to a 21-21 draw by a Garsfontein outfit who showed that on the day they were the equal of most teams in the country.
However Boishaai closed the gap nicely on Grey College with a hammering of PRG and will be focused on dishing out more of the same in the remainder of their fixtures.
Please send through your results to [email protected]
U16 RANKINGS 29 MAY 2019

RANK

TEAM

PLAYED

AVG BONUS POINTS

1

GREY COLLEGE

10

7.14

2

PAARL BOYS HIGH

9

6.71

3

OAKDALE

10

6.23

4

MARITZBURG COLLEGE

8

6.18

5

PAARL GIM

12

6.01

6

HILTON COLLEGE

8

5.78

7

GLENWOOD

12

5.45

8

GREY HIGH SCHOOL

12

5.31

9

ST JOHNS COLLEGE

8

5.30

10

MICHAELHOUSE

8

5.28

11

MENLOPARK

11

4.92

12

BISHOPS

9

4.80

13

AFFIES

13

4.65

14

BOLAND LANDBOU

8

4.58

15

WESTVILLE

12

4.43

16

HEIDELBERG VOLKIES

12

4.23

17

OUTENIQUA

10

4.21

18

HELPMEKAAR

10

4.16

19

NICO MALAN

12

4.02

20

RONDEBOSCH

8

3.98

21

KES

10

3.81

22

QUEENS COLLEGE

13

3.79

23

VOORTREKKER BETH

10

3.72

24

HTS MIDDELBURG

13

3.65

25

LIGBRON

14

3.64

26

WYNBERG BH

10

3.58

27

WORCESTER GYM

8

3.55

28

ELLISRAS

7

3.47

29

DALE COLLEGE

10

3.43

30

MONUMENT

11

3.41

31

SELBORNE COLLEGE

8

3.26

32

GARSFONTEIN

11

3.26

33

MIDSTREAM

10

3.13

34

RUSTENBURG

8

3.08

35

PAUL ROOS GYM

8

3.06

36

NELSPRUIT

10

3.06

37

NOORDHEUWEL

12

3.05

38

CURRO NELSPRUIT

6

3.02

39

RANDPARK

12

2.89

40

TRINITYHOUSE

8

2.85

41

BRITS

12

2.83

42

BREDASDORP

8

2.81

43

SACS

8

2.75

44

DIAMANTVELD

8

2.55

45

MONTANA PTA

6

2.55

46

WELKOM GYM

7

2.54

47

MARAIS VILJOEN

12

2.46

48

POTCH VOLKIES

11

2.43

49

PAREL VALLEI

8

2.41

50

KEARSNEY COLLEGE

8

2.36

51

HTS DROSTDY

12

2.26

52

JEPPE

11

2.25

53

PARKTOWN

10

2.19

54

PIONIER

7

2.17

55

ANDREW RABIE

10

2.12

56

DESPATCH

8

2.11

57

DURBANVILLE

8

2.10

58

ZWARTKOP

8

2.08

59

JACOBSDAL

10

2.02

60

ST DAVIDS

10

2.02

61

ST STITHIANS

8

1.89

62

GRAEME COLLEGE

10

1.86

63

HUDSON PARK

11

1.83

64

DIE BRANDWAG

11

1.78

65

SECUNDA

7

1.77

66

ST CHARLES COLLEGE

7

1.66

67

PEARSON

9

1.62

68

EG JANSEN

10

1.53

69

HUGENOTE WELL

7

1.53

70

MELKBOSSTRAND

8

1.53

71

PRETORIA BOYS HIGH

8

1.51

72

BEN VORSTER

8

1.41

73

MIDDELBURG HS

8

1.40

74

STELLENBERG

9

1.37

75

ST ANDREWS COLLEGE

9

1.32

76

PIETERSBURG

7

1.29

77

SUTHERLAND

7

1.06

78

CHARLIE HOFMEYR

7

1.06

79

KRUGERSDORP

6

0.82

80

FRAMESBY

10

0.80

81

ALBERTON HS

9

0.73

82

ROB FERREIRA

9

0.73

83

WITTEBERG

7

0.67

84

DANIEL PIENAAR

6

0.62

85

OTTO DU PLESSIS

9

0.60

86

NORTHCLIFF

14

0.56

87

STEELCREST

7

0.54

88

CLIFTON

6

0.38

89

FLORIDA

7

0.29

90

ST BENEDICTS

6

0.28

91

DHS

9

0.20

92

OOS MOOT

6

0.18

93

CENTURION

7

0.00

94

NORTHWOOD

11

-0.14

95

TRANSVALIA

10

-0.14

96

ERMELO

8

-0.16

97

KEMPTON PARK

11

-0.24

98

MARLOW

8

-0.55

99

CAMBRIDGE

9

-0.76

100

WATERKLOOF

11

-1.04