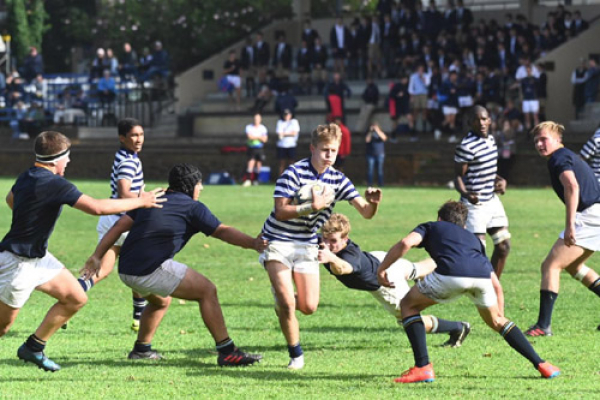 Hilton College got handed their first defeat of the season when they faced a resurgent Westville outfit that put up a great defence to help claim a memorable win.
Hilton tumbles out of the top five zone on this week's U16 School Rugby Rankings which is still headed by Grey College.
Grey were involved in a mighty arm wrestle with Affies but hung on to keep their unbeaten status alive but it was a close encounter that forced them to call upon all their ability to beat the Pretoria side.
Paarl Gim seems to be back to their best following their win over Paul Roos Gym and enter amongst the leading five teams on the table.
Please send through your U16 results to [email protected]
U16 RANKINGS 22 MAY 2019

RANK

TEAM

PLAYED

AVG BONUS POINTS

1

GREY COLLEGE

10

7.140

2

PAARL BOYS HIGH

8

6.325

3

OAKDALE

10

6.230

4

MARITZBURG COLLEGE

7

6.129

5

PAARL GIM

11

5.927

6

HILTON COLLEGE

8

5.775

7

ST JOHNS COLLEGE

7

5.629

8

GLENWOOD

12

5.450

9

GREY HIGH SCHOOL

11

5.318

10

MICHAELHOUSE

8

5.275

11

MENLOPARK

10

5.090

12

WESTVILLE

11

4.891

13

BISHOPS

9

4.800

14

BOLAND LANDBOU

8

4.575

15

AFFIES

12

4.450

16

HELPMEKAAR

9

4.400

17

OUTENIQUA

10

4.210

18

PAUL ROOS GYM

7

4.057

19

KES

9

4.056

20

HEIDELBERG VOLKIES

11

4.000

21

RONDEBOSCH

8

3.975

22

NICO MALAN

11

3.809

23

QUEENS COLLEGE

12

3.733

24

VOORTREKKER BETH

10

3.720

25

LIGBRON

13

3.677

26

WYNBERG BH

10

3.580

27

WORCESTER GYM

8

3.550

28

HTS MIDDELBURG

12

3.500

29

ELLISRAS

7

3.471

30

SACS

6

3.386

31

DALE COLLEGE

9

3.344

32

GARSFONTEIN

10

3.260

33

RUSTENBURG

7

3.214

34

SELBORNE COLLEGE

7

3.043

35

NOORDHEUWEL

11

3.036

36

MONUMENT

10

3.030

37

NELSPRUIT

9

3.000

38

BREDASDORP

8

2.813

39

BRITS

10

2.780

40

RANDPARK

11

2.609

41

JEPPE

10

2.580

42

TRINITYHOUSE

7

2.571

43

DIAMANTVELD

8

2.550

44

WELKOM GYM

7

2.543

45

ST STITHIANS

7

2.414

46

PAREL VALLEI

8

2.413

47

KEARSNEY COLLEGE

8

2.363

48

PARKTOWN

9

2.344

49

ZWARTKOP

7

2.329

50

MARAIS VILJOEN

11

2.318

51

HTS DROSTDY

12

2.258

52

SECUNDA

6

2.233

53

PIONIER

7

2.171

54

GRAEME COLLEGE

9

2.167

55

ANDREW RABIE

10

2.120

56

POTCH VOLKIES

10

2.040

57

JACOBSDAL

10

2.020

58

BEN VORSTER

7

1.986

59

EG JANSEN

9

1.833

60

HUDSON PARK

11

1.827

61

DESPATCH

7

1.800

62

OVERKRUIN

6

1.733

63

DIE BRANDWAG

10

1.710

64

ST CHARLES COLLEGE

7

1.657

65

PEARSON

9

1.622

66

HUGENOTE WELL

7

1.529

67

MELKBOSSTRAND

8

1.525

68

ST DAVIDS

9

1.411

69

OTTO DU PLESSIS

8

1.375

70

STELLENBERG

9

1.367

71

ST ANDREWS COLLEGE

8

1.313

72

PIETERSBURG

7

1.286

73

DURBANVILLE

7

1.271

74

MIDDELBURG HS

7

1.200

75

FRAMESBY

9

1.200

76

SUTHERLAND

7

1.057

77

CHARLIE HOFMEYR

7

1.057

78

PRETORIA BOYS HIGH

7

0.971

79

KRUGERSDORP

6

0.817

80

NORTHCLIFF

13

0.815

81

WITTEBERG

7

0.671

82

STEELCREST

7

0.543

83

CLIFTON

6

0.383

84

ALBERTON HS

8

0.075

85

TRANSVALIA

9

0.067

86

CENTURION

6

-0.050

87

ROB FERREIRA

8

-0.088

88

ERMELO

8

-0.163

89

NORTHWOOD

10

-0.230

90

DHS

8

-0.363

91

FLORIDA

6

-0.383

92

CAMBRIDGE

8

-0.950

93

KEMPTON PARK

10

-1.210

94

ST ALBANS COLLEGE

7

-1.214

95

MARLOW

7

-1.429

96

STIRLING

8

-1.613

97

WATERKLOOF

10

-1.670

98

LYDENBURG

9

-1.678

99

HTS WITBANK

6

-1.717

100

STRAND

6

-1.783

101

HERMANUS

8

-1.875