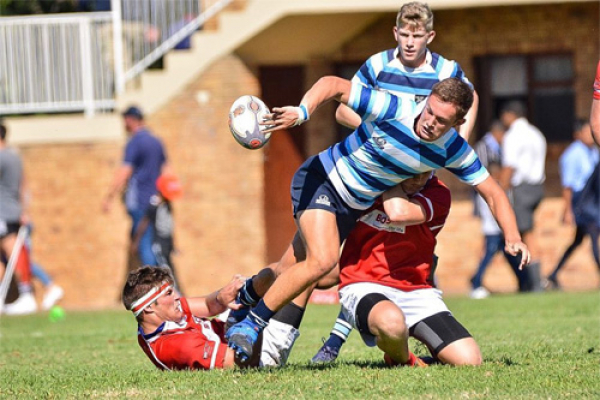 Oakdale passed their biggest test of the season when they took on a powerful Paarl Gim side in a match that has kept the Riverdale side in the top 3 of this week's U16 SA SchoolSports Top 100 Rankings.
Earlier this year Oakdale were on the wrong side of a bitterly close match when they took on Affies and perhaps that experience helped in their 31-30 win over a tireless team who didn't know the meaning of 'enough'.
Westville tumble out of the leading ten teams when they came unstuck against Michaelhouse, Boshaai powered their way to a big win over HTS Drostdy, and Boland Landbou move up nicely following a comfortable win over Tygerberg.
Please send through your U16 Results to [email protected]
U16 RANKINGS 1 MAY 2019

RANK

TEAM

PLAYED

AVG BONUS POINTS

1

GREY COLLEGE

6

7.317

2

PAARL BOYS HIGH

5

7.300

3

OAKDALE

7

6.586

4

HILTON COLLEGE

6

6.583

5

MARITZBURG COLLEGE

5

6.260

6

GLENWOOD

8

6.063

7

PAARL GIM

8

5.525

8

ST JOHNS COLLEGE

5

5.240

9

GREY HIGH SCHOOL

8

5.113

10

BOLAND LANDBOU

7

4.957

11

WESTVILLE

8

4.613

12

HELPMEKAAR

5

4.480

13

BISHOPS

6

4.467

14

PAUL ROOS GYM

6

4.433

15

MICHAELHOUSE

5

4.420

16

NOORDHEUWEL

8

4.413

17

DALE COLLEGE

7

4.271

18

OUTENIQUA

6

4.267

19

NICO MALAN

9

4.222

20

RONDEBOSCH

5

4.214

21

QUEENS COLLEGE

9

4.178

22

AFFIES

8

4.138

23

WYNBERG BH

8

4.100

24

RUSTENBURG

6

3.967

25

MENLOPARK

6

3.817

26

MUIR

3

3.800

27

KES

6

3.783

28

SACS

4

3.775

29

KEARSNEY COLLEGE

5

3.760

30

GARSFONTEIN

6

3.500

31

MONUMENT

6

3.450

32

VOORTREKKER BETH

7

3.429

33

ELLISRAS

5

3.360

34

CURRO NELSPRUIT

4

3.225

35

LIGBRON

10

3.220

36

HEIDELBERG VOLKIES

7

3.200

37

ST STITHIANS

5

3.080

38

SELBORNE COLLEGE

6

2.833

39

DESPATCH

5

2.740

40

BRITS

9

2.713

41

RANDPARK

7

2.557

42

GRAEME COLLEGE

7

2.471

43

PAREL VALLEI

5

2.360

44

ST DAVIDS

7

2.357

45

ZWARTKOP

5

2.180

46

HUGENOTE WELL

6

2.133

47

FRAMESBY

8

2.113

48

NELSPRUIT

6

2.083

49

SECUNDA

4

2.025

50

HUDSON PARK

8

1.975

51

HTS MIDDELBURG

8

1.963

52

ANDREW RABIE

7

1.957

53

EG JANSEN

6

1.917

54

PARKTOWN

7

1.829

55

HTS DROSTDY

9

1.800

56

PIETERSBURG

6

1.767

57

PEARSON

8

1.738

58

MARAIS VILJOEN

7

1.729

59

OVERKRUIN

4

1.675

60

JACOBSDAL

7

1.657

61

JEPPE

7

1.643

62

DIAMANTVELD

5

1.640

63

TRINITYHOUSE

4

1.625

64

SUTHERLAND

5

1.620

65

PIONIER

6

1.617

66

KRUGERSDORP

5

1.440

67

WITTEBERG

5

1.400

68

POTCH VOLKIES

7

1.343

69

DURBANVILLE

7

1.271

70

BEN VORSTER

4

1.175

71

DANIEL PIENAAR

4

1.150

72

ST CHARLES COLLEGE

5

1.120

73

DIE BRANDWAG

8

0.950

74

NORTHWOOD

7

0.886

75

CENTURION

4

0.850

76

TRANSVALIA

4

0.725

77

ST ANDREWS COLLEGE

6

0.683

78

STELLENBERG

7

0.557

79

PRETORIA BOYS HIGH

5

0.500

80

DF MALAN

4

0.475

81

KINGSWOOD COLLEGE

3

0.233

82

MELKBOSSTRAND

5

0.180

83

STEELCREST

5

-0.220

84

ROB FERREIRA

5

-0.300

85

ALBERTON HS

7

-0.329

86

DHS

5

-0.340

87

NORTHCLIFF

9

-0.644

88

OTTO DU PLESSIS

5

-0.700

89

WATERKLOOF

7

-0.814

90

HERMANUS

5

-0.880

91

ERMELO

5

-0.940

92

MIDDELBURG HS

4

-1.175

93

KEMPTON PARK

7

-1.257

94

ST BENEDICTS

4

-1.325

95

LYDENBURG

6

-1.400

96

LICHTENBURG

3

-1.467

97

CAMBRIDGE

5

-1.640

98

STRAND

5

-1.700

99

ST ALBANS COLLEGE

5

-1.760

100

BELLVILLE

6

-2.167