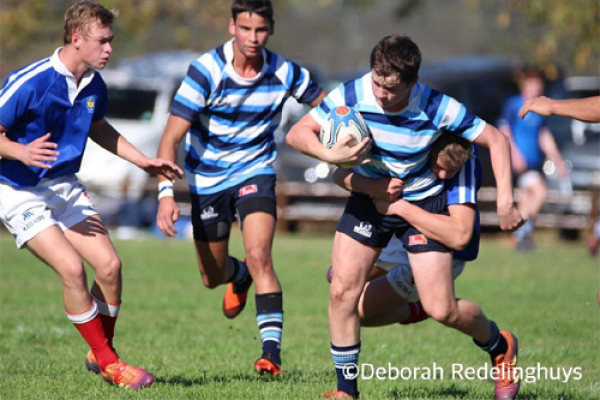 Grey College maintain their strangle hold on the No.1 position on this week's U16 School Rugby Top 100 Rankings following their whitewash of Waterkloof as we move into the final stages of the season.
Maritzburg College made further inroads amongst the leading teams following their win over Affies and Oakdale were the only casualty amongst the top teams when they slipped out of the top 5 zone after losing to Boishaai.
With a few matches still to be played before time is called on the 2019 season there is still some wiggle room on the table for teams to still make progress if they can finish strongly.
Please send through your results to [email protected]
U16 RANKINGS 17 JULY 2019

RANK

TEAM

PLAYED

AVG BONUS POINTS

1

GREY COLLEGE

11

7.427

2

PAARL BOYS HIGH

11

6.727

3

PAARL GIM

14

5.971

4

MARITZBURG COLLEGE

11

5.745

5

HILTON COLLEGE

10

5.660

6

OAKDALE

11

5.582

7

GLENWOOD

14

5.521

8

MENLOPARK

13

5.369

9

GREY HIGH SCHOOL

13

5.338

10

WESTVILLE

13

4.615

11

SELBORNE COLLEGE

11

4.518

12

AFFIES

14

4.421

13

BISHOPS

11

4.355

14

MICHAELHOUSE

11

4.327

15

BOLAND LANDBOU

10

4.300

16

HEIDELBERG VOLKIES

14

4.286

17

ST JOHNS COLLEGE

11

4.264

18

OUTENIQUA

11

3.991

19

NICO MALAN

15

3.807

20

PAUL ROOS GYM

9

3.767

21

LIGBRON

17

3.629

22

QUEENS COLLEGE

16

3.613

23

KES

11

3.591

24

WORCESTER GYM

8

3.550

25

DALE COLLEGE

10

3.430

26

RONDEBOSCH

11

3.409

27

NOORDHEUWEL

14

3.407

28

HELPMEKAAR

13

3.377

29

VOORTREKKER BETH

12

3.275

30

HTS MIDDELBURG

15

3.267

31

MONUMENT

13

3.200

32

MIDSTREAM

11

3.155

33

ELLISRAS

10

2.471

34

GARSFONTEIN

12

3.125

35

NELSPRUIT

11

3.118

36

WYNBERG BH

12

3.058

37

POTCH VOLKIES

13

2.954

38

RANDPARK

12

2.892

39

PRETORIA BOYS HIGH

11

2.864

40

BRITS

12

2.833

41

HUGENOTE WELL

12

2.808

42

RUSTENBURG

10

2.790

43

MIDDELBURG HS

10

2.720

44

WELKOM GYM

8

2.700

45

KEARSNEY COLLEGE

11

2.618

46

ANDREW RABIE

11

2.600

47

DIAMANTVELD

8

2.550

48

ZWARTKOP

9

2.478

49

HTS DROSTDY

13

2.477

50

SACS

9

2.456

51

ST DAVIDS

12

2.342

52

PAREL VALLEI

10

2.320

53

MARAIS VILJOEN

13

2.308

54

DURBANVILLE

10

2.300

55

JEPPE

11

2.245

56

ST STITHIANS

11

2.218

57

PARKTOWN

11

2.209

58

MONTANA PTA

8

2.200

59

BREDASDORP

13

2.192

60

ST CHARLES COLLEGE

9

2.133

61

CURRO NELSPRUIT

8

2.025

62

DIE BRANDWAG

13

1.985

63

JACOBSDAL

11

1.982

64

PEARSON

12

1.908

65

DESPATCH

12

1.892

66

GRAEME COLLEGE

10

1.860

67

EG JANSEN

13

1.854

68

ST ANDREWS COLLEGE

12

1.642

69

MELKBOSSTRAND

11

1.609

70

HUDSON PARK

13

1.569

71

WITTEBERG

9

1.200

72

FRAMESBY

13

1.169

73

OTTO DU PLESSIS

10

1.040

74

BEN VORSTER

9

1.022

75

STELLENBERG

11

0.955

76

ST BENEDICTS

9

0.889

77

ROB FERREIRA

9

0.733

78

ALBERTON HS

11

0.709

79

CENTURION

8

0.650

80

FLORIDA

9

0.589

81

NORTHCLIFF

14

0.564

82

CHARLIE HOFMEYR

8

0.500

83

KINGSWOOD COLLEGE

8

0.375

84

DHS

11

0.327

85

NORTHWOOD

13

0.085

86

KEMPTON PARK

12

-0.050

87

ERMELO

8

-0.163

88

TRANSVALIA

11

-0.309

89

MARLOW

10

-0.400

90

OOS MOOT

8

-0.788

91

BRACKENFELL

12

-1.250

92

CAMBRIDGE

10

-1.300

93

ST ALBANS COLLEGE

11

-1.327

94

HERMANUS

10

-1.340

95

WATERKLOOF

14

-1.407

96

STIRLING

11

-1.782

97

BELLVILLE

10

-1.870

98

LYDENBURG

10

-2.030

99

POTCH GIM

7

-2.843

100

JEUGLAND

8

-3.775