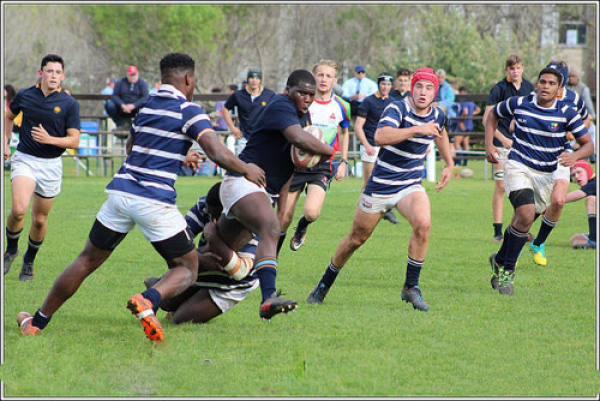 Monument sent Helpmekaar crashing out of the top 10 zone on this week's U16's Top 100 Rankings after putting in one of their best performances of the season.
Monnas have been in terrific form in 2018 and in their crunch match against Helpies they showed that they are as keen to get the victory at the end of the season as they were at the start. The win moves them into the top five on the table which could have been so much better save for some unexpected losses.
Two wins by Bishops keeps them in contention for a strong finish and they will be hoping they can crown their impressive season off with a sizzling season sealer against Rondebosch next week which will almost certainly nudge them further up the table.
Please send through your U16 results to [email protected]
U16 RUGBY RANKINGS 27 AUGUST, 2018

RANK

TEAM

PLAYED

AVG BONUS POINTS

1

PAARL GIM

17

6.694

2

OUTENIQUA

13

5.908

3

GREY COLLEGE

13

5.769

4

BISHOPS

18

5.106

5

MONUMENT

21

5.100

6

MARITZBURG COLLEGE

19

4.858

7

SELBORNE COLLEGE

14

4.793

8

HELPMEKAAR

18

4.689

9

AFFIES

15

4.633

10

NORTHWOOD

12

4.475

11

JEPPE

17

4.406

12

GARSFONTEIN

17

4.400

13

EG JANSEN

17

4.388

14

WESTVILLE

14

4.264

15

DIAMANTVELD

14

4.171

16

HTS DROSTDY

14

3.950

17

GREY HIGH SCHOOL

15

3.873

18

MENLOPARK

17

3.865

19

GLENWOOD

17

3.853

20

HILTON COLLEGE

11

3.773

21

MICHAELHOUSE

13

3.746

22

BEN VORSTER

15

3.733

23

HUDSON PARK

16

3.719

24

WITTEBERG

8

3.650

25

ST DAVIDS

13

3.646

26

WYNBERG BH

12

3.617

27

QUEENS COLLEGE

11

3.573

28

RUSTENBURG

16

3.538

29

FRAMESBY

19

3.374

30

OAKDALE

14

3.343

31

Graaf Reinet Volk

9

3.311

32

PAARL BOYS HIGH

15

3.240

33

STELLENBERG

20

3.140

34

ST CHARLES COLLEGE

11

3.000

35

HUGENOTE SPRINGS

21

2.986

36

ST ANDREWS COLLEGE

12

2.950

37

MERENSKY

11

2.918

38

MIDDELBURG HS

15

2.893

39

KES

14

2.821

40

PAUL ROOS GYM

13

2.731

41

MARAIS VILJOEN

19

2.721

42

GRAEME COLLEGE

13

2.654

43

KEARSNEY COLLEGE

12

2.650

44

ALBERTON

14

2.614

45

BELLVILLE

14

2.571

46

DALE COLLEGE

9

2.544

47

HANS MOORE

16

2.538

48

WESVALIA

11

2.382

49

KROONSTAD

13

2.277

50

ELLISRAS

13

2.269

51

DIE BRANDWAG

16

2.206

52

PAREL VALLEI

10

2.170

53

ELDORAIGNE

18

2.128

54

PRETORIA BOYS HIGH

16

2.119

55

DURBANVILLE

17

2.106

56

MILNERTON HS

10

2.050

57

DESPATCH

12

1.975

58

ST BENEDICTS

12

1.917

59

RONDEBOSCH

13

1.831

60

PEARSON

12

1.825

61

LYDENBURG

12

1.783

62

BOLAND LANDBOU

13

1.746

63

SACS

15

1.687

64

SECUNDA

13

1.354

65

NORTHCLIFF

10

1.310

66

MARLOW

11

1.273

67

HTS BELLVILLE

10

1.200

68

VOORTREKKER BETH

13

1.185

69

DUINEVELD

12

1.142

70

WATERKLOOF

16

1.000

71

ST STITHIANS

9

0.844

72

RANDPARK

13

0.823

73

ST JOHNS COLLEGE

10

0.720

74

TRANSVALIA

12

0.717

75

KEMPTON PARK

16

0.669

76

MONTANA PTA

11

0.636

77

NICO MALAN

15

0.627

78

BARBERTON

12

0.458

79

HTS MIDDELBURG

16

0.363

80

BRACKENFELL

8

0.138

81

TYGERBERG

11

0.045

82

OOS MOOT

11

0.036

83

CURRO NELSPRUIT

11

-0.018

84

POTCH GIM

8

-0.138

85

DIE ANKER

8

-0.400

86

PARKTOWN

11

-0.445

87

NOORDHEUWEL

11

-0.682

88

CLIFTON

10

-0.750

89

JEUGLAND

11

-0.755

90

NELSPRUIT

12

-0.858

91

FLORIDA

12

-0.875

92

DHS

14

-0.929

93

GRENS

10

-0.950

94

ST ALBANS COLLEGE

9

-1.056

95

LICHTENBURG

10

-1.230

96

CAMBRIDGE

14

-1.271

97

OTTO DU PLESSIS

12

-1.342

98

DF MALAN

8

-1.688

99

POTCH VOLKIES

12

-2.408

100

DANIEL PIENAAR

10

-2.570