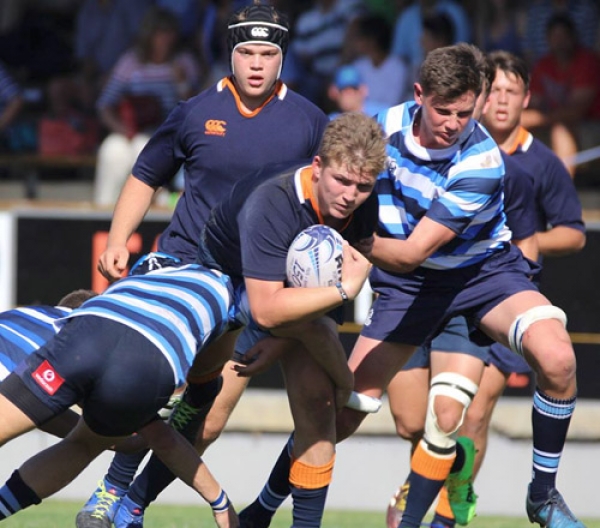 Paarl Gim were pushed hard by a Rondebosch side who have yet to get their season going in 2018 but at the end showed their class to take the victory and remain the leaders amongst the U16 teams on this week's U16 Rankings.
Paarl Gym is now 11 from 11 and it is going to take one mammoth effort to stop this team in its tracks. Already most of the big names in school rugby have been forced to play second fiddle to Gimmies and it looks likely that they may end 2018 unbeaten.
Outeniqua climb back into the second spot and Maritzburg College are enjoying the dizzying height of the top 3 zone as they remain unbeaten following a solid win over Kearsney College.
There are several schools that have invested heavily into their age group teams and are enjoying the fruits of their labour. One of those teams is Northwood who have some very competent teams on the field this year and their U16's will be hoping to break into the top 10 before the year is done.
Please send your results to [email protected]
U16 RUGBY RANKINGS 15 MAY, 2018

RANK

TEAM

PLAYED

AVG BONUS POINTS

1

PAARL GIM

11

7.218

2

OUTENIQUA

7

6.057

3

MARITZBURG COLLEGE

12

5.875

4

BISHOPS

7

5.686

5

GREY COLLEGE

9

5.589

6

HELPMEKAAR

8

5.450

7

WYNBERG

6

5.383

8

MONUMENT

11

5.136

9

GREY HIGH SCHOOL

10

4.760

10

HILTON COLLEGE

7

4.729

11

NORTHWOOD

9

4.467

12

AFFIES

10

4.340

13

EG JANSEN

11

4.309

14

JEPPE

11

4.227

15

BEN VORSTER

10

4.150

16

MENLOPARK

9

4.111

17

GARSFONTEIN

10

4.110

18

HUDSON PARK

8

3.863

19

SELBORNE COLLEGE

7

3.857

20

ST ANDREWS COLLEGE

5

3.840

21

GLENWOOD

11

3.800

22

BELLVILLE

8

3.700

23

HTS DROSTDY

9

3.656

24

ST DAVIDS

7

3.629

25

WESTVILLE

11

3.627

26

MARAIS VILJOEN

11

3.073

27

FRAMESBY

12

3.033

28

MERENSKY

8

3.000

29

KLERKSDORP

5

2.840

30

MICHAELHOUSE

9

2.800

31

DIAMANTVELD

9

2.756

32

HANS MOORE

9

2.633

33

OAKDALE

7

2.571

34

PAUL ROOS GYM

7

2.557

35

SACS

7

2.429

36

MILNERTON HS

5

2.420

37

VOORTREKKER BETH

6

2.367

38

KEARSNEY COLLEGE

8

2.275

39

BOLAND LANDBOU

6

2.267

40

PAARL BOYS HIGH

9

2.178

41

KES

8

2.163

42

RUSTENBURG

8

2.138

43

PEARSON

5

2.100

44

DIE BRANDWAG

10

2.060

45

ALBERTON

8

2.050

46

STELLENBERG

11

1.982

47

HS KROONSTAD

7

1.943

48

ELLISRAS

9

1.922

49

HUGENOTE SPRINGS

7

1.914

50

TRANSVALIA

7

1.843

51

ELDORAIGNE

10

1.830

52

DUINEVELD

8

1.825

53

SECUNDA

10

1.740

54

NORTHCLIFF

7

1.700

55

MARLOW

8

1.663

56

LYDENBURG

10

1.660

57

PRETORIA BOYS HIGH

10

1.640

58

ST STITHIANS

5

1.620

59

WESVALIA

7

1.600

60

MIDDELBURG HS

6

1.583

61

ST BENEDICTS

8

1.563

62

GRAEME COLLEGE

6

1.533

63

BARBERTON

9

1.300

64

ST CHARLES COLLEGE

7

1.271

65

DURBANVILLE

9

1.211

66

HTS BELLVILLE

5

1.200

67

ST JOHNS COLLEGE

5

0.900

68

HTS MIDDELBURG

9

0.844

69

HOPEFIELD

6

0.783

70

RANDPARK

10

0.580

71

BRACKENFELL

5

0.560

72

WATERKLOOF

10

0.530

73

DIE ANKER

6

0.433

74

CURRO NELSPRUIT

9

0.289

75

KEMPTON PARK

9

0.267

76

NICO MALAN

9

0.233

77

ST ALBANS COLLEGE

6

0.200

78

DHS

9

0.067

79

LICHTENBURG

7

-0.029

80

UPLANDS COLLEGE

5

-0.140

81

CAMBRIDGE

7

-0.357

82

NOORDHEUWEL

7

-0.414

83

MONTANA PTA

6

-0.467

84

CLIFTON

5

-0.560

85

BRITS

4

-0.575

86

TYGERBERG

4

-0.600

87

PENRYN COLLEGE

4

-0.600

88

STRAND

5

-0.840

89

PARKTOWN

7

-0.871

90

NELSPRUIT

7

-1.329

91

JEUGLAND

5

-1.600

92

POTCH GIM

6

-1.617

93

FLORIDA

7

-1.814

94

GRENS

6

-2.233

95

BEN VILJOEN

6

-2.250

96

POTCH VOLKIES

8

-3.050

97

DANIEL PIENAAR

7

-3.714

98

CENTURION

6

-3.767