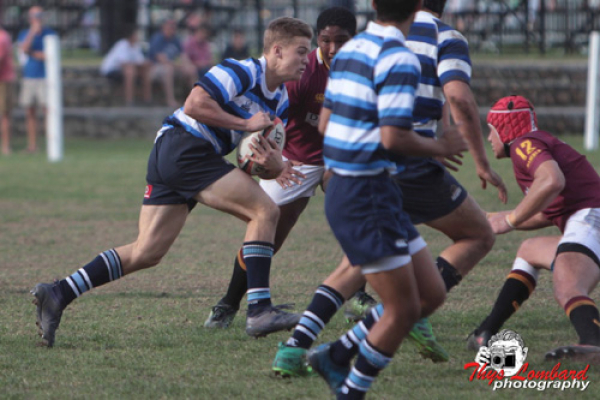 Bishops manage to time their run to the top of the U16 Top 100 Rankings well with a good victory over St.Andrews College and in so doing force their way into the top 5 zone on this week's rankings.
With only a few matches played last week as the season slowly ends it was a competent Selborne College side that accounted for Grey High School in a tough encounter. However it was a much needed win for Selborne who have been good value throughout the season.
EG Jansen tumble out from the leading ten teams courtesy of Monument who extracted a hard earn win from them and Hudson Park came unstuck against Dale College who produced a polished performance to end their season.
Please send your outstanding U16 results to [email protected]
U16 RUGBY RANKINGS 14 AUGUST, 2018

RANK

TEAM

PLAYED

AVG BONUS POINTS

1

PAARL GIM

17

6.694

2

OUTENIQUA

13

5.908

3

GREY COLLEGE

12

5.367

4

HELPMEKAAR

17

5.106

5

BISHOPS

15

5.100

6

MONUMENT

20

4.975

7

MARITZBURG COLLEGE

19

4.858

8

SELBORNE COLLEGE

14

4.793

9

AFFIES

15

4.633

10

NORTHWOOD

12

4.475

11

JEPPE

17

4.406

12

GARSFONTEIN

17

4.400

13

EG JANSEN

17

4.388

14

WESTVILLE

14

4.264

16

HTS DROSTDY

14

3.950

17

GREY HIGH SCHOOL

15

3.873

18

MENLOPARK

17

3.865

19

GLENWOOD

17

3.853

20

WYNBERG BH

10

3.850

21

HILTON COLLEGE

11

3.773

22

MICHAELHOUSE

13

3.746

23

BEN VORSTER

15

3.733

24

DIAMANTVELD

12

3.700

25

ST DAVIDS

13

3.646

26

HUDSON PARK

15

3.627

27

RUSTENBURG

15

3.520

28

PAUL ROOS GYM

12

3.408

29

QUEENS COLLEGE

10

3.370

30

OAKDALE

13

3.323

31

Graaf Reinet Volk

9

3.311

32

PAARL BOYS HIGH

15

3.240

33

FRAMESBY

18

3.139

34

DALE COLLEGE

8

3.125

35

STELLENBERG

19

3.111

36

HUGENOTE SPRINGS

20

3.040

37

ST CHARLES COLLEGE

11

3.000

38

ST ANDREWS COLLEGE

12

2.950

39

MERENSKY

11

2.918

40

MIDDELBURG HS

15

2.893

41

KES

14

2.821

42

MARAIS VILJOEN

19

2.721

43

KEARSNEY COLLEGE

12

2.650

44

ALBERTON

14

2.614

45

BELLVILLE

14

2.571

46

HANS MOORE

16

2.538

47

GRAEME COLLEGE

12

2.500

48

WESVALIA

11

2.382

49

DIE BRANDWAG

15

2.333

50

ELDORAIGNE

17

2.312

51

KROONSTAD

13

2.277

52

PAREL VALLEI

10

2.170

53

ELLISRAS

12

2.142

54

DURBANVILLE

16

2.125

55

SACS

13

2.123

56

PRETORIA BOYS HIGH

16

2.119

57

MILNERTON HS

10

2.050

58

ST BENEDICTS

12

1.917

59

DESPATCH

11

1.891

60

LYDENBURG

12

1.783

61

PEARSON

11

1.673

62

BOLAND LANDBOU

12

1.592

63

RONDEBOSCH

11

1.518

64

KINGSWOOD COLLEGE

7

1.414

65

SECUNDA

13

1.354

66

NORTHCLIFF

10

1.310

67

MARLOW

11

1.273

68

HTS BELLVILLE

10

1.200

69

DUINEVELD

12

1.142

70

WATERKLOOF

16

1.000

71

NICO MALAN

14

0.964

72

VOORTREKKER BETH

12

0.925

73

ST STITHIANS

9

0.844

74

RANDPARK

13

0.823

75

ST JOHNS COLLEGE

10

0.720

76

TRANSVALIA

12

0.717

77

UNION HS

7

0.686

78

KEMPTON PARK

16

0.669

79

MONTANA PTA

11

0.636

80

BARBERTON

12

0.458

81

HOPEFIELD

8

0.388

82

HTS MIDDELBURG

16

0.363

83

BRACKENFELL

8

0.138

84

TYGERBERG

11

0.045

85

OOS MOOT

11

0.036

86

CURRO NELSPRUIT

11

-0.018

87

DRIEHOEK

7

-0.029

88

POTCH GIM

8

-0.138

89

DIE ANKER

8

-0.400

90

PARKTOWN

11

-0.445

91

NOORDHEUWEL

11

-0.682

92

CLIFTON

10

-0.750

93

NELSPRUIT

12

-0.858

94

FLORIDA

12

-0.875

95

JEUGLAND

10

-0.880

96

DHS

14

-0.929

97

GRENS

10

-0.950

98

STRAND

8

-0.950

99

ST ALBANS COLLEGE

9

-1.056

100

CAMBRIDGE

13

-1.138