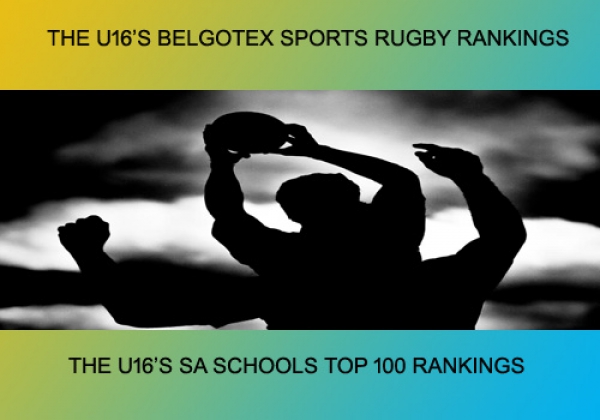 Paul Roos Gym head this week's Belgotex Sports U16 Top 100 Rankings for another week following a strong performance against Paarl Boys High who they managed to out wrestle in a tightly contested match.
St John's College find themselves entering amongst the top three in what has become a dream season for the Johannesburg team who have notched up some highly impressive results along with big score-lines. Michaelhouse were their latest victim who they systematically dismantled in a powerful display. St. John's has now stretched their unbeaten run to 12 matches and could well finish even higher as the season progresses.
Menlopark are another team that join the top five this week and save for their loss to Oakdale earlier this season have benefited from a fine run of form.
Please send your results to [email protected]
U16 RANKINGS 31 MAY 2017

RANK

TEAM

PLAYED

AVG PTS

1

PAUL ROOS GYM

8

7,625

2

GREY COLLEGE

11

7,464

3

ST JOHNS COLLEGE

12

6,775

4

DURBANVILLE

11

6,727

5

MENLOPARK

13

5,569

6

SELBORNE COLLEGE

11

5,555

7

STELLENBERG

12

5,517

8

HELPMEKAAR

8

5,450

9

BOLAND LANDBOU

9

5,300

10

OAKDALE

9

5,278

11

GLENWOOD

8

5,175

12

OOS MOOT

11

5,073

13

KINGSWOOD COLLEGE

9

4,867

14

JEPPE

13

4,862

15

ST ANDREWS COLLEGE

9

4,778

16

VOORTREKKER BETH

10

4,620

17

GREY HIGH SCHOOL

8

4,288

18

TRANSVALIA

8

4,225

19

MONTANA JHB

9

4,078

20

PAARL BOYS HIGH

7

4,000

21

PAARL GIM

11

3,964

22

MONUMENT

11

3,927

23

PRETORIA BOYS HIGH

11

3,909

24

AFFIES

12

3,883

25

HILTON COLLEGE

10

3,810

26

KLERKSDORP

9

3,756

27

RONDEBOSCH

9

3,711

28

DALE COLLEGE

9

3,700

29

FRAMESBY

8

3,675

30

HTS DROSTDY

11

3,591

31

PIET POTGIETER

8

3,588

32

NORTHWOOD

9

3,500

33

PIETERSBURG

6

3,350

34

WELKOM GYM

7

3,271

35

LIGBRON

11

3,264

36

HOPEFIELD

7

3,257

37

WATERKLOOF

9

3,178

38

MARITZBURG COLLEGE

10

3,160

39

WESVALIA

10

2,830

40

WESTVILLE

10

2,740

41

ST CHARLES COLLEGE

10

2,730

42

KES

12

2,708

43

NICO MALAN

9

2,689

44

LYDENBURG

9

2,689

45

OUTENIQUA

10

2,670

46

WITTEBERG

6

2,583

47

JEUGLAND

12

2,525

48

PAREL VALLEI

5

2,420

49

PIONIER

8

2,388

50

ST STITHIANS

6

2,350

51

BIRCHLEIGH

9

2,333

52

SECUNDA

8

2,288

53

FOURWAYS

11

2,091

54

ST DAVIDS

13

2,069

55

PEARSON

5

1,980

56

HUDSON PARK

9

1,900

57

EG JANSEN

8

1,738

58

FLORIDA

8

1,663

59

MARAIS VILJOEN

9

1,567

60

PARKTOWN

7

1,529

61

MICHAELHOUSE

7

1,443

62

KEMPTON PARK

11

1,373

63

SACS

10

1,140

64

GARSFONTEIN

11

1,118

65

NOORDHEUWEL

11

1,100

66

DIAMANTVELD

11

1,091

67

JAN VILJOEN

5

1,060

68

RUSTENBURG

8

1,050

69

LABORI

6

1,033

70

CLIFTON

9

1,011

71

MARLOW

6

0,933

72

JACOBSDAL

5

0,800

73

BRANDWAG

5

0,780

74

HERMANUS

5

0,740

75

GEORGE CAMPBELL

2

0,700

76

HTS MIDDELBURG

10

0,580

77

NOORD KAAP

5

0,460

78

HUGENOTE SPRINGS

7

0,414

79

BISHOPS

8

0,325

80

DANIEL PIENAAR

6

0,117

81

KRUGERSDORP

5

0,080

82

SUTHERLAND

7

-0,100

83

CENTURION

8

-0,200

84

HS ALBERTON

6

-0,450

85

MIDSTREAM

7

-0,457

86

NELSPRUIT

6

-0,517

87

ELDORAIGNE

8

-0,738

88

DHS

6

-0,833

89

QUEENS COLLEGE

8

-0,938

90

KEARSNEY COLLEGE

6

-1,217

91

BELLVILLE

8

-1,400

92

ST ALBANS COLLEGE

5

-1,460

93

GRAEME COLLEGE

5

-1,740

94

ST BENEDICTS

10

-1,750

95

MIDDELBURG HS

6

-1,767

96

CAMBRIDGE

6

-1,967

97

STIRLING

5

-2,400

98

ST BENEDICTS

9

-2,600