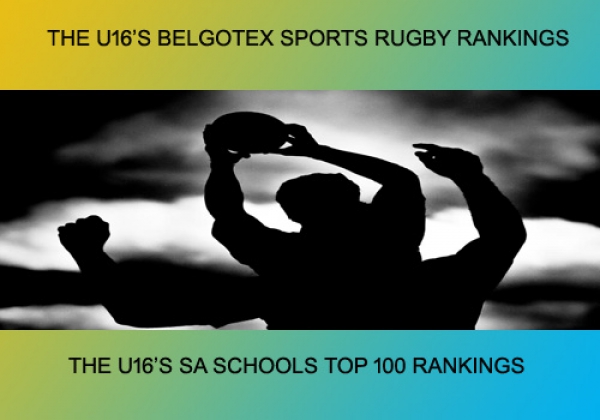 The latest Belgotex Sports U16 Rankings still sees Paul Roos Gym on the top followed closely by Grey College.
Grey College put together a strong showing against Selborne College to close the gap on PRG with just the single loss this season the only blemish on a perfect season.
Please send your results to [email protected] to ensure that your results are all recorded.
U16 RANKINGS 17 MAY 2017

RANK

TEAM

PLAYED

AVG PTS

1

PAUL ROOS GYM

7

7,986

2

GREY COLLEGE

11

7,464

3

DURBANVILLE

10

6,790

4

ST JOHNS COLLEGE

11

6,664

5

STELLENBERG

11

5,691

6

ST ANDREWS COLLEGE

8

5,625

7

MENLOPARK

12

5,583

8

HELPMEKAAR

8

5,450

9

SELBORNE COLLEGE

10

5,350

10

JEPPE

12

5,325

11

BOLAND LANDBOU

9

5,300

12

OOS MOOT

10

5,130

13

OAKDALE

8

5,113

14

GLENWOOD

7

4,800

15

VOORTREKKER BETH

9

4,478

16

KINGSWOOD COLLEGE

8

4,438

17

PAARL BOYS HIGH

6

4,250

18

TRANSVALIA

8

4,225

19

MONTANA JHB

9

4,078

20

HILTON COLLEGE

9

3,833

21

KLERKSDORP

9

3,756

22

RONDEBOSCH

8

3,725

23

MONUMENT

10

3,710

24

PAARL GIM

10

3,700

25

AFFIES

11

3,664

26

PIET POTGIETER

8

3,588

27

PRETORIA BOYS HIGH

10

3,550

28

GREY HIGH SCHOOL

7

3,500

29

HTS DROSTDY

10

3,480

30

DALE COLLEGE

8

3,388

31

PIETERSBURG

6

3,350

32

WELKOM GYM

6

3,333

33

FRAMESBY

7

3,257

34

LIGBRON

10

3,250

35

WATERKLOOF

9

3,178

36

MARITZBURG COLLEGE

9

3,111

37

HOPEFIELD

6

3,100

38

KES

11

3,000

39

DINAMIKA

3

2,967

40

NORTHWOOD

8

2,963

41

OUTENIQUA

9

2,922

42

ST CHARLES COLLEGE

9

2,922

43

WITTEBERG

5

2,920

44

WESVALIA

9

2,789

45

NICO MALAN

8

2,625

46

PIONIER

8

2,388

47

ST STITHIANS

6

2,350

48

LYDENBURG

8

2,350

49

BIRCHLEIGH

9

2,333

50

JEUGLAND

11

2,327

51

SECUNDA

8

2,288

52

WESTVILLE

9

2,222

53

PARKTOWN

6

2,217

54

FLORIDA

7

2,143

55

FOURWAYS

11

2,091

56

MICHAELHOUSE

6

2,083

57

ST DAVIDS

13

2,069

58

PEARSON

5

1,980

59

MARLOW

5

1,740

60

CLIFTON

8

1,588

61

KEMPTON PARK

10

1,540

62

HUDSON PARK

8

1,463

63

SACS

9

1,378

64

GARSFONTEIN

10

1,280

65

MARAIS VILJOEN

8

1,113

66

NOORDHEUWEL

11

1,100

67

RUSTENBURG

8

1,050

68

LABORI

6

1,033

69

DIAMANTVELD

10

0,890

70

EG JANSEN

7

0,843

71

HUGENOTE SPRINGS

6

0,800

72

BRANDWAG

5

0,780

73

SUTHERLAND

6

0,750

74

HTS MIDDELBURG

10

0,580

75

BISHOPS

8

0,325

76

DANIEL PIENAAR

6

0,117

77

KRUGERSDORP

5

0,080

78

DHS

5

-0,280

79

QUEENS COLLEGE

7

-0,371

80

NELSPRUIT

6

-0,517

81

ELDORAIGNE

8

-0,738

82

CENTURION

7

-0,743

83

HS ALBERTON

5

-1,200

84

KEARSNEY COLLEGE

6

-1,217

85

MIDSTREAM

6

-1,433

86

CAMBRIDGE

5

-1,440

87

BELLVILLE

7

-1,686

88

ST BENEDICTS

10

-1,750

89

MIDDELBURG HS

6

-1,767