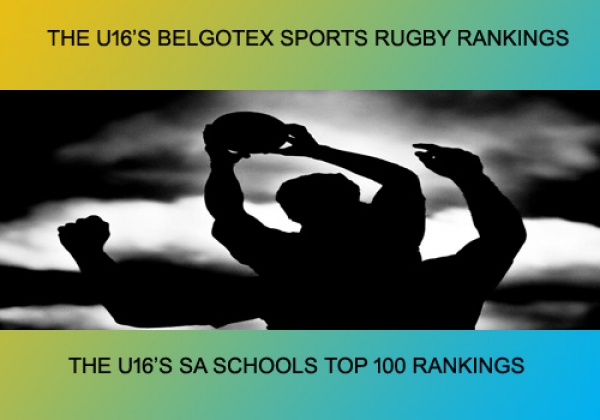 Paul Roos Gym go top of the U16 Belgotex Sports Top 100 Rankings after handing out too big rugby lessons to Grey High School and SACS during the past couple of weeks.
However what separates PRG from Grey College is marginal and we can fully expect these two leading teams of the U16 group to keep challenging for the No.1 position as we traverse through the season.
Boland Landbou made strong gains over the past weeks and enter amongst the top ten on the rankings, with Menlopark still holding steady as they close the gap on the leading five teams.
Please send any outstanding results to [email protected] to ensure they are all included.
U16 RANKINGS 17 MAY 2017

RANK

TEAM

PLAYED

AVG PTS

1

PAUL ROOS GYM

7

7,986

2

GREY COLLEGE

10

7,390

3

ST JOHNS COLLEGE

11

6,664

4

DURBANVILLE

9

6,611

5

SELBORNE COLLEGE

9

6,233

6

ST ANDREWS COLLEGE

7

5,614

7

OAKDALE

7

5,614

8

MENLOPARK

11

5,573

9

HELPMEKAAR

8

5,450

10

BOLAND LANDBOU

9

5,300

11

STELLENBERG

10

5,280

12

JEPPE

11

5,218

13

OOS MOOT

9

4,856

14

KINGSWOOD COLLEGE

7

4,829

15

GLENWOOD

7

4,800

16

VOORTREKKER BETH

9

4,478

17

TRANSVALIA

8

4,225

18

PRETORIA BOYS HIGH

9

4,044

19

MONTANA JHB

8

4,038

20

RONDEBOSCH

4

3,900

21

DIE BRANDWAG

4

3,875

22

HILTON COLLEGE

9

3,833

23

KLERKSDORP

9

3,756

24

HTS DROSTDY

9

3,711

25

PIET POTGIETER

8

3,588

26

PAARL BOYS HIGH

5

3,561

27

WATERKLOOF

7

3,357

28

PIETERSBURG

6

3,350

29

AFFIES

10

3,340

30

PAARL GIM

9

3,333

31

FRAMESBY

7

3,257

32

MONUMENT

7

3,200

33

DALE COLLEGE

7

3,129

34

NORTHWOOD

8

2,963

35

LIGBRON

9

2,944

36

KES

10

2,940

37

ST CHARLES COLLEGE

9

2,922

38

WITTEBERG

5

2,920

39

HOPEFIELD

5

2,900

40

WESVALIA

9

2,789

41

OUTENIQUA

8

2,725

42

GREY HIGH SCHOOL

6

2,700

43

WESTVILLE

8

2,663

44

NICO MALAN

7

2,571

45

MARITZBURG COLLEGE

8

2,450

46

PIONIER

8

2,388

47

BIRCHLEIGH

9

2,333

48

WELKOM GYM

5

2,300

49

ST STITHIANS

5

2,260

50

PARKTOWN

6

2,217

51

JEUGLAND

10

2,160

52

FLORIDA

7

2,143

53

KEMPTON PARK

9

2,111

54

MICHAELHOUSE

6

2,083

55

PEARSON

5

1,980

56

SECUNDA

7

1,829

57

LYDENBURG

7

1,814

58

MARLOW

5

1,740

59

ST DAVIDS

12

1,700

60

FRIKKIE MEYER

4

1,600

61

LABORI

4

1,575

62

NOORDHEUWEL

10

1,510

63

HUDSON PARK

8

1,463

64

RANDBURG

4

1,450

65

GARSFONTEIN

10

1,280

66

FOURWAYS

8

1,213

67

JAN VILJOEN

4

1,200

68

MARAIS VILJOEN

7

1,200

69

CLIFTON

7

1,171

70

SACS

8

1,063

71

RUSTENBURG

8

1,050

72

DHS

4

0,875

73

EG JANSEN

7

0,843

74

JACOBSDAL

4

0,825

75

SUTHERLAND

5

0,820

76

HUGENOTE SPRINGS

6

0,800

77

BRANDWAG

5

0,780

78

BISHOPS

7

0,771

79

HTS MIDDELBURG

10

0,580

80

DIAMANTVELD

9

0,544

81

RIEBEECKRAND

4

0,225

82

DANIEL PIENAAR

6

0,117

83

KRUGERSDORP

5

0,080

84

NOORD KAAP

4

-0,225

85

HANS MOORE

4

-0,325

86

NELSPRUIT

6

-0,517

87

CENTURION

6

-0,600

88

ELDORAIGNE

8

-0,738

89

HS ALBERTON

4

-0,850

90

CAMBRIDGE

4

-1,025

91

MIDSTREAM

5

-1,160

92

KEARSNEY COLLEGE

6

-1,217

93

BELLVILLE

7

-1,686

94

QUEENS COLLEGE

6

-1,700

95

POTCH VOLKIES

4

-1,750

96

MIDDELBURG HS

6

-1,767

97

JIM FOUCHE

4

-2,475

98

ST BENEDICTS

9

-2,600

99

HENTIE CILLIERS

4

-3,125

100

ST ANDREWS SCHOOL

4

-3,500