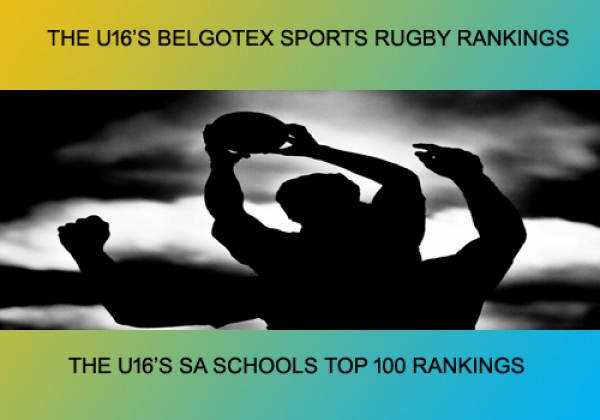 Dale College put together a mighty performance in their match against old rivals Queen's College winning by over 50 points to cap off a season that could have been a whole lot better if not for a few banana skins along the way.
However their strong finish to the season helps to boost them into the top 20 zone on the final Belgotex Sports U16 Top 100 Rankings for 2017 which also sees one or two surprises amongst the elite teams.
Grey College, with the solitary loss in an otherwise brilliant season, end 2017 as the leading U16 team in the country but not without a strong challenge from PRG who perhaps fittingly came second to Grey in their final match of the season.
Harkening back to the 1970's when former Springbok Thys Burger played for Helpmekaar, the U16 "Bruinmasjien" have also enjoyed a great season and it will be interesting to see how these players perform in their 2018 First XV.
Durbanville who had a fantastic start to their season will be well pleased with a top 10 finish which included wins against SACS and Bishops and will be hoping to continue with this progress on into next year.
Well done to the players and coaches who delivered yet another great performance on the field and we look forward to seeing how all progress on into the First XV's next season.
U16 RANKINGS 1 SEPTEMBER 2017

RANK

TEAM

PLAYED

AVG PTS

1

GREY COLLEGE

15

7.533

2

PAUL ROOS GYM

15

7.060

3

ST JOHNS COLLEGE

14

6.586

4

HELPMEKAAR

13

5.938

5

SELBORNE COLLEGE

16

5.925

6

DURBANVILLE

18

5.750

7

MENLOPARK

17

5.729

8

PAARL BOYS HIGH

12

5.592

9

STELLENBERG

19

5.395

10

JEPPE

17

5.218

11

MONTANA PTA

12

5.033

12

ST ANDREWS COLLEGE

14

4.936

13

VOORTREKKER BETH

10

4.620

14

MONUMENT

16

4.581

15

OOS MOOT

17

4.506

16

PAARL GIM

16

4.450

17

KINGSWOOD COLLEGE

13

4.423

18

DALE COLLEGE

16

4.356

19

OAKDALE

15

4.300

20

BOLAND LANDBOU

15

4.093

21

TRANSVALIA

10

4.080

22

DIE BRANDWAG

6

3.950

23

HTS DROSTDY

16

3.919

24

WELKOM GYM

8

3.875

25

HILTON COLLEGE

12

3.825

26

NORTHWOOD

10

3.820

27

RONDEBOSCH

16

3.788

28

FRAMESBY

14

3.714

29

GREY HIGH SCHOOL

13

3.708

30

GLENWOOD

11

3.500

31

PIET POTGIETER

15

3.467

32

ST STITHIANS

7

3.457

33

ST CHARLES COLLEGE

13

3.454

34

MARITZBURG COLLEGE

15

3.360

35

PIETERSBURG

6

3.350

36

PRETORIA BOYS HIGH

16

3.231

37

WESTVILLE

13

3.169

38

OUTENIQUA

15

3.127

39

KLERKSDORP

10

3.090

40

WITTEBERG

8

2.925

41

KES

16

2.906

42

WESVALIA

10

2.830

43

LIGBRON

16

2.800

44

AFFIES

15

2.800

45

WATERKLOOF

12

2.708

46

LYDENBURG

10

2.700

47

HOPEFIELD

10

2.680

48

JEUGLAND

14

2.579

49

NICO MALAN

15

2.493

50

PIONIER

8

2.388

51

BIRCHLEIGH

9

2.333

52

SECUNDA

8

2.288

53

FOURWAYS

12

2.125

54

ST DAVIDS

15

2.120

55

WYNBERG

9

1.989

56

NOORDHEUWEL

14

1.743

57

PAREL VALLEI

6

1.683

58

LABORI

7

1.614

59

FAIRMONT

15

1.553

60

MARAIS VILJOEN

11

1.518

61

DIAMANTVELD

12

1.508

62

KEMPTON PARK

14

1.507

63

HUDSON PARK

17

1.376

64

MICHAELHOUSE

8

1.325

65

MARLOW

8

1.325

66

EG JANSEN

11

1.318

67

HERMANUS

8

1.275

68

PEARSON

8

1.250

69

HANS MOORE

7

1.114

70

NELSPRUIT

9

1.078

71

FLORIDA

9

0.967

72

GARSFONTEIN

13

0.900

73

CLIFTON

12

0.883

74

KRUGERSDORP

6

0.800

75

SACS

16

0.694

76

PARKTOWN

10

0.640

77

BRACKENFELL

10

0.510

78

DANIEL PIENAAR

7

0.286

79

RUSTENBURG

11

0.191

80

HTS MIDDELBURG

12

0.183

81

CENTURION

9

0.178

82

HUGENOTE SPRINGS

8

0.163

83

MIDSTREAM

9

0.122

84

GRENS

7

-0.029

85

OVERKRUIN

6

-0.033

86

QUEENS COLLEGE

11

-0.036

87

HS ALBERTON

8

-0.075

88

SUTHERLAND

7

-0.100

89

ELDORAIGNE

10

-0.280

90

DHS

7

-0.757

91

STIRLING

11

-1.009

92

KEARSNEY COLLEGE

10

-1.010

93

BISHOPS

14

-1.300

94

ST ALBANS COLLEGE

7

-1.329

95

GRAEME COLLEGE

10

-1.380

96

MUIR

6

-1.517

97

BELLVILLE

11

-1.673

98

MIDDELBURG HS

6

-1.767

99

CAMBRIDGE

10

-1.810

100

ST BENEDICTS

13

-2.215