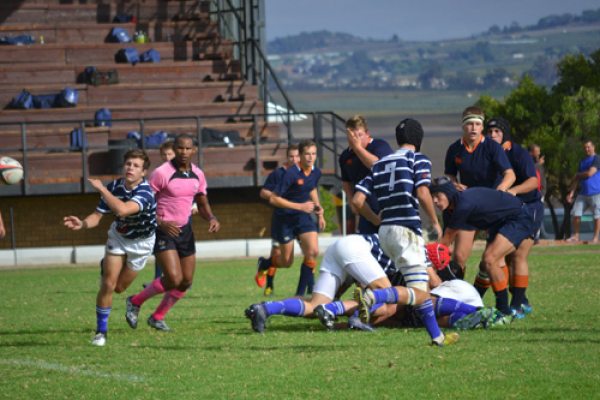 Oakdale crept ever closer to Grey College on this week's U15 School Rugby Top 100 Rankings following their impressive win over Paarl Boys High.
This now means that Oakdale remain unbeaten and will be hoping that their prosperous season ends as strongly as it started.
Boishaai's loss however knocks them back a place and it is Selborne College who now eagerly are looking at a possible top 5 finish if the rest of the results go their way. Another team that failed to make up much ground was Outeniqua who grimly hold on to their top 10 status for this week following a hard fought for draw with Paarl Gim.
As we move into the business end of the U15 season it is important that you please submit all your results to [email protected] to ensure they are all included.
U15 RUGBY RANKINGS 25 JULY, 2018

RANK

TEAM

PLAYED

AVG BONUS PTS

1

GREY COLLEGE

9

7.133

2

OAKDALE

13

6.877

3

MENLOPARK

16

6.575

4

AFFIES

14

6.343

5

GREY HIGH SCHOOL

13

5.554

6

SELBORNE COLLEGE

10

5.390

7

PAARL BOYS HIGH

11

5.173

8

HILTON COLLEGE

11

5.082

9

BISHOPS

13

4.723

10

OUTENIQUA

11

4.636

11

HELPMEKAAR

18

4.367

12

RONDEBOSCH

10

4.350

13

KINGSWOOD COLLEGE

8

4.213

14

LIGBRON

14

4.150

15

PAARL GIM

15

4.080

16

DURBANVILLE

15

4.080

17

GLENWOOD

15

3.953

18

ZWARTKOP

15

3.953

19

KES

13

3.877

20

PEARSON

11

3.600

21

MARITZBURG COLLEGE

15

3.553

22

KEARSNEY COLLEGE

12

3.483

23

HTS DROSTDY

12

3.483

24

CURRO NELSPRUIT

9

3.467

25

MARLOW

9

3.333

26

VOORTREKKER BETH

10

3.330

27

MONUMENT

18

3.278

28

MARAIS VILJOEN

16

3.263

29

RUSTENBURG

13

3.223

30

QUEENS COLLEGE

6

3.217

31

PAUL ROOS GYM

10

3.150

32

WYNBERG BH

10

3.140

33

NORTHWOOD

13

3.015

34

WITTEBERG

10

3.010

35

ST JOHNS COLLEGE

13

3.008

36

WESTVILLE

13

2.923

37

ST CHARLES COLLEGE

12

2.917

38

PIETERSBURG

13

2.792

39

BREDASDORP

9

2.733

40

PAREL VALLEI

11

2.664

41

MONTANA PTA

14

2.650

42

DIAMANTVELD

12

2.600

43

ELLISRAS

12

2.550

44

STELLENBERG

18

2.550

45

LEEUWENHOF

11

2.536

46

DIE BRANDWAG

10

2.460

47

RANDPARK

13

2.385

48

CORNWALL HILL

12

2.358

49

BEN VORSTER

14

2.321

50

PARKTOWN

14

2.236

51

HTS MIDDELBURG

18

2.217

52

NICO MALAN

9

2.122

53

JEPPE

14

2.114

54

BRITS

8

2.063

55

BOLAND LANDBOU

11

2.036

56

ST DAVIDS

16

2.006

57

HUDSON PARK

13

1.977

58

PRETORIA BOYS HIGH

12

1.975

59

DHS

14

1.971

60

KEMPTON PARK

15

1.873

61

MICHAELHOUSE

11

1.809

62

FLORIDA

7

1.714

63

FRAMESBY

16

1.706

64

NELSPRUIT

9

1.678

65

ST STITHIANS

9

1.522

66

ST ANDREWS COLLEGE

12

1.425

67

TRANSVALIA

11

1.418

68

MIDDELBURG HS

7

1.286

69

ST BENEDICTS

12

1.233

70

GRAEME COLLEGE

10

1.200

71

EG JANSEN

17

1.182

72

CLIFTON

13

1.123

73

ALBERTON

10

1.040

74

ST ALBANS COLLEGE

10

0.950

75

GRENS

6

0.850

76

PIONIER

11

0.845

77

HUGENOTE WELL

6

0.829

78

NOORDHEUWEL

13

0.815

79

JAN VILJOEN

13

0.662

80

SACS

8

0.588

81

OTTO DU PLESSIS

14

0.550

82

DANIEL PIENAAR

8

0.525

83

CENTURION

9

0.511

84

POTCH VOLKIES

15

0.493

85

DF MALAN

6

0.300

86

NORTHCLIFF

10

0.110

87

STEELCREST

9

-0.122

88

GARSFONTEIN

10

-0.250

89

JEUGLAND

10

-0.360

90

WATERKLOOF

12

-0.400

91

OOS MOOT

8

-0.575

92

LICHTENBURG

7

-0.586

93

LYDENBURG

11

-0.900

94

BELLVILLE

9

-0.978

95

CAMBRIDGE

8

-1.000

96

CBC BOKSBURG

6

-2.500

97

HUGENOTE SPRINGS

7

-2.843

98

ELDORAIGNE

12

-3.967

99

STRAND

6

-4.350