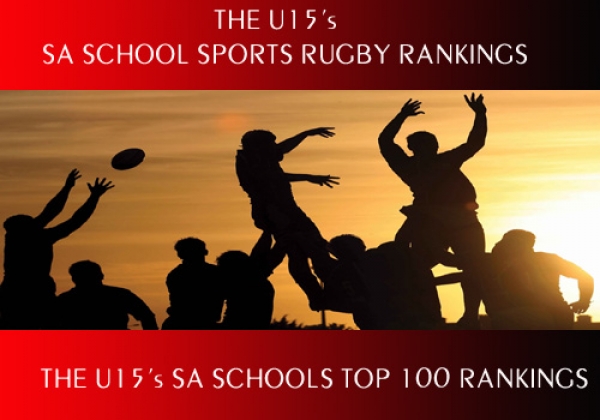 Another victory for Grey College this time over the powerful Affies team has helped them cement their place at the top of this week's U15 School Rugby Rankings .
Grey College have been in dominant form this season with 9 victories from 9 starts and it looks unlikely that this team can be beaten. Full marks however to Affies for putting up a mammoth display and very nearly walking off with the win.
Other than some minor shifting we have a virtually unchanged top 10 that includes Hilton College this week who benefit from the demise of St John's College who were defeated by Pretoria Boys High who look like they have finally found their rhythm.
Selborne College are within a whisker of getting amongst the leading 10 teams and another win from them could well see that take place soon.
Please send through your results to [email protected]
U15 RUGBY RANKINGS 23 MAY, 2018

RANK

TEAM

PLAYED

AVG BONUS PTS

1

GREY COLLEGE

9

7.13

2

OAKDALE

9

6.83

3

AFFIES

12

6.18

4

MENLOPARK

11

6.16

5

BISHOPS

9

5.52

6

PAARL BOYS HIGH

8

5.39

7

HELPMEKAAR

13

5.33

8

GREY HIGH SCHOOL

10

5.30

9

OUTENIQUA

8

4.90

10

HILTON COLLEGE

7

4.41

11

SELBORNE COLLEGE

6

4.37

12

GLENWOOD

12

4.10

13

RONDEBOSCH

5

4.08

14

ST JOHNS COLLEGE

10

4.06

15

PAARL GIM

12

4.06

16

MARAIS VILJOEN

12

3.93

17

MARITZBURG COLLEGE

11

3.90

18

KINGSWOOD COLLEGE

5

3.84

19

VOORTREKKER BETH

9

3.83

20

LIGBRON

10

3.67

21

ZWARTKOP

11

3.58

22

ST CHARLES COLLEGE

8

3.48

23

PAUL ROOS GYM

8

3.45

24

HTS DROSTDY

9

3.38

25

ST ANDREWS COLLEGE

7

3.37

26

CURRO NELSPRUIT

8

3.29

27

DURBANVILLE

11

3.26

28

KES

10

3.18

29

MONTANA PTA

10

3.10

30

DIE BRANDWAG

6

3.03

31

WESTVILLE

10

3.03

32

RUSTENBURG

9

2.92

33

KEARSNEY COLLEGE

8

2.91

34

QUEENS COLLEGE

5

2.88

35

PEARSON

8

2.86

36

NICO MALAN

6

2.85

37

HEIDELBERG VOLKIES

5

2.82

38

MONUMENT

13

2.75

39

WITTEBERG

9

2.71

40

MARLOW

7

2.70

41

NORTHWOOD

11

2.65

42

ELLISRAS

11

2.60

43

RANDPARK

11

2.51

44

BOLAND LANDBOU

7

2.44

45

DHS

10

2.42

46

PARKTOWN

12

2.37

47

BREDASDORP

5

2.36

48

LEEUWENHOF

9

2.29

49

DIAMANTVELD

10

2.26

50

JEPPE

11

2.20

51

WYNBERG BH

5

2.18

52

PAREL VALLEI

8

2.10

53

ST BENEDICTS

9

2.07

54

BRITS

8

2.06

55

HUDSON PARK

9

2.02

56

HTS MIDDELBURG

14

2.01

57

PIETERSBURG

7

1.99

58

CORNWALL HILL

9

1.88

59

PRETORIA BOYS HIGH

9

1.88

60

ST DAVIDS

13

1.85

61

FRAMESBY

13

1.81

62

STELLENBERG

13

1.75

63

TRANSVALIA

9

1.72

64

BEN VORSTER

10

1.64

65

NELSPRUIT

7

1.61

66

KEMPTON PARK

9

1.60

67

GRAEME COLLEGE

6

1.58

68

OOSTERLIG

5

1.26

69

MICHAELHOUSE

7

1.20

70

ST STITHIANS

7

1.14

71

SECUNDA

5

1.12

72

NOORDHEUWEL

10

1.10

73

MIDDELBURG HS

5

1.02

74

ALBERTON

7

0.86

75

HUGENOTE WELL

6

0.83

76

OTTO DU PLESSIS

10

0.78

77

CENTURION

5

0.62

78

BELLVILLE

6

0.58

79

ANDREW RABIE

5

0.56

80

DANIEL PIENAAR

8

0.53

81

CLIFTON

9

0.49

82

CAMBRIDGE

5

0.40

83

EG JANSEN

13

0.37

84

GARSFONTEIN

7

0.26

85

STEELCREST

8

0.10

86

NORTHCLIFF

9

0.03

87

JEUGLAND

8

0.03

88

DIE ANKER

5

-0.18

89

WATERKLOOF

10

-0.18

90

POTCH VOLKIES

12

-0.32

91

LICHTENBURG

5

-0.58

92

LYDENBURG

10

-0.63

93

SACS

5

-0.84

94

HUGENOTE SPRINGS

5

-2.32

95

ELDORAIGNE

9

-3.56

u1