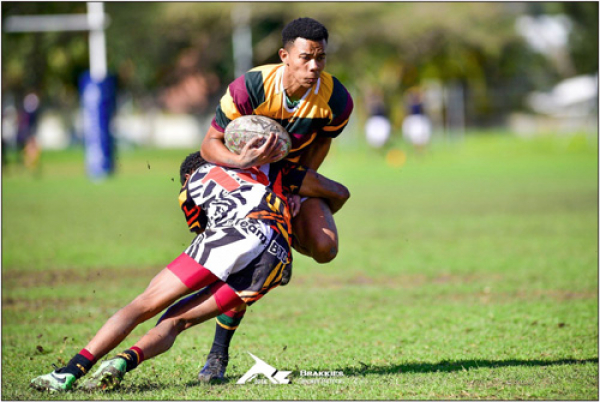 Bishops managed to take a step up on this week's U15 Top 100 Rugby rankings thanks in part to a storming win over St Andrews College last weekend.
Bishops have one remaining match to go in the season and they will be hoping for another victory over Rondebosch which could see them making a strong challenge for a top 5 finish.
Selborne College lose a little bit of footing on the table following their loss to Grey High School who leap frog ahead of them on this week's rankings and it is likely that they will remain in their current positions as their season is over.
As the 2018 season winds down please send through your results to [email protected]
U15 RUGBY RANKINGS 16 AUGUST, 2018

RANK

TEAM

PLAYED

AVG BONUS PTS

1

GREY COLLEGE

11

7.355

2

OAKDALE

15

7.153

3

MENLOPARK

19

6.721

4

AFFIES

15

6.693

5

PAARL BOYS HIGH

13

5.492

6

HILTON COLLEGE

11

5.082

7

BISHOPS

16

5.075

8

GREY HIGH SCHOOL

15

5.013

9

SELBORNE COLLEGE

13

4.692

10

DURBANVILLE

17

4.524

11

OUTENIQUA

13

4.485

12

HELPMEKAAR

20

4.325

13

LIGBRON

17

4.235

14

KINGSWOOD COLLEGE

9

4.156

15

GLENWOOD

17

3.894

16

PAARL GIM

17

3.888

17

KES

15

3.880

18

HTS DROSTDY

14

3.864

19

RONDEBOSCH

12

3.817

20

MONUMENT

21

3.771

21

PAUL ROOS GYM

12

3.767

22

VOORTREKKER BETH

12

3.683

23

ZWARTKOP

18

3.683

24

PEARSON

14

3.621

25

CURRO NELSPRUIT

11

3.500

26

KEARSNEY COLLEGE

12

3.483

27

MARITZBURG COLLEGE

17

3.341

28

UPLANDS COLLEGE

1

3.300

29

RUSTENBURG

16

3.263

30

MARAIS VILJOEN

18

3.261

31

NORTHWOOD

13

3.015

32

WITTEBERG

10

3.010

33

ST JOHNS COLLEGE

13

3.008

34

DALE COLLEGE

8

2.988

35

WYNBERG BH

11

2.973

36

BREDASDORP

13

2.962

37

PIETERSBURG

15

2.947

38

WESTVILLE

13

2.923

39

ST CHARLES COLLEGE

12

2.917

40

MONTANA PTA

16

2.844

41

NICO MALAN

12

2.825

42

ELLISRAS

15

2.733

43

DIAMANTVELD

14

2.657

44

MARLOW

11

2.618

45

LEEUWENHOF

12

2.608

46

STELLENBERG

19

2.605

47

BRACKENFELL

15

2.573

48

JEPPE

16

2.563

49

QUEENS COLLEGE

8

2.538

50

PAREL VALLEI

13

2.385

51

RANDPARK

13

2.385

52

CORNWALL HILL

12

2.358

53

HTS MIDDELBURG

20

2.145

54

SUTHERLAND

2

2.100

55

HUDSON PARK

15

2.093

56

BEN VORSTER

15

2.087

57

BRITS

8

2.063

58

DIE BRANDWAG

11

2.009

59

ST DAVIDS

16

2.006

60

BOLAND LANDBOU

13

2.000

61

DHS

14

1.971

62

PRETORIA BOYS HIGH

14

1.850

63

MICHAELHOUSE

11

1.809

64

NELSPRUIT

12

1.550

65

PARKTOWN

16

1.550

66

ST STITHIANS

9

1.522

67

DF MALAN

8

1.363

68

MUIR

4

1.325

69

KEMPTON PARK

17

1.288

70

KING DAVID

3

1.267

71

OOSTERLIG

5

1.260

72

ST BENEDICTS

12

1.233

73

MIDDELBURG HS

8

1.200

74

CLIFTON

13

1.123

75

ALBERTON

10

1.040

76

FRAMESBY

18

1.039

77

NOORDHEUWEL

16

1.031

78

TRANSVALIA

12

1.025

79

ST ALBANS COLLEGE

10

0.950

80

GRAEME COLLEGE

11

0.945

81

ST ANDREWS COLLEGE

14

0.907

82

PIONIER

11

0.845

83

EG JANSEN

19

0.795

84

OTTO DU PLESSIS

16

0.688

85

JAN VILJOEN

13

0.662

86

POTCH VOLKIES

17

0.653

87

CENTURION

11

0.564

88

DANIEL PIENAAR

10

0.220

89

NORTHCLIFF

10

0.110

90

SACS

10

-0.020

91

LICHTENBURG

8

-0.075

92

GARSFONTEIN

11

-0.091

93

STEELCREST

9

-0.122

94

OOS MOOT

10

-0.240

95

JEUGLAND

11

-0.282

96

CAMBRIDGE

11

-0.509

97

LYDENBURG

11

-0.900

98

BELLVILLE

9

-0.978

99

WATERKLOOF

14

-1.029

100

STIRLING

7

-1.600