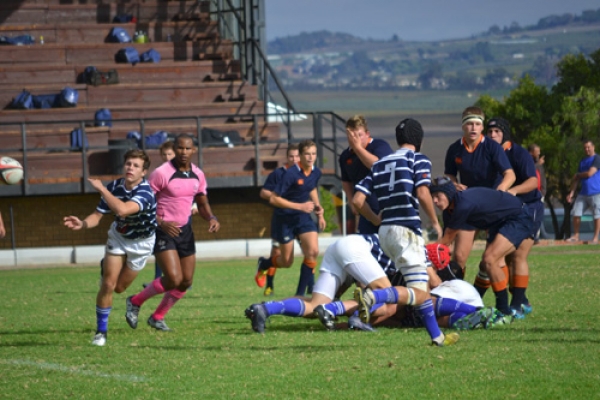 Helpmekaar are knocking on the door of the top 5 zone on this week's SA School Sports U15 Rugby Rankings after a strong win over Transvalia and along with Boishaai move up a notch thanks in part to Selborne who slip down after their match against Grey College.
Grey College were ruthless against a strong Selborne team who never were allowed to get into the match and struggled to get onto the board as they went down 41-3 to the No.1 U15 team in the country.
St John's College have enjoyed a string of successive wins which helps them to take up residence amongst the leading 10 teams and with only the single loss this season are well placed to move up further.
Please ensure your outstanding U15 results are with us by emailing them to [email protected]
U15 RUGBY RANKINGS 16 MAY, 2018

RANK

TEAM

PLAYED

AVG BONUS PTS

1

GREY COLLEGE

8

7.363

2

OAKDALE

8

7.013

3

AFFIES

11

6.591

4

MENLOPARK

10

6.000

5

BISHOPS

8

5.763

6

PAARL BOYS HIGH

8

5.388

7

HELPMEKAAR

12

5.342

8

GREY HIGH SCHOOL

10

5.300

9

OUTENIQUA

7

5.086

10

ST JOHNS COLLEGE

9

4.522

11

HILTON COLLEGE

7

4.414

12

SELBORNE COLLEGE

6

4.367

13

MARAIS VILJOEN

11

4.236

14

PAARL GIM

11

4.200

15

VOORTREKKER BETH

8

4.013

16

GLENWOOD

11

4.009

17

MARITZBURG COLLEGE

10

3.830

18

LIGBRON

10

3.670

19

DURBANVILLE

10

3.630

20

ZWARTKOP

11

3.582

21

ST CHARLES COLLEGE

8

3.475

22

ST ANDREWS COLLEGE

6

3.467

23

PAUL ROOS GYM

8

3.450

24

KES

9

3.367

25

HTS DROSTDY

8

3.350

26

CURRO NELSPRUIT

8

3.288

27

MONTANA PTA

10

3.100

28

DIE BRANDWAG

6

3.033

29

WESTVILLE

10

3.030

30

RUSTENBURG

9

2.922

31

KEARSNEY COLLEGE

8

2.913

32

PEARSON

8

2.863

33

NICO MALAN

6

2.850

34

MONUMENT

12

2.825

35

WITTEBERG

8

2.800

36

MARLOW

7

2.700

37

NELSPRUIT

6

2.550

38

DHS

9

2.511

39

ELLISRAS

10

2.480

40

HUDSON PARK

8

2.400

41

RANDPARK

10

2.380

42

PARKTOWN

12

2.367

43

BOLAND LANDBOU

6

2.250

44

WYNBERG

5

2.180

45

NORTHWOOD

10

2.140

46

BRITS

8

2.063

47

HTS MIDDELBURG

13

2.031

48

ST DAVIDS

12

2.017

49

PIETERSBURG

7

1.986

50

DIAMANTVELD

9

1.944

51

JEPPE

10

1.920

52

BEN VORSTER

9

1.900

53

LEEUWENHOF

6

1.900

54

FRAMESBY

13

1.808

55

STELLENBERG

12

1.742

56

ST BENEDICTS

8

1.738

57

CORNWALL HILL

7

1.729

58

PAREL VALLEI

7

1.729

59

KEMPTON PARK

9

1.600

60

GRAEME COLLEGE

6

1.583

61

PRETORIA BOYS HIGH

8

1.450

62

ST STITHIANS

6

1.300

63

TRANSVALIA

8

1.263

64

OOSTERLIG

5

1.260

65

MICHAELHOUSE

7

1.200

66

SECUNDA

5

1.120

67

OTTO DU PLESSIS

9

1.056

68

MIDDELBURG HS

5

1.020

69

CLIFTON

8

0.950

70

NOORDHEUWEL

9

0.867

71

ALBERTON

7

0.857

72

HUGENOTE WELL

6

0.829

73

CENTURION

5

0.620

74

BELLVILLE

6

0.583

75

ANDREW RABIE

5

0.560

76

NORTHCLIFF

8

0.338

77

STEELCREST

8

0.100

78

DANIEL PIENAAR

7

0.057

79

GARSFONTEIN

6

0.033

80

JEUGLAND

8

0.025

81

EG JANSEN

12

0.017

82

LICHTENBURG

5

-0.580

83

POTCH VOLKIES

11

-0.618

84

WATERKLOOF

9

-0.800

85

LYDENBURG

9

-0.956

86

HUGENOTE SPRINGS

5

-2.320

87

ELDORAIGNE

9

-3.556