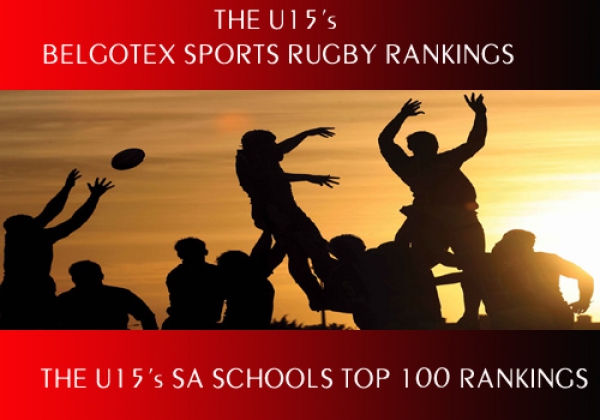 We are looking at a very stable U15 Belgotex Sports Top 100 Rankings for this week with Outeniqua still out in front closely pursued by a strong chasing pack.
Affies were the one team who made up some ground and appear poised to enter the top five after enjoying a satisfying win over KES. Bishops who are still unbeaten, were given their toughest fight to date when HTS Drostdy held them to a draw in a match that could have helped them to edge closer to Outeniqua had they come away with the win.
Menlopark also failed to move north on the table following there narrow defeat to Glenwood which puts them just outside the top ten for this week.
Please continue to send through your results to [email protected]
U15 RANKINGS 19 May 2017

RANK

TEAM

PLAYED

AVG PTS

1

OUTENIQUA

8

6,513

2

BISHOPS

9

5,900

3

PAARL GIM

7

5,814

4

GLENWOOD

9

5,767

5

BEN VORSTER

6

5,650

6

EG JANSEN

9

5,644

7

AFFIES

11

5,500

8

TRANSVALIA

8

5,325

9

QUEENS COLLEGE

5

5,220

10

PAUL ROOS GYM

7

5,157

11

ST STITHIANS

8

5,150

12

MENLOPARK

13

4,985

13

SUTHERLAND

7

4,886

14

WITTEBERG

6

4,867

15

ST CHARLES COLLEGE

11

4,645

16

DIAMANTVELD

11

4,364

17

HELPMEKAAR

9

4,333

18

DURBANVILLE

10

4,310

19

SELBORNE COLLEGE

5

4,260

20

DHS

5

4,140

21

HTS DROSTDY

10

4,040

22

PAARL BOYS HIGH

9

4,011

23

HUDSON PARK

8

3,913

24

NICO MALAN

8

3,913

25

MONUMENT

9

3,889

26

DIE BRANDWAG

10

3,770

27

GREY COLLEGE

9

3,767

28

BOLAND LANDBOU

8

3,750

29

MICHAELHOUSE

8

3,750

30

ROB FERREIRA

7

3,729

31

OAKDALE

7

3,729

32

BRACKENFELL

6

3,717

33

MARITZBURG COLLEGE

8

3,638

34

DESPATCH

7

3,471

35

STELLENBERG

10

3,450

36

LYDENBURG

8

3,425

37

FRAMESBY

10

3,400

38

WELKOM GYM

5

3,360

39

JEPPE

14

3,357

40

ST DAVIDS

16

3,100

41

PARKTOWN

6

3,050

42

KEARSNEY COLLEGE

7

3,043

43

ST ANDREWS COLLEGE

7

3,014

44

CURRO NELSPRUIT

8

2,913

45

BASTION

5

2,800

46

MILNERTON

8

2,775

47

HILTON COLLEGE

11

2,727

48

SACS

7

2,657

49

OOS MOOT

8

2,650

50

ELDORAIGNE

11

2,609

51

VOORTREKKER BETH

5

2,580

52

ST BENEDICTS

12

2,483

53

ELLISRAS

7

2,386

54

PRETORIA BOYS HIGH

10

2,360

55

POTCH GIM

5

2,300

56

HANS MOORE

5

2,300

57

GARSFONTEIN

10

2,280

58

ZWARTKOPS

11

2,273

59

PIET POTGIETER

6

2,183

60

WATERKLOOF

9

2,144

61

NORTHWOOD

11

1,982

62

FLORIDA

8

1,963

63

KES

8

1,950

64

WOODRIDGE COLLEGE

6

1,917

65

PAREL VALLEI

6

1,783

66

HOPEFIELD

5

1,720

67

HS ALBERTON

7

1,714

68

KLERKSDORP

11

1,627

69

KEMPTON PARK

12

1,617

70

FRIKKIE MEYER

4

1,600

71

RUSTENBURG

11

1,509

72

NOORDHEUWEL

10

1,470

73

WESTVILLE

10

1,280

74

LABORI

5

1,240

75

MARAIS VILJOEN

8

1,238

76

NOORD KAAP

6

1,233

77

BEKKER

4

1,225

78

PIONIER

6

1,133

79

DALE COLLEGE

5

1,120

80

RANDBURG

4

1,000

81

SECUNDA

11

0,991

82

CLIFTON

9

0,967

83

WESVALIA

10

0,960

84

MIDDELBURG HS

6

0,817

85

HUGENOTE SPRINGS

6

0,533

86

GLENWOOD HOUSE

6

0,483

87

ERMELO

5

0,360

88

RIEBEECKRAND

5

0,340

89

JEUGLAND

5

0,340

90

HTS MIDDELBURG

12

0,325

91

OTTO DU PLESSIS

4

0,225

92

GREY HIGH SCHOOL

5

0,000

93

AHS KROONSTAD

4

-0,150

94

GRAEME COLLEGE

4

-0,250

95

DUINEVELD

4

-0,300

96

MIDSTREAM

7

-0,329

97

MERENSKY

5

-0,420

98

BRANDWAG

4

-0,425

99

NELSPRUIT

8

-0,563

100

DIE ANKER

5

-0,600