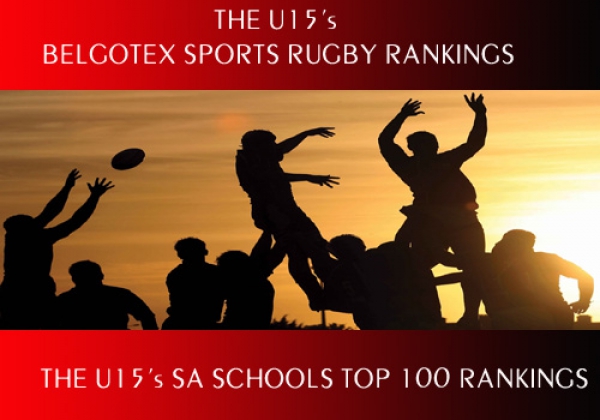 EG Jansen join the top five leading teams in this week's U15 Belgotex Sports Top 100 after another heavy win during the past week.
EG Jansen have quietly gone about their business is a very clinical manner and deep into the season have strung together 9 wins and 2 draws in a highly successful season for them so far.
The only other unbeaten team on the table are the leaders Outeniqua who notched up their 10th win of the season when they outplayed Oakdale 31-10 last weekend.
Please send through your team's results to [email protected]
U15 RANKINGS 1 JUNE 2017

RANK

TEAM

PLAYED

AVG PTS

1

OUTENIQUA

10

6,520

2

PAARL GIM

9

6,133

3

GLENWOOD

10

6,100

4

EG JANSEN

11

5,918

5

AFFIES

13

5,823

6

BISHOPS

11

5,782

7

QUEENS COLLEGE

7

5,714

8

TRANSVALIA

9

5,500

9

PAUL ROOS GYM

8

5,300

10

ST STITHIANS

9

5,233

11

MENLOPARK

14

4,986

12

ST CHARLES COLLEGE

12

4,842

13

BEN VORSTER

7

4,700

14

DIAMANTVELD

12

4,575

15

SUTHERLAND

9

4,533

16

HELPMEKAAR

10

4,510

17

NICO MALAN

10

4,340

18

DURBANVILLE

12

4,325

19

MARITZBURG COLLEGE

10

4,320

20

MONUMENT

11

4,245

21

WELKOM GYM

7

4,143

22

HUDSON PARK

9

4,056

23

GREY COLLEGE

10

4,030

24

PAARL BOYS HIGH

11

3,991

25

HTS DROSTDY

12

3,900

26

ROB FERREIRA

8

3,875

27

WITTEBERG

7

3,871

28

DIE BRANDWAG

10

3,770

29

BOLAND LANDBOU

8

3,750

30

MICHAELHOUSE

8

3,750

31

BRACKENFELL

6

3,717

32

SELBORNE COLLEGE

7

3,700

33

STELLENBERG

12

3,642

34

FRAMESBY

11

3,627

35

ST DAVIDS

18

3,372

36

DESPATCH

9

3,367

37

JEPPE

16

3,281

38

VOORTREKKER BETH

6

3,050

39

KEARSNEY COLLEGE

7

3,043

40

ELDORAIGNE

13

2,992

41

ST ANDREWS COLLEGE

9

2,944

42

MILNERTON

10

2,940

43

CURRO NELSPRUIT

10

2,830

44

ST BENEDICTS

13

2,808

45

LYDENBURG

10

2,760

46

OOS MOOT

10

2,720

47

HS ALBERTON

9

2,633

48

NORTHWOOD

12

2,575

49

PRETORIA BOYS HIGH

12

2,533

50

OAKDALE

9

2,511

51

PARKTOWN

7

2,471

52

ELLISRAS

7

2,386

53

HILTON COLLEGE

12

2,300

54

ZWARTKOPS

13

2,262

55

DALE COLLEGE

7

2,214

56

NOORDHEUWEL

12

2,208

57

PIET POTGIETER

6

2,183

58

SACS

8

2,088

59

DHS

7

2,086

60

PAREL VALLEI

8

2,075

61

KLERKSDORP

13

2,015

62

FLORIDA

9

1,922

63

WOODRIDGE COLLEGE

6

1,917

64

SOMERSET

8

1,875

65

GARSFONTEIN

12

1,808

66

KES

10

1,710

67

WESVALIA

12

1,708

68

WESTVILLE

12

1,592

69

HOPEFIELD

7

1,571

70

MARAIS VILJOEN

10

1,500

71

WATERKLOOF

11

1,464

72

RUSTENBURG

12

1,333

73

SECUNDA

12

1,233

74

LABORI

7

1,171

75

PIONIER

6

1,133

76

CLIFTON

11

1,036

77

GREY HIGH SCHOOL

7

0,986

78

MONTANA PTA

5

0,940

79

KEMPTON PARK

14

0,936

80

GLENWOOD HOUSE

10

0,890

81

HUGENOTE SPRINGS

7

0,829

82

MIDDELBURG HS

6

0,817

83

JEUGLAND

7

0,643

84

MIDSTREAM

9

0,467

85

KINGSWOOD COLLEGE

6

0,400

86

MERENSKY

6

0,400

87

NOORD KAAP

8

0,350

88

RONDEBOSCH

7

0,343

89

HTS MIDDELBURG

12

0,325

90

STIRLING

6

-0,367

91

NELSPRUIT

8

-0,563

92

GRAEME COLLEGE

6

-0,850

93

DIE ANKER

6

-0,933

94

ST ALBANS COLLEGE

11

-0,936

95

BELLVILLE

7

-0,971

96

ST JOHNS COLLEGE

7

-1,143

97

KRUGERSDORP

7

-1,357

98

DANIEL PIENAAR

6

-1,620

99

MUIR

5

-2,260

100

CENTURION

5

-3,100