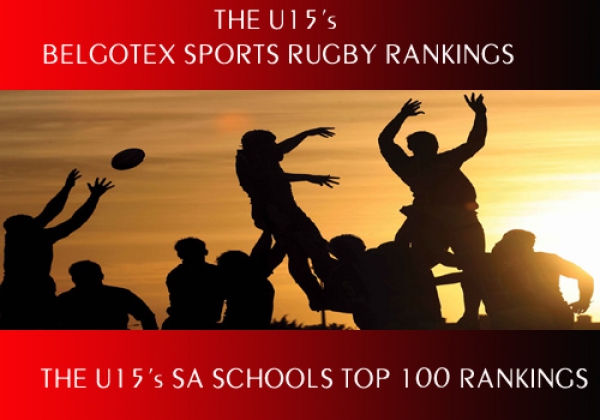 In last year's U14 Rankings it was a two horse race between Glenwood and Outeniqua with the Kwagga's timing their run perfectly to pip Glenwood to take the top spot. Those same teams have progressed to the U15 ranks and have immediately risen to the top of this week's Belgotex Sports U15 Rankings to resume their rivalry.
However there is still plenty of rugby still to be played and we can obviously expect many more teams to enter the rankings once they have played a minimum of three matches.
Purely based on how last year's U14 Rankings ended up, we can expect Grey High School to be up for the challenge once they find their form along with Framesby who proved to be giant killers last year.
Please ensure your results are submitted to [email protected] to make certain they are included.
U15 RANKINGS 7 APRIL 2017

RANK

TEAM

PLAYED

AVG PTS

1

GLENWOOD

3

7,300

2

OUTENIQUA

4

6,625

3

PAARL GIM

3

6,100

4

MONUMENT

5

5,240

5

PAUL ROOS GYM

3

5,233

6

PAARL BOYS HIGH

3

4,833

7

BEN VORSTER

3

4,700

8

ST CHARLES COLLEGE

7

4,614

9

TRANSVALIA

6

4,600

10

MENLOPARK

7

4,557

11

EG JANSEN

3

4,533

12

NICO MALAN

3

4,433

13

SUTHERLAND

3

4,367

14

AFFIES

3

4,300

15

OAKDALE

5

4,200

16

WITTEBERG

3

4,100

17

STELLENBERG

6

4,033

18

SACS

4

3,850

19

LEEUWENHOF

3

3,833

20

ST ANDREWS COLLEGE

3

3,600

21

JEPPE

4

3,200

22

MICHAELHOUSE

3

3,133

23

NOORD KAAP

4

3,125

24

LYDENBURG

5

3,120

25

DIAMANTVELD

7

2,986

26

ELLISRAS

4

2,825

27

GREY COLLEGE

4

2,825

28

HS ALBERTON

5

2,760

29

HELPMEKAAR

4

2,700

30

HTS DROSTDY

4

2,600

31

FRAMESBY

4

2,600

32

BOLAND LANDBOU

4

2,575

33

OOS MOOT

5

2,440

34

BASTION

3

2,400

35

HANS MOORE

4

2,400

36

FLORIDA

6

2,367

37

RANDBURG

3

2,267

38

ELDORAIGNE

5

2,260

39

PRETORIA BOYS HIGH

4

2,250

40

STRAND

3

2,133

41

BEKKER

3

2,100

42

GARSFONTEIN

5

2,100

43

CLIFTON

5

2,000

44

VOORTREKKER BETH

3

1,800

45

JEUGLAND

4

1,650

46

RUSTENBURG

8

1,463

47

NELSPRUIT

4

1,425

48

LINDEN

3

1,400

49

HEIDELBERG VOLKIES

3

1,367

50

CURRO NELSPRUIT

3

1,333

51

GREY HIGH SCHOOL

3

1,300

52

MIDSTREAM

3

1,267

53

BRANDWAG

3

1,233

54

NORTHWOOD

6

1,200

55

WESVALIA

5

1,000

56

RIEBEECKRAND

4

0,975

57

NOORDHEUWEL

7

0,943

58

KLERKSDORP

8

0,925

59

MARAIS VILJOEN

5

0,920

60

ERMELO

4

0,800

61

KEMPTON PARK

6

0,700

62

WESTVILLE

7

0,614

63

ST BENEDICTS

5

0,540

64

MIDDELBURG HS

3

0,400

65

SECUNDA

7

0,371

66

DR MALAN

3

0,367

67

PIONIER

4

0,000

68

HUGENOTE SPRINGS

5

-0,140

69

SENTRAAL

3

-0,167

70

HTS MIDDELBURG

7

-0,543

71

WATERKLOOF

3

-0,767

72

DIE ANKER

4

-0,925

73

DRIEHOEK

3

-0,967

74

ST ALBANS COLLEGE

3

-1,000

75

KRUGERSDORP

4

-1,325

76

JIM FOUCHE

3

-1,367

77

BELLVILLE

4

-1,825

78

MONTANA JHB

3

-2,900

79

POTCH VOLKIES

3

-3,367

80

HOOGENHOUT

4

-3,925