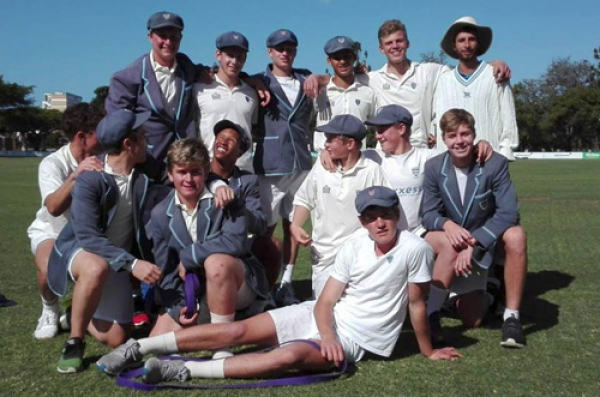 A brilliant season by the Grey High School U15 team has left them looking down on the rest of the teams in the country as they lay claim to the leading team in South Africa.
The Grey HS U15 sign off the 2018 season as the only unbeaten team in the country, having played 19 matches, winning 18 of them and drawing a single match against Grey College.
It has been a devastating display by the Grey HS team which contains in their ranks several highly talented players including one George van Heerden who finishes the season with an average just over 100 runs which included 3 centuries and 6 half centuries in his 15 visits to the crease. Kearsney College players will long remember how he plundered his top score of 150 not out against them.
Although Affies, Rondebosch, KES and others also put together an impressive season, few would argue with Grey High School placing No.1 in the U15 Cricket Rankings for 2018.
Well done to Grey High School, their players and coach Mr.Corbin Dolley who has mentored and brilliantly guided this group of winners.
We look forward to seeing how the 2018 U15's progress next year with many of them moving on to play for their respective First XI's.
U15 CRICKET RANKINGS 28 November, 2018

RANK

TEAM

PLAYED

AVG BONUS POINTS

1

GREY HIGH SCHOOL

19

12.58

2

AFFIES

21

10.38

3

RONDEBOSCH

19

9.98

4

MARITIZBURG COLLEGE

23

9.61

5

KES

24

9.48

6

HILTON COLLEGE

19

9.14

7

SELBORNE COLLEGE

8

8.99

8

ST ANDREWS SCHOOL

7

8.89

9

HUDSON PARK

7

8.79

10

MENLOPARK

14

8.33

11

ST STITHIANS

27

8.28

12

GREY COLLEGE

22

7.79

13

SACS

11

7.71

14

MARAIS VILJOEN

29

7.22

15

PARKTOWN

11

6.90

16

KEARSNEY COLLEGE

15

6.89

17

WYNBERG

28

6.87

18

JEPPE

17

6.82

19

CURRO DURBANVILLE

9

6.82

20

ST JOHNS COLLEGE

12

6.72

21

MICHAELHOUSE

13

6.38

22

GLENWOOD

13

6.09

23

NOORDHEUWEL

26

5.98

24

PIETERSBURG

8

5.81

25

BOLAND LANDBOU

7

5.80

26

WESTVILLE

14

5.58

27

PAUL ROOS GYM

9

5.46

28

MONTANA

13

5.38

29

PRETORIA BOYS HIGH

13

5.16

30

POTCH VOLKIES

21

4.97

31

HELPMEKAAR

23

4.93

32

ST ALBANS COLLEGE

12

4.89

33

BEN VORSTER

6

4.63

34

WATERKLOOF

23

4.62

35

NORTHWOOD

16

4.60

36

ST ANDREWS COLLEGE

11

4.43

37

PAARL BOYS HIGH

7

4.34

38

HANS MOORE

19

4.29

39

KINGSWOOD

7

4.11

40

NELSPRUIT

7

4.04

41

BISHOPS

16

3.83

42

PEARSON

13

3.80

43

CLIFTON

15

3.53

44

PAARL GIM

10

3.27

45

OOS MOOT

7

3.26

46

ST CHARLES COLLEGE

14

3.21

47

NORTHCLIFF

7

3.16

48

ST DAVIDS

13

3.06

49

GARSFONTEIN

6

2.85

50

FRAMESBY

12

2.79

51

SOMERSET COLLEGE

10

1.96

52

DHS

9

1.94

53

CENTURION

10

1.55

54

MONUMENT

8

0.90

55

CAMBRIDGE

11

0.86

56

WOODRIDGE

6

0.70

57

ST BENEDICTS

6

0.62